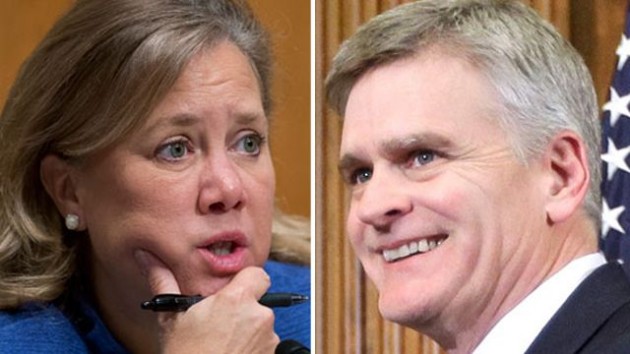 Republican Representative Bill Cassidy has easily defeated incumbent Democratic Senator Mary Landrieu in the Louisiana Senate runoff, 57 to 43 percent with 98 percent of precincts reporting. Landrieu was forced into a runoff in November when she failed to get over 50 percent of the vote.
Even though Landrieu slightly edged out Cassidy 42 – 41 percent, which was a difference of just over 16,000 votes, tea party candidate Rob Maness, who finished with 14 percent, threw his full support behind Cassidy and actively campaigned for him in more conservative precincts.
But digging a little deeper, she never had enough white voter support to win. Landrieu polled at just 20 percent of the white vote in PPD's tracking survey and, according to exit polls, she only won 18 percent on Election Day. She would've needed 30 percent — at least — to overcome the 19 percent of voters who backed Maness but switched their vote for Cassidy.
Actually, "at least" may have been an understatement, because early voters in the Louisiana runoff were more Republican than early voters in last month's election. White voters represented roughly 65 percent of early voters in November, but they were 70 percent leading up until the runoff. Meanwhile, registered Republicans represented 34 percent of early voters in November, but they were 39 percent of early voters for the runoff.
The weeks following November's midterm elections were bad for Landrieu. A source at the DSCC told PPD immediately after the election they would be pulling their money out of the Louisiana Senate race.
They did.
Then, Landrieu quickly moved to resurrect the House Keystone pipeline bill in a last-minute attempt to tout her her Washington clout. Landrieu was scrambling to find one more senator in the run-up to the critical vote on the Keystone XL pipeline, but she's failed. The still Democratic-controlled Senate voted down approval of the Keystone XL pipeline, further derailed by her party's far left turn post-elections.
Finally, in just this past week, PPD published a video showing Democrat Mayor of Opelousas Don Cravins Sr. endorsing mass Louisiana voter fraud on November 3, 2014. Cravins' son is none other than Sen. Landrieu's chief of staff.
Landrieu has become the fifth Democratic incumbent senator to have been defeated in the 2014 midterm elections, bringing the GOP tally to a net 9 seats and far surpassing the two incumbents they defeated in the 1980 elections. With Landrieu going down in defeat, the last vestiges of the old Democratic South will be swept away, as the party's staunch left turn and failure to respond to constituents on ObamaCare and other issues have ended the careers of Democrats up and down the ballot.
She had a scant 19 percent of winning, according to PPD's 2014 Senate Map Predictions model, the most accurate election projection model on the Internet for 2014.