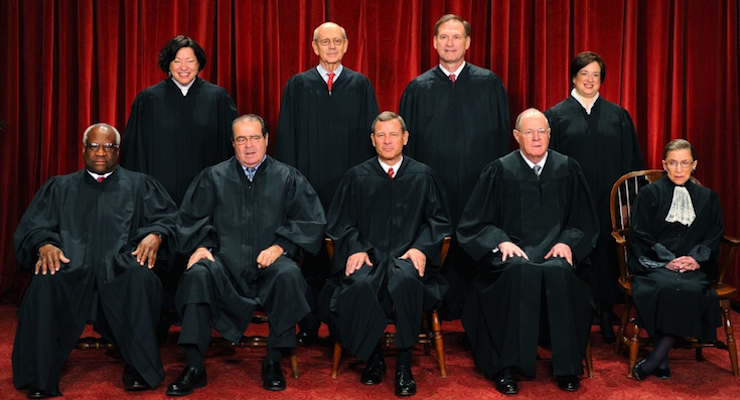 More American voters than ever now say the states should have the right to ignore decisions handed down by the Supreme Court, a new survey finds. The survey conducted by Rasmussen Reports comes after last week's two controversial rulings on ObamaCare and gay marriage.
Chief Justice John Roberts saved the president's signature health care law for the second time last week in what everyone in Washington knows is an effort to preserve the integrity and legacy of the high court. Ironically, negative views of the Supreme Court are at the highest level since Rasmussen began tracking nine years ago. Gallup, as well, mirrors these results, as approval of the Supreme Court has fallen by roughly 20 points since it fell to 62 percent following the Bush v. Gore decision in 2000. The trend shows a complete drop off following the first ObamaCare decision in 2012.
"Only 33 percent of voters said the Supreme Court should have redefined marriage."
Now, a third (33 percent) of likely voters believe that states should have the right to ignore federal court rulings if their elected officials agree with them, which is up nine points from the 24 percent measured when Rasmussen first asked in February. While bare majority — 52 percent — disagree, down from 58 percent in the first survey, a sizable 15percent are undecided.
The shift is driven primary by Republican, conservative, and unaffiliated voters. However, support for ignoring the high court is up among Democrats, as well. Fifty percent of Republican voters now believe states should have the right to ignore federal court rulings, while 22 percent of Democrats and 30 percent of voters not affiliated with either major party, agree. Again, this represents a noticeable rise in support among all three groups.
By ideology, 50 percent of conservative voters, 27 percent of moderates and 15 percent of liberals agree.
While voters are closely divided in their opinions of both of last week's major rulings, including a near-even split on the gay marriage decision, only 33 percent of them said the Supreme Court should have redefined marriage. A clear and sizable majority said they should have had the ability to decide in their own states. Not surprisingly, most voters continue to believe — which has long been the case — that the Supreme Court justices have their own political agenda, and they still tend to feel that that agenda is more liberal than conservative.
The survey of 1,000 Likely Voters was conducted on June 30-July 1, 2015 by Rasmussen Reports. The margin of sampling error is +/- 3 percentage points with a 95% level of confidence.

[mybooktable book="our-virtuous-republic-forgotten-clause-american-social-contract" display="summary" buybutton_shadowbox="true"]