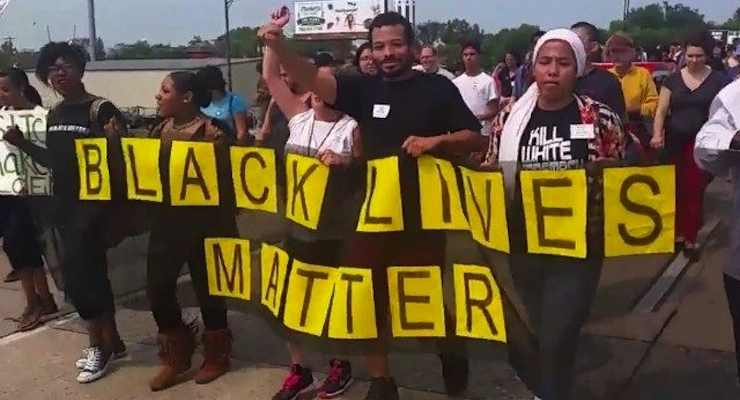 Black Lives Matter Hurting, Not Helping Supporting Democrats
Following the murder of Darren Goforth, 47, a 10-year veteran of the Harris County Sheriff's Office, Sheriff Ron Hickman slammed anti-police rhetoric coming out of Black Lives Matter activists and politicians. Milwaukee County Sheriff David Clarke went even further, saying "President Obama has breathed life into this ugly movement."
"It is time now for good, law-abiding Americans to rise up like they did in Houston around that Chevron station, an outpouring," Clarke stated. "But it can't just be symbolic, we now have to counter this slime, this filth coming out of these cop-haters."
In fact, the Democratic Party approved a resolution last week praising the group that has harassed and interrupted their presidential candidates on the campaign trail, despite activists chanting "Pigs in a blanket, fry 'em like bacon" at the Minnesota State Fair on Saturday.
But, according to a recent survey, as well as a number of surveys PPD has tracked over the past year, the vast majority of voters agree with and support Sheriff Hickman and Sheriff Clark, as well as their fellow law enforcement brethren across the nation.
A new Rasmussen Reports survey finds that 58% of likely voters think there is a war on police in America today, while 60% believe comments critical of the police by politicians fan the flames and make it more dangerous for police officers to do their jobs. Just 27% disagree about there being a "war on the American police officer," as Sheriff Clarke stated, and only 18% think such comments improve the quality of the police's performance. Voters under 40 believe even more strongly than their elders that there is a war on police, but are less likely to think politicians critical of the police are making it worse.
While we have repeatedly observed a wide racial divide in the difference of opinion on questions related to the police, even most black voters (54%) agree with the majority of white (60%) and other minority voters (56%) that there is a war on police underway in contemporary America. Seventy-eight percent (78%) of Republicans think there is a war on police now, compared to 48% of Democrats and 52% of voters not affiliated with either major party.
However, blacks (36%) are still far less likely than whites (66%) and other minorities (55%) to believe that comments out of politicians like Obama and New York Mayor Bill de Blasio are making it more dangerous for the police. Interesting, there's very little to no statistically significant difference between the belief in any of the groups over whether these comments are improving police performance. By party, 26% of Democrats believe political comments critical of the police are improving the officers' performance, but just 12% of Republicans and 15% of unaffiliated voters agree.
A whopping 79% of Republicans and 62% of unaffiliated voters say these comments make it more dangerous for the police to do their jobs, but a smaller 44% of Democrats share their view.
Even though protests against the police have been growing since Officer Darren Wilson shot and killed 18-year old Michael Brown in Ferguson, Missouri, support for police nationwide has steadily been on the rise. Consequently, a grand jury did not indict Wilson because it became clear that the "hands up, down shoot" mantra was built on a complete lie. Brown, who committed strong arm robbery moments before the altercation, attempted to take Wilson's gun before charging the officer.
In December 2014, Americans overwhelmingly (67%) said that their local police are their protectors and gave them high ratings in appreciation of the job they do on a daily basis. Most also said that they believe deaths that involve policemen are usually the fault of the suspect, not the cop. Now, support for police nationwide has risen. According to the latest survey taken in mid-August, 72% of Americans have a favorable view of the police in the area where they live. Further, two-thirds (66%) also said they approve of the tactics used by their local police officers.
Worth noting, on Wednesday, judicial proceedings officially began in Baltimore regarding the case of Freddie Gray, a 25-year-old man who died while in police custody. In April, just 25% of American adults said the riots in Baltimore, Maryland were sparked by legitimate grievances, while 63% said it was predominantly the result of criminal actions of opportunists taking advantage of a tragic situation. In March 2015, 70% of likely voters said the level of crime in low-income inner city communities was a bigger problem in America today than police discrimination against minorities.
"If there's anything that needs to be straightened out in this country, it is the subculture that has risen out of the under-class in the American ghetto," Sheriff Clarke said. "Fix the ghetto, and you will see a lesser need for assertive police officers or policing in these areas, and then you'll see less confrontation. Stop trying to fix the police. Fix the ghetto."
Americans couldn't agree more, and also fault the media alongside politicians. According to PPD tracking, 61% of all voters think the media overhypes incidents in which blacks are shot by white police officers, and a slightly higher 63% say this media coverage is putting police officers in harms way.
(Update: A previous version of his article spelled Milwaukee County Sheriff David Clarke's surname without an "e" in the first and 9th paragraph. It has been corrected.)