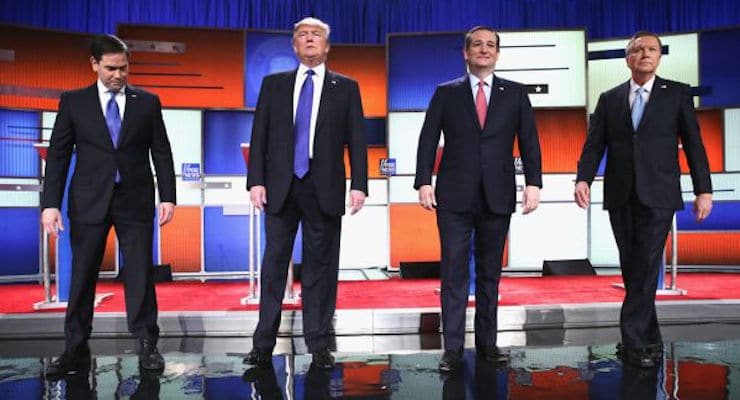 The exit polls are showing two very different electorates in the Michigan and Mississippi Republican primaries, but overall favor Donald J. Trump. Overall, opposition to his nomination among voters in both states appears to be softening from the larger numbers in previous states. Roughly eight in 10 in Mississippi self-identified as evangelical Christian, which if it holds would mark their largest share in any state to date.
Mr. Trump carried these voters with 45% to 40% for Texas Sen. Ted Cruz.
Half of Mississippi Republican primary voters say they're "very" conservative, which could mark a record for the state. By contrast, just three in 10 in Michigan Republican primary voters said they are very conservative, while 33% said they were independents. Mr. Trump seems to have a lead among this group. Roughly 6 in 10 Michiganders said they were mainstream Republicans.
More than half of Michigan Republican primary voters said they agree with Mr. Trump on trade policies, in that they are taking jobs away from U.S. workers. Mr. Trump won these voters overwhelmingly. A majority in Mississippi agreed, with eight in 10 saying they are "very worried" about the direction of the economy. Half of Mississippi chose Mr. Trump.
In the Wolverine State, there wasn't much difference in satisfaction between the candidates, where about half say they'd be satisfied with Mr. Trump as the GOP nominee, as well as roughly the same for Sen. Cruz and Florida Sen. Marco Rubio.
Half of Republican primary voters in Mississippi said they support deporting illegal immigrants rather than giving them a path to legal status, which is higher than the average from previous primaries. In Michigan, a fewer but still significant 4 in 10 agree. As has been the case throughout the GOP primaries this year, there's broad support across both states for Trump's proposal to ban non-U.S. Muslims from entering the country – three-quarters in Mississippi and six in 10 in Michigan.
These voters been a huge support group for Trump in previous states.
Six in 10 Republican primary voters in Mississippi and a slightly more than half in Michigan said they want the next president to be someone from "outside the political establishment." The share of "outsider" voters in the Mississippi electorate mirrors the high to date that was measured in Nevada. A whopping 65% say they chose Mr. Trump.
Meanwhile, 6 in 10 in Mississippi would be satisfied with both Sen. Cruz and Mr. Trump, juxtaposed to just 4 in 10 with Sen. Rubio. To date, more GOP primary voters have found Sen. Cruz and Sen. Rubio acceptable than Trump (57 and 56 percent, vs. Trump's 48%).
Late-deciders in the Michigan Republican largely broke for Ohio Gov. John Kasich and Texas Sen. Ted Cruz, according to early exit polls. Mr. Trump, the frontrunner has led most Michigan polls going into Tuesday, but exit polls show 35% of late-deciders backing Gov. Kasich, and 31 percent backing Sen. Cruz.
But Mr. Trump still pulled 23% of that group, while Sen. Rubio is pulling just 10%. But the share of late-deciders is smaller than previous contests, with 4 in 10 GOP voters in Michigan saying they made up their minds more than a month ago, as did nearly half in Mississippi.
Mr. Trump leads Sen. Cruz in the delegate count 384 to 300, with Sen. Rubio trailing at 151 and Gov. Kasich at 37.