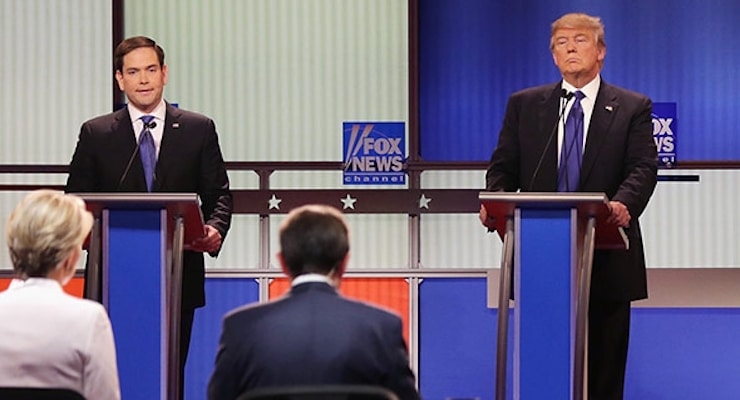 Donald Trump has widened his lead in the polls one day ahead of the Michigan Republican primary, while Florida Sen. Marco Rubio has tanked to last place. Trump now has an average 19-point lead on the PPD average of polls, with the latest three showing 19%, 15% and 22% margins. Texas Sen. Ted Cruz (20%) and Ohio Gov. John Kasich (19.8%) have overtaken Rubio (13.4%), who has fallen from a high of 21%.
"We continue to see Mr. Trump benefit from winning the last seven months of debate. His support is stronger, firmer, and more fundamental," said PPD's senior political analyst Richard Baris. "Voters in Michigan, as with most of the country, agree with The Donald on the issues and find him to be the most effective candidate on the issues and against the machine."
"Marco Rubio did himself no favors getting into the mud and attacking the frontrunner. That's not who he is. That's who they [donors] want him to be and voters are on to him."
Baris points to the number of voters who say they have decided on their candidate. In the latest FOX 2/Detroit Poll, which was conducted by Mitchell Research, voters are firming up on their support across the board, but Trump (87%) is ahead of the other candidates in the percentage that say they are "definitely" voting for their candidate. Cruz (76%), Kasich (74%), and Rubio (73%) follow Trump.
In an outsider election, it's noteworthy that voters in the CBS News/YouGov Poll said Mr. Trump (70% to 30%) is most likely to do "what voters want" rather than "what big donors want." Even Sen. Cruz, the runner up at 53% to 47%, is no where near the frontrunner, who has a smaller 15% overall lead. The same poll, if it holds, has some more good news for the leader inside the numbers.
Mr. Trump is most trusted on every single issue, and a whopping 70% say they agree with his proposed temporary ban on immigration from Muslim countries. Worth noting, the Wolverine State has the only majority Muslim town in the country and a large bloc in other areas.
Meanwhile, Gov, Kasich is the candidate most seen as honest and trustworthy on average, with 74% saying so in the CBC News/YouGov Poll, while the other candidates are more mixed. Dr. Ben Carson, who was previously the most well-like candidate, left the race last week and had a mixed impact on the race. The FOX 2/Detroit Poll found Mr. Trump gobbling up a disproportionately large share of Carson's voters (46%), while they split between him and Sen. Cruz in the NBC/WSJ/Marist Poll.
The NBC/WSJ/Marist Poll, which has been less favorable to Mr. Trump overall juxtaposed to other polls, found The Donald holding a 20-point lead over his closest rival Sen. Cruz at 22%. Cruz has been as high as 24% in the latest surveys and has built a stronger-than-believed organization in the state. Still, if we remove what clearly appears to be the outlier American Research Group (ARG) Poll, which we did not for the aggregate, Mr. Trump is now at an average 40.7%. If his support holds, or even slightly falls, it would be bad news for the other candidates moving forward, particularly Gov. Kasich.
The Michigan contest will give us enormous insight into the upcoming Ohio Republican primary, a winner-take-all and 66-delegate-rich contest that also happens to be Gov. Kasich's home state. If Trump is as strong among rustbelt, working-class voters in Michigan, it will bode bad for the governor in various districts in the Buckeye State.
Mr. Trump leads in nearly all demographic groups going forward–including men, women, evangelical Christians, non-evangelicals, and every ideology except for "very" conservative. Sen. Cruz holds a slight advantage among the latter demographic. Interestingly, though not really surprisingly, Catholics strongly support Mr. Trump by a wide margin, despite the controversy with Pope Francis over immigration.
"The precipitous drop of Sen Rubio and rise of Sen. Cruz at this point in the game makes it more difficult to stop the frontrunner. By the time the contest gets to Florida, Sen. Rubio's strength is likely to have weakened badly," said Baris. "Mr. Trump doesn't want to I'm sure, but he can actually lose Ohio to Gov. Kasich and still win a majority of delegates with fewer people in the race if he splits March 15 and wins the Sunshine State."