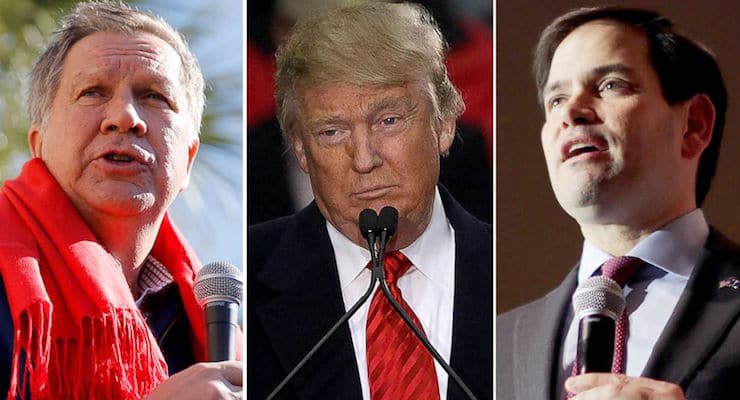 Republican frontrunner Donald J. Trump is leading Ohio Gov. John Kasich in Ohio and Sen. Marco Rubio in Florida, according to the latest polls. As of Wednesday, Mr. Trump leads Gov. Kasich by an average 5 points in Ohio and Sen. Rubio by an even larger average 16.8-point margin in Florida, their respective home states.
The latest polls–by CNN/ORC and Quinnipiac University in both Ohio and Florida, as well as SurveyUSA for Bay News 9 in the Sunshine State–were conducted before Tuesday's primary and caucus contests in Michigan, Mississippi, Hawaii and Idaho. The Donald carried the first ever-important Rust Belt state, claimed the entire deep South in Dixie by romping Mississippi, took every county in Hawaii and lost only in Idaho.
According to the CNN/ORC Poll (Pollster Scorecard: A-), Mr. Trump is leading among Buckeye State Republican primary voters in Ohio with 41% to Kasich's 35%. Texas Sen. Ted Cruz came in third at 15% and Sen. Rubio fell to fourth with just 7%. In Florida, Mr. Trump holds a 16-point lead with 40% to Sen. Rubio's 24%. Sen. Cruz earned a respectful but limited 19% and Gov. Kasich just 5%.
In Florida, two-thirds of Republican primary voters say they have definitely decided whom to support, including more than 8 in 10 Trump supporters. That has long been a strength for the frontrunner, who typically loses late-deciders but still wins comfortably.
"One of the other candidates–whether it's Rubio, Cruz or Kasich–seem to win the last week of the campaign in recent contests," said PPD's senior political analyst Richard Baris. "But Donald Trump has won the last seven months of the campaign and debate."
The results come less than a week before the March 15 winner-take-all contests in Florida (99 delegates), Ohio (66 delegates) and Illinois (65 delegates). North Carolina will allocate 62 delegates on a proportional basis, while Missouri will allocate 52 delegates on a hybrid winner-take-most basis.
In Florida, another survey conducted by SurveyUSA (Pollster Scorecard: A) showed Mr. Trump leading Sen. Rubio 42% to 22%, carrying just about every single demographic group and region save for the South. The five point disparity between the surveys stems from the demographic divide by education and gender in the CNN/ORC Poll, which is not present in the SurveyUSA survey. Rubio leads in the CNN/ORC Poll among college graduates and is more competitive among women, but neither is the case in the poll for Bay News 9.
Meanwhile, a pair of Quinnipiac University Polls show Mr. Trump leading Gov. Kasich in Ohio 38% to 32%, with Sen. Cruz taking 15.3% of the vote and Sen. Rubio at just 7%. In Florida, Mr. Trump has climbed to 45% by also leading his rivals among all demographics.
"The effort within the Republican Party to stop Donald Trump from winning the presidential nomination appears unlikely to stop him from taking Florida's delegate-rich winner-take-all primary," said Peter A. Brown, assistant director of the Quinnipiac University Poll. "But that effort might have a better chance of success in Ohio where Gov. John Kasich is giving 'The Donald' a tougher run for his money."
He now holds a 23-point lead over Sen. Rubio polling at 22%. Sen. Cruz has 18% and 8% went for Gov. Kasich. Trump leads Rubio 39% to 27% among women and 50% to 17% among men. Self-described Tea Party members go 48% for Trump, 40% for Cruz and 9% for Rubio. Trump gets 39% of white, born-again evangelicals, with 30% going for Cruz and 21% going for Rubio.
"In the Sunshine State, hometown hero Sen. Marco Rubio is 23 points behind Trump and isn't even doing much better than Sen. Ted Cruz," Mr. Brown added. "Also discouraging for the anti-Trump folks is that Trump voters say they are less likely than those supporting any of the other candidates to change their mind in the closing days."
In Ohio, only 5% of voters remain undecided and 27% of those who named a candidate said they might change their mind. Unlike Florida, the Quinnipiac University Poll shows a gender gap among likely Republican primary voters in the Buckeye State. Men back Trump over Kasich 44% to 29%, while women go to Kasich 36% to 31%.
In both states, large majorities in the CNN/ORC Poll said their home-state candidate should drop out if they don't win: 71% say Kasich should exit if he loses Ohio, while 66% say Rubio should depart if he loses Florida.
Ohio's GOP electorate isn't quite as committed to its candidates as are Florida's Republican voters. Overall, 58% have definitely decided whom to support, but Trump does not have an edge on this question: 59% of Trump supporters say they are locked in, and 61% of Kasich's backers say the same.
Nevertheless, Michigan Republican primary voters almost mirror Ohio's electorate identically, particularly in the border counties. Tuesday's results don't bode well for Gov. Kasich, who lost Macomb County, Monroe County, Oakland County and Wayne County to Mr. Trump by significant margins. The Donald also carried Hillsdale and Lenawee County counties by an average double-digit margin.
The CNN/ORC Polls were conducted March 2-6. The Florida survey includes 1,014 adults, including 264 likely Democratic primary voters and 313 likely Republican primary voters. The Ohio poll includes 1,002 adults, including 294 likely Democratic primary voters and 359 likely Republican voters.
The margin of error in Florida is 5.5 percentage points among Republicans and 6 points with Democrats. In Ohio, it's 5 points among Republicans and 5.5 points with Democrats.
SurveyUSA polled 937 likely & actual GOP presidential primary voters, with a margin of sampling error: ± 3.3%.
From March 2 to 7, Quinnipiac University surveyed 657 Florida likely Republican primary voters with a margin of error of +/- 3.8 percentage points and 685 Ohio likely Republican primary voters with a margin of error of +/- 3.7 percentage points. Live interviewers call land lines and cell phones in the Q-Poll.