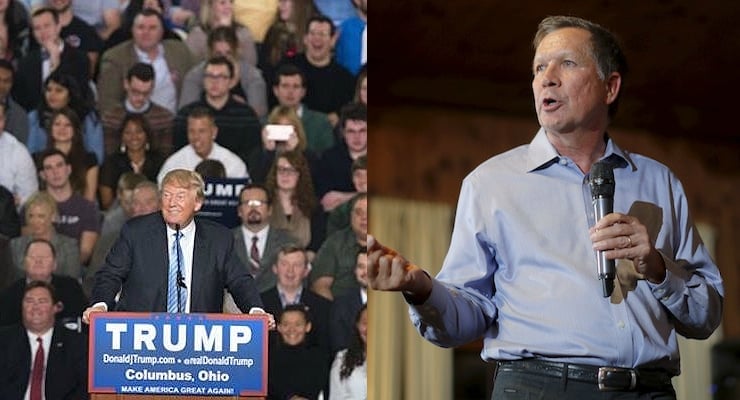 Can Donald Trump Defeat Ohio Gov. John Kasich in Buckeye State?
The final [content_tooltip id="38038″] before the Ohio Republican Primary on Tuesday finds Gov. John Kasich and Donald J. Trump tied at 46%. Florida Sen. Marco Rubio, who is battling for his political life in his own home state, came in dead last with just 3%, while Texas Sen. Ted Cruz is in a distant second with just 16% of the vote in the key general election swing state.
"Ohio is a real contest on both sides. Trump and Gov. John Kasich are in a dead heat for the Buckeye State's GOP delegates," said Peter A. Brown, assistant director of the Quinnipiac University Poll. "Almost as close is the Democratic race where Sen. Bernie Sanders has closed 9-point deficit to the smallest of margins. Sanders has the momentum, but the question is whether he can win as he did in Michigan or just come close as in Iowa."
Gov. Kasich has said that he will suspend his campaign for the Republican nomination if he does not win in Ohio. However, for months, he has exuded a high level of confidence that he will carry his home state. He may have a good reason. The Ohio Republican Party has broken a 64-year tradition of neutrality in order to stop Mr. Trump from winning the Ohio Republican Primary on Tuesday, March 15.
Gov. Kasich has been elected nine times as a congressman and twice as governor since his political career in Ohio began, making powerful friends within the party elite.
"While he's a long-shot for the Republican nomination, the plan is to keep him alive in the March 15 primary because he has the best chance to defeat Mr. Trump, which the state and national party desperately wants to do," PPD recently reported. "To do so, the party is relying on its voter turnout Tammany Hall-like machine and what Bloomberg has once referred to as a "polished" absentee and early ballot operation."
Despite having weight, organization and influence of the party behind him, Gov. Kasich's support in the polls is much softer than Mr. Trump's support. Only 9 say they could change their mind, compared to over a fifth (21%) of those who support Gov. Kasich and Texas Sen. Ted Cruz (22%). If voters decide that Sen. Rubio or Gov. Kasich are no longer viable, a mass exodus could make the race much different than polls suggest.
"Simply judging by the voting behavior of similiar demographics in Michigan, for instance, Donald Trump should win Ohio," PPD's senior political analyst Richard Baris, who aggregates election data for the PPD Election Projection Model. "But you never want to count out the party machine, who rely on organization and favors to get out the vote."
The party hasn't taken sides in a primary election since they endorsed Robert Taft in 1952. Ohio awards its 66 delegates on a winner-take-all basis, which along with a win in Florida, would put Mr. Trump clearly in command of the nomination.
"It may not be pretty or the best of us, but it works. If anyone can overcome it, it's Trump," Baris added. "He won and won big in Oakland County, Macomb County and just about everywhere else you would expect Gov. Kasich to do well."
Gov. Kasich leads by just 2.7% on the PPD average of Ohio Republican Primary polls, though the last two surveys have it all tied up. However, that lead is tenuous at best and likely reflects an understand of what's going on behind the scenes. Since September, Gov. Kasich has trailed Mr. Trump in all but two polls.
Meanwhile, in Florida, Mr. Trump is way ahead with 46%, followed by Sen. Rubio with 22%, Sen. Cruz with 14% and Gov. Kasich with 10%.
"At least when it comes to this presidential primary, Florida might change its nickname from Sunshine State to Landslide State," said Peter A. Brown, assistant director of the Quinnipiac University Poll. "Sen. Marco Rubio, who has staked his future on wining his home state, looks like he'll soon be toast. He trails GOP leader Donald Trump by more than 20 points with polling through Sunday night."
"There are very few examples of candidates making up that much ground in 24 hours."