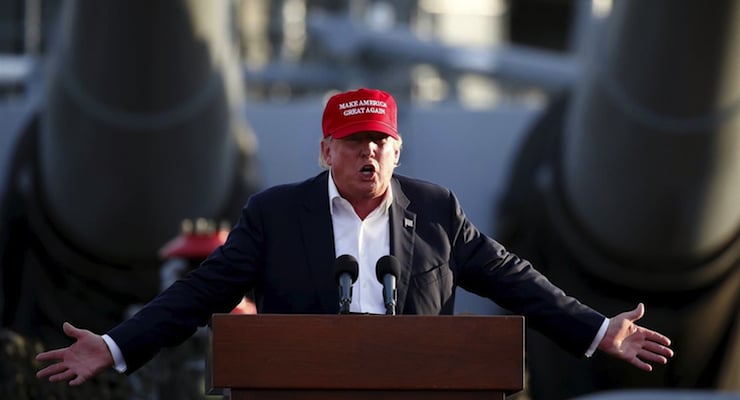 In the wake of the Islamic terror attack in Brussels, Belgium, more voters now say national security is a top issue and it is clearly benefitting Donald J. Trump. A new Morning Consult survey finds 24% of registered voters say security issues are their top concern as they chose a candidate for the Republican nomination, up 7 points from a week ago.
Mr. Trump's spike in support, up 4 points from 45% to 49% since the prior survey conducted from March 18 to March 21, comes ironically among Republican women. Despite their general dislike of Mr. Trump, as the mainstream media have repeatedly focused on, a plurality (41%) now say security is now their biggest concern and trust the New York businessman the most to keep them safe.
Trump has jumped 6 points since tracking from March 16 to March 18, when he was just 3 points (43%) above his average 40% in Morning Consult tracking. To be sure, he can thank "national security moms" for the new high and would be wise to steer clear of wife-related controversy if he hopes to keep them.
Republican voters who live in the Northeast also saw a pronounced increase in voter concern over security issues, up to 28%. Fifty-nine percent of security voters say they plan to vote for Donald Trump, while just 47 percent who pick the economy as their top issue favor the New York billionaire.
"Trump consolidated his lead over his GOP presidential primary opponents, Texas Sen. Ted Cruz and Ohio Gov. John Kasich, in our national survey," said Reid Wilson of Morning Consult. However, as Mr. Wilson noted, following prior terror attacks the front-runner has also made gains that were "fleeting." Still, voters have consistently rated The Donald as the candidate they trust most to deal with security and the economy.
Donald J. Trump now leads on the PPD average of national Republican primary polls by 16.5%, averaging 45% support. With Trump poised to crack 50% ahead of the Wisconsin Republican primary next Tuesday, the anti-frontrunner forces in the party are hoping to block him from reaching 1,237 delegates in The Badger State.
Gov. Scott Walker, who took on Trump and lost before a single vote was cast, has a formidable GOTV operation in his home state and plans to put it to work for Sen. Cruz after his endorsement Tuesday.
Meanwhile, on the Democratic side Hillary Clinton is winning 53% of primary voters who say national security is their top issue; Sen. Bernie Sanders (I-Vt.) takes just 29% of Democrats and Democratic-leaning independents who called security a top concern. Clinton maintains a double-digit lead over Sanders in the latest Morning Consult national poll, 50% to 39%.
Hillary Rodham Clinton leads Bernie Sanders on the PPD average of national Democratic primary polls by 10.2%, averaging roughly 51.9% support.