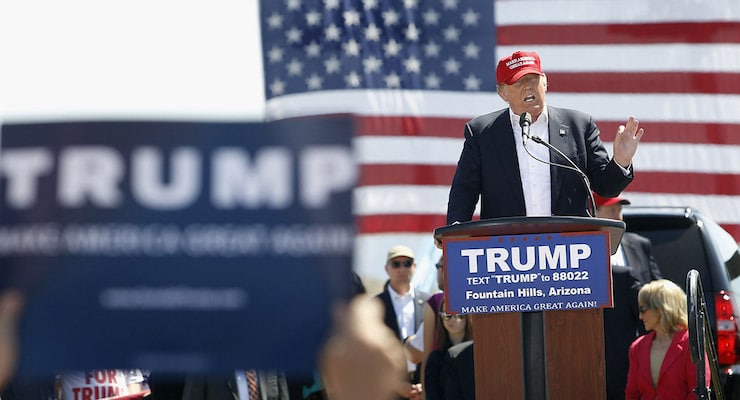 Donald J. Trump holds a wide lead ahead of the Arizona Republican Primary on March 22, dominating the early vote with more than 41% in the bank. [content_tooltip id="38272″ title="MBQF Consulting"], a political consulting and public affairs firm, recently released a tracking survey finding Mr. Trump with a 14-point lead over his closest rival Texas Sen. Ted Cruz, 37.3% to 23.3%, in The Grand Canyon State.
UPDATE: A new FOX 10/Opinion Savvy just released on Monday shows Mr. Trump climbing to 46% of the vote, with Sen. Cruz also climbing to 33%. Still, it's a steep hill to climb when you look inside the numbers. Trump voters are always more committed, more likely to vote and fired up.
"With early voting already underway in Arizona, Donald Trump leads with both those voters that have already cast ballots as well as among those that are still planning on voting," Michael Noble, consultant and pollster said.
Trump supporters are not only most likely to vote, but actually the most optimistic about the new direction the Republican Party is taking. Sen. Cruz's supporters are also far more optimistic about the future of the party than the more establishment candidate, Gov. Kasich, who trails far behind with 14.7% of the vote.
"In addition to the ballot test, we also asked both groups whether they believed if the Republican Party's best days were ahead of them or behind them," Noble. "The survey found that the majority of those supporting Donald Trump and Ted Cruz felt the party's best days were ahead of them while those supporting Marco Rubio and John Kasich felt the opposite."
Immigration no doubt has hurt the Buckeye State governor in Arizona. Another recent survey found voters across the ethnic and demographic spectrum agree with Mr. Trump's plan to aggressively deport illegal immigrants and secure the border.
The poll, which was conducted for the Cronkite School of Journalism at Arizona State University by the Morrison Institute for Public Policy, found no significant difference between attitudes in Latino communities and white communities on the issue.
"Whites (53 percent) and Latinos (47 percent)" agreed "Arizona should aggressively pursue the deportation of undocumented immigrants" in the survey.
Mr. Trump leads on the PPD average of Arizona Republican Primary polls by 14.4%, down 0.1% from the prior week. There are 58 delegates up for grabs in the Arizona Republican Primary, including 10 base at-large, 27 for the 9 congressional districts, 3 party and 18 bonus delegates.
Kurt Davis, a Republican operative in Arizona and advisor to incumbent Sen. John McCain, predicted Cruz would pull off an upset win over Trump in Arizona on Tuesday because he's the "only candidate with any kind of organization out here." However, according to recent polls, Sen. McCain is in danger of being defeated in a state he has represented for three decades.
Popular Gov. Jan Brewer, border security hero Sheriff Joe Arpaio, State Treasurer Jeff DeWit and the U.S. Border Patrol Union have all endorsed the Republican frontrunner. According to the PPD Election Projection Model, Donald J. Trump has an 81% chance of winning the Arizona Republican Primary on Tuesday March 22, 2016.