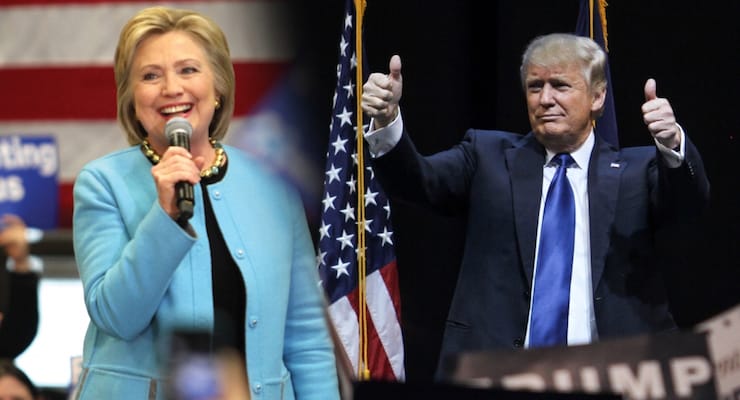 According to a new Indiana primary poll, frontrunners Donald Trump and Hillary Clinton hold leads over their rivals in the Hoosier State. The races on both sides of the aisle are tight, but Mr. Trump leads his closest rival Texas Sen. Ted Cruz outside the margin of error while Mrs. Clinton is in a statistical tie with Vermont Sen. Bernie Sanders.
The WTHR/HPI Indiana Primary Poll finds Mr. Trump with a 6-point lead over Sen. Cruz, 37% to 31%. Ohio Gov. John Kasich, who has yet to win a single state outside of his own, is running third with 22% of the vote. The poll also suggests there could be record turnout for Republicans in the Indiana primary, which will favor Mr. Trump. However, if turnout is lower than anticipated, the race between Mr. Trump and Sen. Cruz becomes far more competitive.
"Winning because of depressed turnout is not an impressive story to tell voters on the campaign trail," said PPD's senior political analyst Richard Baris. "If Donald Trump takes that narrative and runs with it, it can do real damage to Ted Cruz."
The state votes on Tuesday May 3, which follows several other contests where Sen. Cruz is expected to receive rather underwhelming support. On Tuesday, Mr. Trump won his home state by a 35-point margin, making it mathematically impossible for Sen. Cruz to secure the delegates he needs to win the nomination without a contested convention. There are 57 delegates up for grabs on the Republican side.
Baris also said Indiana demographics should favor the Texas senator, but the wind is at Mr. Trump's back.
"Voters in the Hoosier State can effectively put an end to the Republican nomination," he added. "If Sen. Cruz cannot beat Mr. Trump in Indiana he will get routed in California. Worse, he will not have a very persuasive argument to make to the delegates even if Mr. Trump falls short of 1,237 (the number of delegates needed to clinch the nomination)."
On the Democratic side, the race is much closer with Mrs. Clinton holding a small 3-point lead over Sen. Sanders, 48% to 45%. The results are within the margin of error, though the frontrunner has already begun to transition into the party's presumptive nominee. There are 92 delegates up for grabs for Democrats, but Sen. Sanders is almost already at the point where he is mathematically incapable of catching up to Mrs. Clinton's delegate lead.
Hillary has a commanding lead with Democrats in the poll, but Sanders is leading with independents and first-time voters.