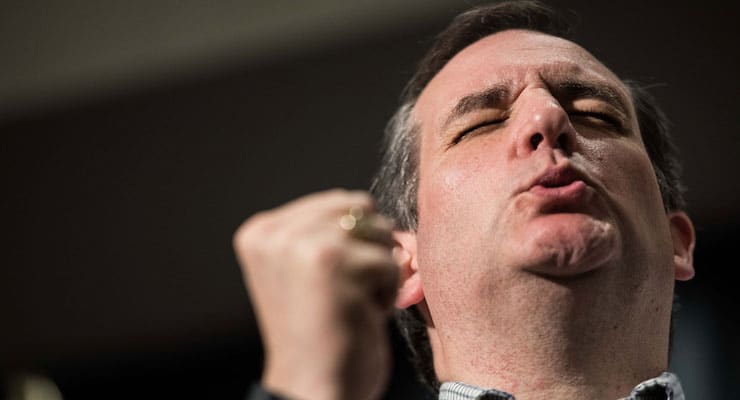 In the year of the outsider, the last name a Republican candidate should want to be branded as is "establishment." However, with party elites and pols lining up to endorse him and award him their state's delegates without a vote, it would appear that is what Donald Trump has managed to do to Texas Sen. Ted Cruz.
According to a new YouGov survey conducted for the Huffington Post, Republican primary voters no longer see Sen. Cruz as an outsider. More voters than not and ever (62%) now say he is more of an establishment candidate rather than an outsider.
Mr. Trump has made the debate about the party's delegate selection process and alignment behind Sen. Cruz a top issue on the stump and interviews, and it's working. In New York, nearly 70% of GOP primary voters said they wanted their next president to be from outside the political class and they broke big for Mr. Trump (85%).
Meanwhile, Sen. Cruz finished in third place behind Gov. John Kasich with an abysmal 14% of the vote. The results represent a marked shift among primary voters since December of 2015, when just 36% considered him part of the Republican Establishment.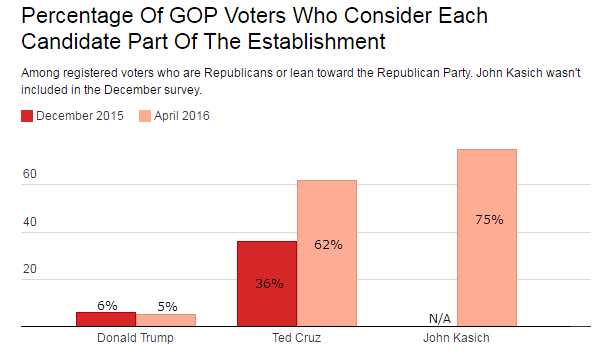 As a result, Sen. Cruz's image has taken a hit in recent polls. Another YouGov survey conducted for The Economist found he had a 56% favorability rating among Republican and Republican-leaning voters, but that is down significantly from 67% measured in January.
The HuffPost/YouGov poll consisted of 1,000 completed interviews conducted April 14-15 among U.S. adults, using a sample selected from YouGov's opt-in online panel to match the demographics and other characteristics of the adult U.S. population.