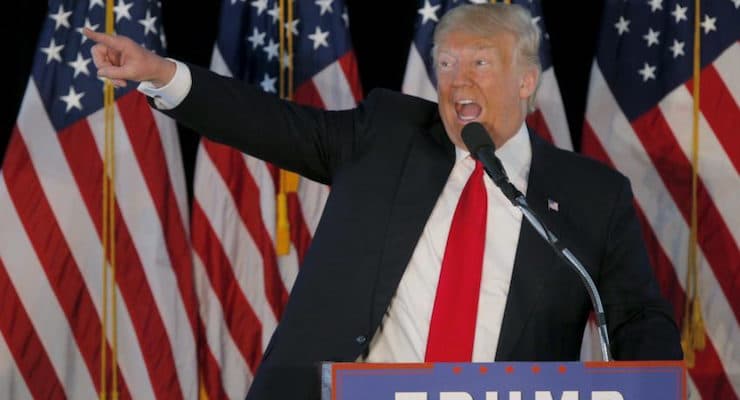 The Donald Dominates Primary Polls in PA, CT, RI, DE and MD
Republican frontrunner Donald Trump is poised to be the big winner on Tuesday with primary polls showing him at, near or above 50% in every state voting.
In Pennsylvania, the state with the biggest delegate prize voting on April 26, Mr. Trump leads his closest rival Texas Sen. Ted Cruz by 26 points, 51% to 26%. Ohio Gov. John Kasich, who has long touted his electoral appeal in the Midwest, is trailing in third with 22% of the vote. The results come from the latest string of [content_tooltip id="38022″ title="Public Policy Polling (PPP)"], which mirror the PPD average of polls.
The Keystone State awards only 17 of its total 71 available delegates to the winner of the statewide vote, with the remaining delegates directly elected on a ballot. At last count, there are 55 delegates running who are committed to voting for the candidate who emerges the winner of their congressional district majority, while another 39 say they are committed to Mr. Trump.
Though 33 say they are committed to Sen. Cruz, 28 are uncommitted and only 1 supports Gov. Kasich, a big win would add pressure on the delegates in Cleveland, making Steel Town a potential ace up The Donald's sleeve.
During a last-minute campaign stop in Rhode Island, Republican presidential candidate Donald Trump fell back on one of his practiced campaign tactics: name dropping Tom Brady in front of New England voters.
"First of all, let's start by saying: Leave Tom Brady alone," Trump told the crowd gathered at the Crowne Plaza Hotel in Warwick. "Leave him alone. He's a great guy. That's enough."
The frontrunner also responded to the news that his rivals have agreed to collude together in an effort to stop him from earning the needed majority of delegates to clinch the party nomination. The two campaigns announced that Gov. Kasich would pull out of Indiana to give Sen. Cruz "a clear path" to victory in the winner-take-all primary on May 3, while the Sen. Cruz will "clear the path" for Gov. Kasich in Oregon, which votes on May 17. In New Mexico, which votes June 7, Sen. Cruz will withdraw his campaign efforts.
"Collusion is often illegal in many other industries and yet these two Washington insiders have to revert to collusion in order to stay alive," Mr. Trump said in a statement. "They are mathematically dead and this act only shows, as puppets and donors of special interests, how truly weak and pathetic their campaigns are."
"In business, if you collude you go to jail."
However, as PPD has previously and repeatedly reported, this "collaboration" has been in the works for months, except Sen. Cruz reneged on the deal prior to Arizona, Utah and Wisconsin. Former Massachusetts Gov. Mitt Romney, the 2012 nominee and outspoken critic of Donald Trump, had endorsed Sen. Cruz before Utah in exchange for his cooperation. However, he tried to reach out to the Cruz campaign after complaints were voiced by the Kasich campaign, but received no response from the senator.
Still, the last-minute visit to The Ocean State comes as a new [content_tooltip id="39612″] finds him dominating the field 58% to 21% for Gov. Kasich. Sen. Cruz is currently losing to "not sure" by 1 point–10% to 11%.
"Our polling in New York last week was among the most accurate in the U.S. and as we correctly pointed out a flaw in the Cruz campaign's voter support," said Doug Kaplan, the founder and President of Gravis Marketing. "Our demographic polling indicated that Cruz had a huge problem in the Northeastern U.S. months ago–especially with Catholic voters."
Sen. Cruz is hoping to get through the beating he is almost certainly about to take in the remaining states voting in April. Unfortunately, for him and his supporters, if you're not winning, you're losing. And it isn't at all a certainty Indiana is in his column. Mr. Trump leads outside the margin of error in the Hoosier State.
"He is likely to finish third behind Kasich in many of Tuesday's primary states," Mr. Kaplan added. "After this week's primaries, all eyes should be focused on Indiana, as it's expected that it will have similar results as Wisconsin. However, Trump's numbers are improving in that state and the dynamics of the primary voters is much different in Indiana than in Wisconsin. It's also very likely that Mr. Trump will do very well in California."
Sen. Cruz is also underwater in all the states voting on Tuesday. In Pennsylvania, a state where Sen. Cruz dedicated times and resources, he holds an abysmal 35/51 favorability ratio.
In Connecticut, where two-thirds of voters have a favorable opinion of him, both PPP and Gravis released polls showing Mr. Trump leading his rivals with 59% and 54% of the vote, respectively. There are 28 delegates up for grabs in the winner-take-most primary in The Nutmeg State.
In Maryland, where the statewide winner will take all 38 delegates up for grabs, Mr. Trump holds a double-digit lead on the PPD average of polls, with the most recent PPP Poll showing him approaching the 50-percent threshold. Worth noting, he leads in every region and among every demographic, save for the D.C. burbs. Gravis Marketing, which conducted the most recent poll following his big New York win, found Mr. Trump leading by 29 points, 53% to 24% for Gov. Kasich.
"None of these states are particularly amenable to the 'Never Trump' movement," said Tom Jensen, Director of Public Policy Polling. "Trump has the highest favorability rating of the GOP candidates in each state, and also handily wins head to head match ups with Cruz and Kasich in all three states."
Last but not least, polling has been scant in Delaware but the demographics line up behind the other states voting on Tuesday. A poll conducted by Gravis from April 17 to April 18 found Mr. Trump leading Gov. Kasich by a whopping 37 points, 55% to 18%.
"It appears there is little doubt that the story Tuesday night will be how badly Donald Trump trounced Gov. John Kasich and Sen. Ted Cruz," said PPD's senior political analyst Richard Baris. "I understand Mr. Cruz wants to move on to Indiana pretending the Northeast never happened. But I'm skeptical."
In the case of Wisconsin, which was a special case, it became pretty clear relatively early that he was turning the tide against Mr. Trump.
"We just haven't seen that kind of movement among Hoosiers," Baris added. "The recent polls all suggest that the only hope Sen. Cruz has left is if voter turnout is low."