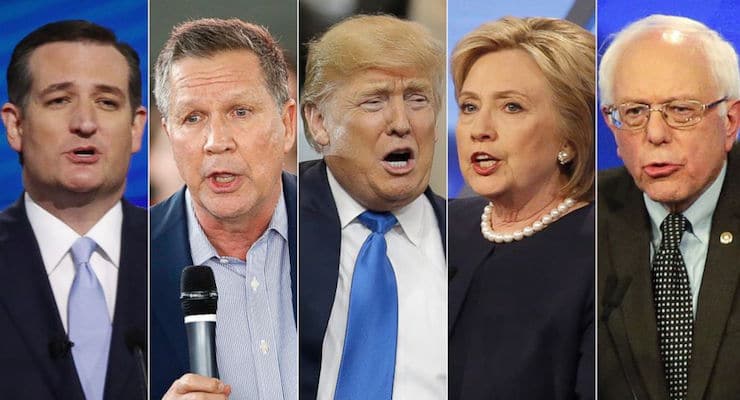 UPDATED BY THE MINUTE: Preliminary New York exit polls show Republican and Democratic primary voters believe their party's frontrunners have the best chance to win in November.
(PLEASE NOTE: Exit poll results this evening will likely change significantly after 9 p.m. because polling places in 50 of the state's counties – outside the New York City area and Buffalo – opened at noon. People in those counties with day jobs can't vote until after work, so they won't be included in early exit poll results. PPD will update them as they come in, but demographics bode well for Donald Trump.)
New York Republican Primary Exit Polls
More than half (56%) of Republican primary voters say Mr. Trump has the best chance to beat Mrs. Clinton in November. That far ahead of the 2 in 10 for Ohio Gov. John Kasich and the 16% for Texas Sen. Ted Cruz. While that has typically been the case in previous contests, it's in stark contrast to Wisconsin a few weeks ago when a plurality (43%) said Sen. Cruz had the best chance to beat Clinton. Thirty-seven percent said so of Mr. Trump and 17% for Gov. Kasich.
"Republican primary voters don't appear to be swayed by the polling data over the last few months showing Donald Trump performing the weakest against both Hillary Clinton and Bernie Sanders," said PPD's senior political analyst Richard Baris. "And, frankly, they shouldn't be. The network and cable news media pundits won't tell voters, but pre-Labor Day general election polls have zero predictive value."
Party Unity
According to preliminary New York Primary exit polls for the Republican contest, more voters say they will "definitely" support Mr. Trump than any other candidate. Should he be the party's nominee, roughly half say they'd definitely vote for him, while roughly a quarter said the same of Sen. Cruz. For Gov. Kasich, 3 in 10 said they will definitely vote for him. More New York Republican Primary voters flat-out ruled out voting for Sen. Cruz (4 in 10) in November than for Mr. Trump (less than a quarter).
As is largely the case in national polls, more than 7 in 10 (72%) New York Republican Primary voters in the exit polls said the candidate with the most votes in the primaries should win the party's nomination. A quarter said they favor a contested convention where delegates pick whichever nominee they think is best suited to carry the party's banner.
Still, nearly 6 in 10 New York Republican primary voters say the campaign this primary has mostly divided the party rather than energized it. Comparable views on the Democratic side are present, but far less (to be discussed below).
Characteristics & Traits
Mr. Trump is poised to reach a new high on the percentage of voters in the electorate who say they are looking for an outsider to be the next president. Nearly two-thirds of New York Republican Primary voters in these preliminary exit polls choose an outsider over someone with political experience, and Mr. Trump carried 85% of them. The highest number of "outsider" voters, a bloc dominated by Mr. Trump in previous contests, was measured in Nevada (61%).
Issues
More than 6 in 10 (68%) of New York Republican Primary voters favor banning Muslims who are non-citizens from entering the country. While it is a significant majority, particularly for the Empire State, it is down from its average in previous contests. Meanwhile, only a third of primary voters say they support deporting illegal immigrants, though they were classified as "undocumented workers."
Worthing noting, Republican primary voters in New York are evenly divided on whether Wall Street helps or hurts the economy. While thats not quite as many as Democratic voters, it still far higher than expected.
Also, more than a third are "angry" with the federal government, which is roughly on par with previous contests. That may help to fuel the fact that there are fewer values voters than usual in New York, despite the demographic makeup. This cycle, the electorate is far more concerned about bringing needed change and voting for someone who tells it like it is.
Demographics & Ideology
More than half of Republican primary voters in New York say they made up their minds more than a month ago. That bodes very well for Mr. Trump, who has dominated among early-deciders. It is much higher in New York than in previous primaries and on track to be the highest measured in any state to date this cycle. Fewer than half decided in the last month.
In recent contests, though not in all contests, Sen. Cruz won those who made up their minds in the last month in Wisconsin, North Carolina, Missouri and Illinois; Kasich won them in Ohio. In Florida, Nevada, and likely Arizona (judging by demographics as there were no exit polls) Mr. Trump won late-breaking voters.
Evangelicals are representing roughly a quarter of voters in New York exit polls. That compares to 42% in Wisconsin and an average of 58% in all the primaries to date). "Very" conservatives represent just 2 in 10 voters, a bloc Mr. Trump has won but not since the beginning of the primary season.
New York Democratic Primary Exit Polls
New York Democratic Primary exit polls show Mrs. Clinton is seen as having a far better chance than Sen. Bernie Sanders to beat Republican frontrunner Donald Trump in November, by a larger margin than Wisconsin.
"Democratic primary voters are equally wise to ignore what the polls say about Hillary Clinton and Bernie Sanders against GOP candidates in November," Baris added. "Despite turnout and excitement, Sen. Sanders holds out of the mainstream views that Americans haven't even heard of as of yet. It's not smart to decry socialism and 90-percent tax rates in a Democratic primary, but it is very smart in a general election."
Mrs. Clinton also leads on the question of who's more inspirational, though by a much smaller margin. That was not we saw in Wisconsin. In a new question, New York Democratic Primary voters strongly favor Mrs. Clinton on another attribute–inevitability. Seven in 10 say she'll be the eventual Democratic nominee juxtaposed to just 3 in 10 who think Sanders would win.
Party Unity
The Democratic Party is far more unified than the Republican Party in New York, which has been the case with previous contests. Far more voters are saying they'd definitely support either Mrs. Clinton or Sen. Sanders–roughly two-thirds and 6 in 10, respectively)–and fewer say they wouldn't vote for either of them; less than 2 in 10 for both candidates.
Nearly 7 in 10 (68%) think the nomination has energized the party, while a little more than a quarter (27%) says it's only divided the party. The latter is far lower than it is for Republicans.
Characteristics & Traits
Despite it being her home state (adopted state), only 6 in 10 New York Democratic Primary voters in the exit polls said Mrs. Clinton is honest and trustworthy, while more than a third of them say otherwise. More than 8 in 10, on the other hand, view Sen. Sanders as honest and trustworthy. That's roughly the same ratio we've seen in previous states.
In another unimpressive gauge for Mrs. Clinton in her home state, about half in these preliminary exit polls say she has run the "more unfair" campaign. Only a third said the same about Sen. Sanders.
Issues
Roughly half of Democratic primary voters in New York want the next president to continue the policies adopted and pushed by Barack Obama, a signature promise made by Mrs. Clinton. Four in 10 want more liberal policies, a group that supports Sen. Sanders just as strongly.
But only 3 in 10 say Wall Street helps the U.S. economy, while more than two-thirds (64%) think it hurts it; about as many New Yorkers think international trade creates jobs as think it takes away jobs, leaving more pro-trade voters than in previous contests. That may have something to do with the fact that concerns about the economic future of the nation is notably high among New York Democratic primary voters.
Nearly half (46%) are very worried about the direction of the nation's economy over the next few years, nearly the highest we've seen in Democratic primaries across the nation to date.
Unsurprisingly, more New Yorkers trust Mrs. Clinton than Sen. Sanders to handle gun policy by a wide margin. She has repeatedly hit him on his voting record on guns, which he defends by citing different cultures in rural states. However, only trade was asked in previous contests, with Sen. Sanders doing better among the nearly half who have said it takes away jobs. Mrs. Clinton has been winning roughly 37% of those who said it creates them.
Demographics & Ideology
Seven in 10 call themselves liberals and 3 in 10 said they are "very" liberal, roughly on par with Wisconsin and somewhat higher than the average in all previous contests. As has been the case all year, turnout among liberals is up sharply in this Democratic primary, up from 57% of primary votes in New York in 2008.