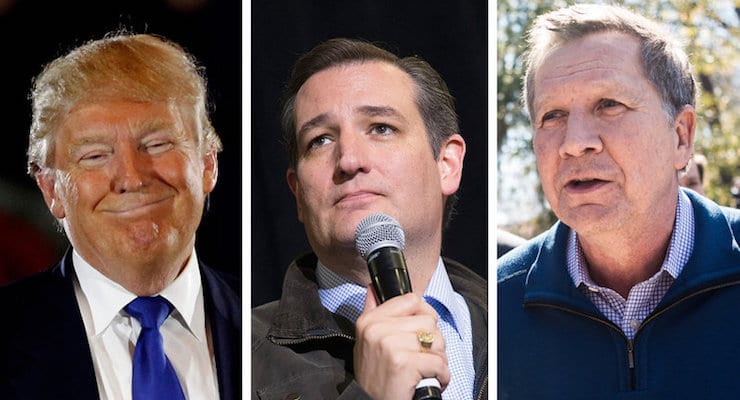 EXIT POLLS UPDATED BY THE MINUTE
While the Northeastern region in the U.S. is naturally favorable to Donald Trump, early exit polls show key demographics are beginning to warm up to him as the party's nominee. Republicans vote in five primaries today on Tuesday April 26: Connecticut, Delaware, Maryland, Pennsylvania and Rhode Island.
Heading into the contests, polling showed Mr. Trump near or above 50% in each of the five states. At the same time, Texas Sen. Ted Cruz, who appears to be headed for a thrashing, continues to worsen among Catholic Republican primary voters among others.
Nomination & Convention
Preliminary exit polls in Pennsylvania, Maryland and Connecticut show a divide on the question of who should be the nominee and when. Donald Trump's supporters almost unanimously say the candidate with the most votes should receive the nomination, even if he lacks a majority of delegates. However, those who back Ted Cruz and or John Kasich, by contrast, nearly 6 in 10 say the delegates–not the vote totals–should call the tune.
Worth noting, Mr. Trump leads in the delegate count, which probably factored into the responses, but overall two-thirds say Mr. Trump should get the nod if he goes into Cleveland ahead.
#NeverTrump Weakening
The preliminary exit polls, as is the case with previous contests, Mr. Trump has stronger and more dedicated supporters than his rivals. As PPD has repeated over-and-over, candidates need to give a reason to vote for them, not just to vote against someone. More than 8 in 10 say their vote was "mainly for your candidate" rather than against his opponents. On the other hand, Sen. Cruz and Gov. Kasich supporters say the same by a far less margin–three-quarters and nearly two-thirds, respectively.
Roughly a quarter of Sen. Cruz's voters and third of Kasich's are motivated not for their guy but "against his opponents."
Most importantly for the frontrunner, the #NeverTrump movement is continuing to lose steam. While the region is more favorable, it follows a new survey showing him at his highest level of support nationwide to date. Nearly six in 10 in these preliminary exit polls said they would definitely vote for Mr. Trump if he was the nominee in November, higher than any other measurement.
Still, a quarter say not. Roughly 4 in 10 Sen. Cruz supporters and more than 6 in 10 among Gov. Kasich voters say no, but Mr. Trump's "definitely support" numbers more than twice as high as the number who rule him out, while Gov. Kasich is slightly in the positive direction. Sen. Cruz is in negative territory.
For the first time this entire election season, more Republican primary voters in Pennsylvania say Cruz ran the most unfair campaign. In prior states, despite whether he won or lost, Mr. Trump was seen as running a more unfair campaign. Only four in 10 voters in The Keystone State said the primary campaign energized the party, while nearly 6 in 10 say it has only divided it.
That compares to the Democratic race, where 7 in 10 say their race has energized the party. That's noteworthy considering Republicans have out-voted Democrats nationwide. Even among Mr. Trump's own supporters, just more than half say the campaign has energized the party, but that drops precipitously among Sen. Cruz and Gov. Kasich voters.
Late- & Early Deciders Early
Mr. Trump has done particularly well in contests where the number of voters who decided early on a candidate was relatively high. Nearly 6 in 10 Republican primary voters across all the state primaries say they decided on their candidate more than a month ago, which will break the record of 55% in New York last week. That is much more than the average in all the primaries to date, but Mr. Trump and Gov. Kasich are essentially splitting those late-breaking voters.
All-in-all, if those numbers hold it will be a very good night for New York businessman Donald Trump.
Demographics
On average, roughly 4 in 10 Republican primary voters evangelicals in Pennsylvania, Connecticut and Maryland, far lower than the 60% average in previous contests. Evangelicals are the smallest number at 2 in 10 in Connecticut, putting The Nutmeg State on pace to grab the record low this primary season.
They are still a larger share than they've been in prior election cycles, but lower than the average, which is also true in Pennsylvania and Maryland. Mr. Trump and Sen. Cruz have essentially split evangelical voters about evenly in previous contests, while Sen. Cruz has been far weaker among non-evangelicals.
Wall Street, Economy & Trade
A larger-than-usual percentage of GOP primary voters now say Wall Street does more to hurt than help the U.S. economy than help it –nearly half in Pennsylvania, 4 in 10 in Connecticut and a third in Maryland. Mr. Trump has driven that conversation and thus, has dominated among anti-trade voters .
In Pennsylvania, excitement for a Trump presidency is far higher among supporters (six in 10) than it is among Cruz's and Kasich's. Issues are ramping up voter excitement and the frontrunner won the debate on trade and immigration.
As was the case in the prior contests, Pennsylvania Republican primary voters are broadly supportive of Mr. Trump's main issues. More than 6 in 10 supported electing someone from "outside the political establishment" and banning non-U.S. Muslims from entering the country (7 in 10). Fewer voters, though still more than 4 in 10, also support deporting undocumented immigrants.
Support for an outsider is higher than the average across primaries this year to date, while support for his two key policies near the average.
Republican primary voters expressed serious economic concerns and it is working to Mr. Trump's advantage. In Pennsylvania, nearly 6 in 10 are "very worried" about the direction of the economy and, by a 10-point margin, more say international trade takes away U.S. jobs than say it creates them. Worried and anti-trade voters have been strong groups for Mr. Trump in previous contests.
Values vs. Tell It Like It Is
About 3 in 10 voters in the three largest states voting today say they're primarily looking for someone who "shares my values," less prevalent than in previous states, and he attribute on which Trump has done very poorly to date. What's chiefly boosted him are those looking for a candidate who "tells it like it is" or "can bring needed change" – adding well over half of Republican voters in today's preliminary exit poll results.