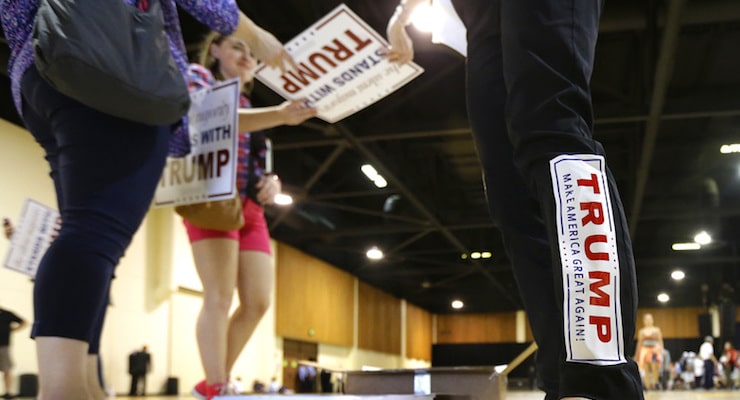 A new Oregon primary poll conducted by DHM Research finds Hillary Clinton and Donald Trump on track to win their respective contests in The Beaver State next week. Looking forward to the general election in November, the poll both suggests Mrs. Clinton holds a lead over Mr. Trump and is rather weak for a Democratic presidential candidate in a deep blue state.
DHM Research, which is not graded for the PPD Pollster Scorecard, surveyed 901 likely Oregon voters from May 6 to May 9 for OPB and Fox 12. Mrs. Clinton leads Sen. Bernie Sanders 48% to 33% in the closed Democratic primary. There is no doubt the rules are hurting the self-described socialist, as he has largely swamped the frontrunner among independents.
Even in a higher turnout closed contest, Mrs. Clinton still leads Sen. Sanders 45% to 38%.
Unsurprisingly, the age gap seen in previous contests to date remains. Among younger Democratic voters, or those younger than 45, a whopping 64% support Sen. Sanders, while just 20% go for Clinton. Among those 45 and older, Mrs. Clinton draws 56% to just 25% for Sen. Sanders.
"I suspect Bernie Sanders will carry the younger vote by a larger margin than the poll indicates," said PPD's senior political analyst Richard Baris. "That's rather low compared to the national average."
Oregon may prove to be Mrs. Clinton's last chance to stop Sen. Sander from gaining even more momentum. The senator, who is nearly mathematically incapable of reaching the needed delegates to secure the nomination, pulled off a double-digit win in West Virginia Tuesday night. In 2008, Mrs. Clinton defeated then-Sen. Barack Obama in coal country by 40 points.
On the Republican side, 45% of likely voters surveyed said they have voted or plan to vote for Mr. Trump, the presumptive Republican nominee for president. Texas Sen. Ted Cruz and Ohio Gov. John Kasich, both of whom suspended their campaigns last week, garnered 14% each.
If the general election were held today, 43% said they would vote for Mrs. Clinton, the former secretary of state. Mr. Trump grabs 32% in a state that hasn't voted for a Republican presidential candidate since 1984.
With his big wins in West Virginia and Nebraska on Tuesday night, Mr. Trump has broken the previous record for the most votes received in a Republican primary, beating out former President George W. Bush who received roughly 10.8 million votes in 2000.