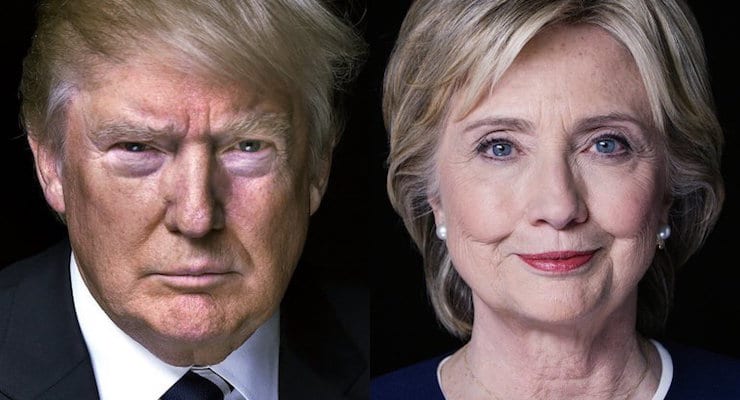 Presumptive Republican nominee Donald J. Trump has pulled ahead of Democratic frontrunner Hillary R. Clinton in a head-to-head matchup. Though the results are within the margin of error, it represents a 10-point swing since April when Mrs. Clinton was up by 48% to 41%.
In the latest [content_tooltip id="37989″], Mr. Trump now leads Mrs. Clinton 45% to 42%, but has turned his image around at the same time the former secretary of state's has declined. Both candidates have largely consolidate their base, with 83% of Democrats backing Mrs. Clinton and 82% of Republicans backing Mr. Trump.
"Though I don't like to read too much into general election polls before Labor Day, this one is significant for two reasons," PPD's senior political analyst Richard Baris said. "First, Hillary Clinton has no Electoral College path with 31% of the white vote. Donald Trump is outperforming among critical groups and it's overwhelming his deficit among other demographics. Second, his image is clearly repairable to a greater degree than most assumed. Her's is not that flexible and it shows."
However, The Donald leads big among independents (46% to 30%) and is winning whites by 24 points (55% to 31%), both being substantial improvements over 2012 GOP nominee Mitt Romney. He's even ahead by 9 points among white women (47% to 38%). This is overwhelming Mrs. Clinton commanding 83-point lead among black voters (90% to 7%) and 39-point lead among Hispanics (62% 23%). Worth noting, that is the second poll that suggests Mr. Trump will also outperform Gov. Romney among Hispanics, despite his promise to build a wall on the U.S.-Mexican border.
Mrs. Clinton leads by 14 points among women (50% to 36%), but Mr. Trump leads by a larger 22-point margin among men (55% to 33%). He also clobbers Mrs. Clinton by 37 points (61% to 24%) among working-class white, or whites without a college degree.
Still, the Fox Poll also finds majorities of voters feel both frontrunners lack strong moral values and will say anything to get elected. By a 49% to 37% margin, voters say that Mrs. Clinton is more corrupt.
New Mexico Gov. Gary Johnson, the frontrunner for the Libertarian Party nomination, would take 10% nationally in a hypothetical three-way matchup, but that still wouldn't hand the race to Mrs. Clinton. Mr. Trump still holds the edge over the Democratic frontrunner–42% to 39%.
While the former secretary of state still holds a small lead on the PPD average of polls, the gap has closed to within the margin of error and is clearly moving in Mr. Trump's favor. He now trails by just over 2 points.
The Fox News poll is based on landline and cellphone interviews with 1,021 randomly chosen registered voters nationwide and was conducted under the joint direction of Anderson Robbins Research (D) and Shaw & Company Research (R) from May 14-17, 2016. The poll has a margin of sampling error of plus or minus three percentage points for all registered voters. The poll includes an oversample of additional interviews among Hispanics/Latinos nationally.