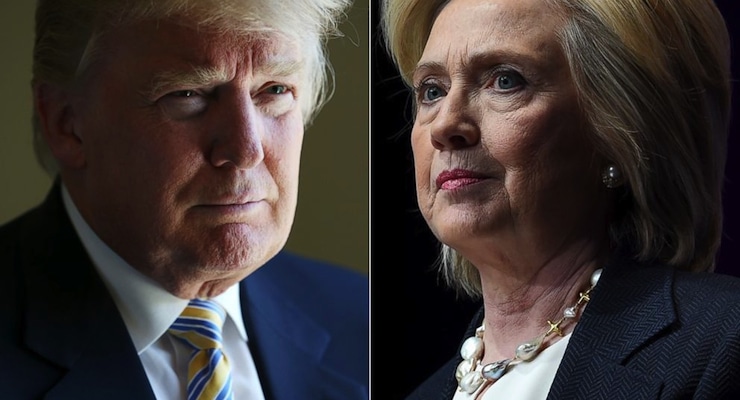 Likely Democratic nominee Hillary R. Clinton now leads presumptive Republican nominee Donald J. Trump in New Jersey by just 4 points, 38% to 34%. A new [content_tooltip id="38870″] also presented registered voters with a four-way race including Libertarian Party nominee Gary Johnson and Green Party candidate Jill Stein. In the four-way matchup, Mrs. Clinton leads Mr. Trump by a slightly wider 6-point margin, or 37% to 31%.
Gov. Johnson received 5% of the vote and Ms. Stein received 4%. However, it is historically the case that third-party candidates lose vote share as the election draws closer post-Labor Day, though that doesn't guarantee future results.
"Blue Jersey doesn't appear quite so blue at this stage of the campaign, but we should keep in mind that neither major party candidate has fully locked in the support of their partisan bases. When and if that happens, the benefit should accrue more to Clinton than to Trump simply because Democrats outnumber Republicans in the state," said Patrick Murray, director of the independent Monmouth University Polling Institute.
What is stunning about these results is that New Jersey, with its 15 Electoral Votes, is one of only two states to give Barack Obama a greater margin of victory in 2012. In 2008, then-Sen. Obama won the Garden State with 2,215,422 votes, or 57.27% of the vote to 1,613,207 votes, or 41.70% for Sen. John McCain. In 2012, that margin increased with 2,125,101 votes, or 58.38% of the vote for President Obama, to 1,477,568 votes, or 40.59% of the vote for Gov. Mitt Romney.
"New Jersey hasn't voted for the Republican nominee for president since 1992, when it chose then-Gov. Bill Clinton over President George H.W. Bush with a third-party spoiler," said PPD's senior political analyst Richard D. Baris. "But Donald Trump's path to flipping this traditionally Blue state, among others, runs right through black voters. More specifically, Republicans need to appeal to and win a larger share of black men."
In the Monmouth Poll, Mrs. Clinton has the backing of 72% of self-identified Democrats and Mr. Trump has the support of 73% of Republicans. While Mr. Trump holds a 44% to 29% lead among non-Hispanic white voters, Mrs. Clinton leads 54% to 14% among black, Hispanic and Asian voters. However, only 68% of black voters in New Jersey say they will vote for Mrs. Clinton, while only 1% back Trump.
A whopping 21% say they are undecided, which presents an enormous opportunity for the Republican candidate. Historically, these voters would eventually coalesce behind the Democratic nominee, but other Republican candidates haven't made much of an attempt to reach out to them. As PPD has previously reported, we know that will not be the case with Mr. Trump, who nevertheless has an enormous amount of work to do.
"Based on historical precedent, these undecided minority voters should break strongly for the Democratic nominee. On the other hand, not much about the 2016 race has followed historical precedent," said Murray.
Worth noting, picking New Jersey Gov. Chris Christie as his vice presidential running mate would not only not help him win the state, but could hurt. A full 4 in 10 voters say it would make them less likely to vote for Mr. Trump. On the flip side, the state's freshman senator, Corey Booker, wouldn't help or hurt Mrs. Clinton's ticket.
"Trump claims he can turn New Jersey competitive in November. These results suggest he probably needs to look elsewhere for a running mate if he wants to make that a reality," Mr. Murray said. "Tapping Booker would be a no harm, no foul call for Clinton as far as New Jersey's electoral votes are concerned."