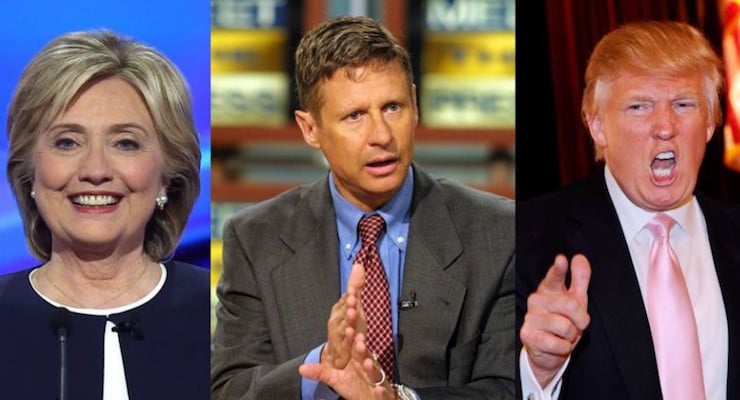 With the release of a [content_tooltip id="38038″ title="Quinnipiac University (Q-Poll)"] on Wednesday, Hillary Clinton has retaken a small lead on the PPD average of general election polls. Mrs. Clinton, the former secretary of state and likely Democratic nominee, leads presumptive Republican nominee nationally 45% to 41% in the new poll and 0.6% on the PPD average of polls.
When former New Mexico Gov. Gary Johnson, the nominee for the Libertarian Party, and Green Party candidate Jill Stein the race actually gets a bit closer. In a four-way race, Mrs. Clinton gets just 40%; Trump gets 38%, which is too close to call. Gov. Johnson gets 5% and Ms. Stein gets 3%.
"This is a very tight race that will divide Democrats and Republicans, the young and the old, white, black and Hispanic voters – and husbands and wives – in the months ahead," said Tim Malloy, assistant director of the Quinnipiac University Poll.
Looking at who would best handle important issues, American voters say:
52 – 41 percent that Trump would be better creating jobs;
51 – 43 percent that Clinton would be better handling immigration;
49 – 41 percent that Trump would be more effective handling ISIS;
53 – 40 percent that Clinton would better respond to an international crisis;
46 percent would trust Clinton more on sending U.S. troops overseas, while 44 percent would trust Trump more;
55 – 33 percent would trust Clinton more to make the right decisions regarding nuclear weapons;
48 – 45 percent that Clinton would do a better job getting things done in Washington.
"Trump may be the guy voters want flipping burgers in the backyard and flipping companies in the board room, but when it comes to making deals in DC and stepping up to confront an international crisis, voters want Hillary Clinton in the Oval Office," Malloy said.
From May 24 – 30, Quinnipiac University surveyed 1,561 registered voters nationwide with a margin of error of +/- 2.5 percentage points. Live interviewers call land lines and cell phones. The survey includes 678 Democrats with a margin of error of +/- 3.8 percentage points.