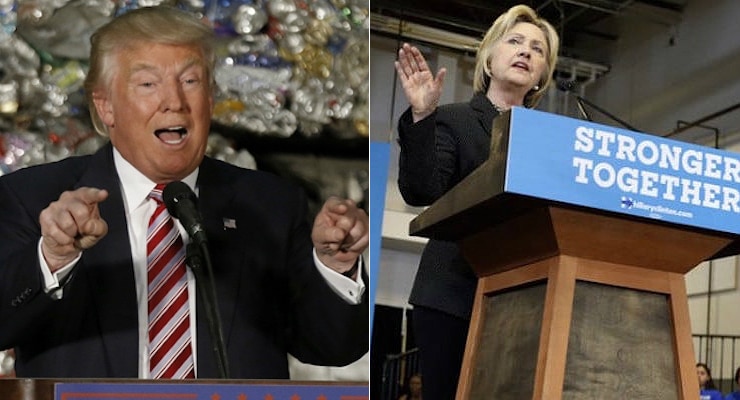 Democrat Hillary Clinton has lost her national lead against Republican Donald Trump in the latest [content_tooltip id="38038″ title="Quinnipiac University (Q-Poll)"] released Wednesday. Mrs. Clinton has 42% to Mr. Trump's 40% – "too close to call – "as American voters say neither candidate would be a good president and that the campaign has increased hatred and prejudice in the nation (61%)," according to Quinnipiac University.
Women back Mrs. Clinton by a 50% – 33% margin while men back Trump 47% – 34%. White voters back Mr. Trump 47% – 34%; black voters go for Mrs. Clinton 91% – 1% and Hispanic voters back her 50% – 33%. That latter margin among Hispanics is actually showing Mr. Trump performing better than Gov. Mitt Romney, the 2012 GOP nominee and vocal critic.
"It would be difficult to imagine a less flattering from-the-gut reaction to Donald Trump and Hillary Clinton," said Tim Malloy, assistant director of the Quinnipiac University Poll. "This is where we are. Voters find themselves in the middle of a mean-spirited, scorched earth campaign between two candidates they don't like. And they don't think either candidate would be a good president."
Looking at who would best handle important issues, American voters say:
52 – 40 percent that Trump would be better creating jobs;
50 – 45 percent that Clinton would be better handling immigration;
52 – 39 percent that Trump would be more effective handling ISIS;
51 – 42 percent that Clinton would better respond to an international crisis;
46 percent would trust Clinton more on sending U.S. troops overseas, while 44 percent would trust Trump more;
54 – 35 percent would trust Clinton more to make the right decisions regarding nuclear weapons;
46 – 43 percent that Clinton would do a better job getting things done in Washington.
Registered voters say 58% to 33% that Mrs. Clinton is better prepared to be president than Mr. Trump. But voters also say 45% to 37% that Mr. Trump is more honest and trustworthy and 49% to 43% that he is a stronger leader.
"The matchup numbers say 'tie' and Trump is perceived as a job creator. But Clinton is seen as better prepared for the top job, better in an international crisis, managing immigration, making Washington functional, and keeping the nuclear codes under lock and key," Malloy said.
Worth noting, the poll is of registered voters and, according to aggregate data, likely voters are more inclined to back Mr. Trump, who enjoys a significant excitement edge. Still, PPD's senior political analyst said neither side should put too much stock in early numbers.
"Pre-Labor Day polls have little predictive value," said R. D. Baris, who also heads up PPD's election projection model. "There are findings both sides can tout and boast about, but what is notable is Mrs. Clinton's continued weakness among white voters following a month that was not at all favorable to Mr. Trump. The conversation usually surrounds a Republican candidate's support among minorities, but Mr. Trump is doing well enough among Hispanics that Mrs. Clinton needs to win more than 34% of the white vote, or she will lose. Plain and simple."
Nevertheless, he also noted that Mr. Trump has got to consolidate Republicans in the suburbs if he hopes to win, too many of which polling data indicates are still questioning his ability to handle the job. Mrs. Clinton still holds a 5-point lead on the PPD average of three-way match-ups between her, Mr. Trump and Libertarian nominee Gov. Gary Johnson.
From June 21 – 27, Quinnipiac University surveyed 1,610 registered voters nationwide with a margin of error of +/- 2.4 percentage points. Live interviewers call land lines and cell phones.