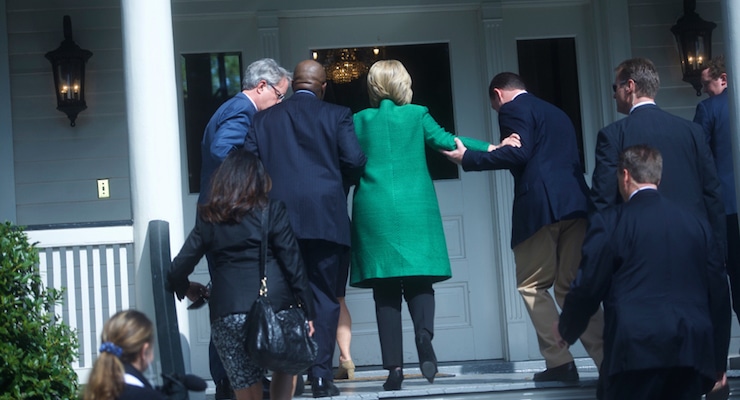 Republicans, medical professionals and alternative media outlets are again raising questions over Hillary Clinton not releasing her medical records. Mainstream mediates and campaign surrogates are claiming "old news," but voters are "dramatically" more concerned about candidates' medical records than ever before.
A new Rasmussen Reports poll finds 59% of likely voters now believe all major presidential candidates should release at least their most recent medical records to the public, "up dramatically from 38% in May 2014." Thirty percent (30%) don't think candidates should have to release their recent medical records, while 11% say they are undecided.
Ironically, self-identified Democrats (62%) believe more strongly than self-identified Republicans (58%) and unaffiliated voters (57%) that candidates should release their recent medical records. Younger voters are less demanding about the release of medical records than older voters, and the same goes for tax returns. Mrs. Clinton has pressed Donald Trump over taxes, something he says he cannot do as long as the Internal Revenue Service (IRS) continues to audit him and his organization.
While there is nothing legally binding him from doing so, legal experts say it could open the target of an audit up to further scrutiny. Thus far, the excuse hasn't received a lot of blowback, despite 67% saying all presidential candidates should release at least their most recent tax returns to the public. Though a majority of Republicans (59%) say all candidates should release the most recent tax returns, it's less demanding than Democrats (77%) and unaffiliated voters (63%).
Interestingly, the overall percentage is down from 73% a year ago and 23% say they disagree. In July 2012, during the last presidential race between President Barack Obama and Gov. Mitt Romney, only six percent (6%) thought the release of the most recent year's tax return was enough, while 29% said returns from the most recent two years were sufficient. A whopping 60% wanted to see more than that, a potential reflection of Mr. Romney's defensive posture toward his wealth.
Worth noting, it was Gov. Romney's father, George Romney, who began the tradition of releasing tax records, something he did while running for presidential against the eventual nominee Richard Nixon in the Republican primary.
The survey of 1,000 Likely Voters was conducted on August 9-10, 2016 by Rasmussen Reports. The margin of sampling error is +/- 3 percentage points with a 95% level of confidence.