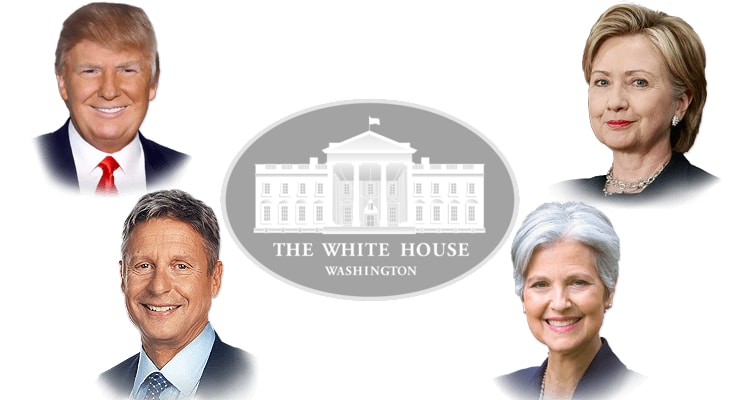 Hillary R. Clinton continues to lead Donald J. Trump in the People's Pundit Daily U.S. Presidential Election Daily Tracking Poll, though the margin is down slightly. Mrs. Clinton now holds a 42.2% to 39.9% advantage over Mr. Trump, down from 6 points during the first week in August. While the race has tightened over the last 7 days, the latest results are still a dramatic shift from the roughly 5-point lead the Republican held in the first published results post convention.
One trend preventing the New York businessman from making a comeback has been a loss in support among Republicans and Republican-leaning independents to Libertarian Party candidate and former New Mexico Gov. Gary Johnson. With a substantial number of white voters open to voting for one of the third-party candidates, he simply cannot afford too many defections. Gov. Johnson, at 9.8%, is now enjoying his highest level of support measured to date, while Dr. Jill Stein, at 4.1%, continues to draw a significant number of voters who supported Sen. Bernie Sanders in the Democratic primary.
"Gary Johnson is fiscally conservative and socially liberal," says Dominic Ruggiero of Chino Valley, Arizona. "He is also a very likable fellow."
Arizona is a state that has traditionally voted Republican on the presidential level but has been trending more Democratic, fueled by large flows of immigration from Latin American countries. We still don't view this state as a typical battleground, but it could certainly become one if the Republican candidate's share of the Hispanic vote doesn't return to at least near pre-convention levels.
The People's Pundit Daily U.S. Presidential Election Daily Tracking Poll, as well as aggregate public polling data, consistently show Mr. Trump outperforming the prior two Republican nominees among Hispanics. Gov. Mitt Romney earned just 27% in 2012, down from the 31% who backed Sen. John McCain in 2008. Over the last two weeks, however, his support has touched and hovered around a new low (21%). At it's highest level immediately after the convention, 41% of Hispanics indicated they might support the Republican nominee, though that number has spent the most time in the low to mid 30s.
Only about one-fifth (22%) of Hispanics consider themselves Republican, while roughly a third (35%) say they are "strong" Democrats. Of the major ethnic voting blocs, Hispanics are among the most likely to consider themselves independent (44%). However, among these voters, Democrats have an edge (46% to 34%) when asked "do you think of yourself as more similar to Republicans than Democrats, more similar to Democrats than Republicans, or equally similar to Republicans and Democrats?"
On ideology, admittedly, the picture is more rosier for Republicans. But nevertheless Democrats have an edge, a substantial edge. Roughly 15% of Hispanics consider themselves "very liberal"; 30% consider themselves "moderately liberal"; and, 6% consider themselves "slightly liberal." On the flip side, 13% consider themselves to be "extremely conservative"; 17% say "moderately conservative"; and, 4% consider themselves "slightly conservative."
In total, the percentage of Hispanic voters who identify as "liberal" is 51%, or far above the national average, which is a little more than a fifth (22%), while those who identify as "conservative" is 34%, below the national average (38%). Hispanic voters remain the least likely to say they "expect to vote in the presidential election" in November, while black voters remain most likely to vote. White voters are a close second.
Worth noting, despite his polling troubles, Mr. Trump's voters are not particularly discouraged and don't appear deterred. We still find roughly the same levels of excitement and enthusiasm looking ahead to November than we did when he held a slight lead over Mrs. Clinton.
"America needs change! Corrupt politics are killing this country. We need someone who has NOT been a career politician to pull us back from the precarious edge we are standing on," Sandra Taylor of Forest Park, Georgia told People's Pundit Daily in a recent response. "Donald J Trump is a successful business man with a deep love for this country, regardless of the picture the media try to paint."
Seventy-three percent (73%) of Trump voters say they "strongly support" their candidate juxtaposed to just 62% who say the same about Mrs. Clinton. While it could make a difference in a turnout election, a vote is a vote, despite how enthusiastically you cast it. Second, the Clinton campaign infrastructure is far ahead of the Trump campaign, which could make up the difference. Still, there's little doubt Trump supporters are more loyal than Clinton supporters.
"Trump is a stronger candidate and speaks how he sees things," Rajeev Bharol of Gilroy, Calif., said. "No politically correct lies."
A connection between Trump and his voters exists that is both difficult (if not impossible) to gauge by the numbers, which Clinton voters don't feel. Unfortunately for Mr. Trump, it's just as unclear whether there are enough of them.
The above survey results are taken from the responses of 1306 likely voters interviewed via Internet panel from August 12 to August 14, 2016. Respondents statements may include those give in the prior 7 days. Learn more about how we conduct interviews for the People's Pundit Daily U.S. Presidential Election Daily Tracking Poll and survey methodologies here.