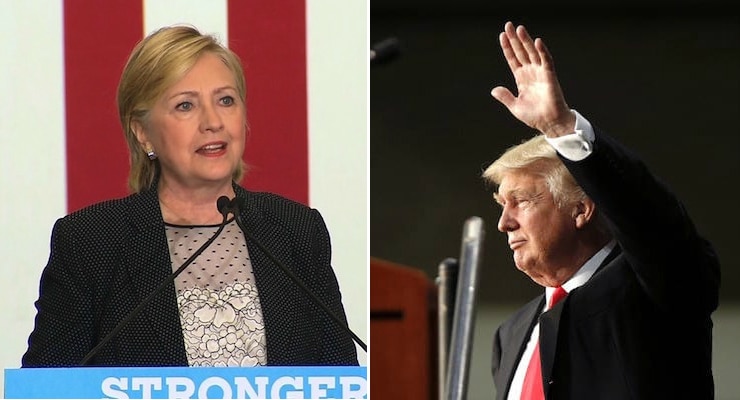 Tar Heel State Independents Back Trump 45% to 34%
Republican Donald Trump holds a slight 45% to 43% edge over Democrat Hillary Clinton in the battleground state of North Carolina, with Libertarian Gov. Gary Johnson at 8%. A brand new [content_tooltip id="38226″ title="Emerson College Polling University"] of 800 likely voters conducted August 27-29 finds both candidates are winning 81% of their own party's vote, but Tar Heel State independents favor Mr. Trump over Mrs. Clinton 45% to 34%, with Gov. Johnson getting 14%.
"Trump's strongest support is in the eastern and western parts of the state, where he is winning 47% to 45% and 53% to 36%, respectively," said Professor Spencer Kimball, polling advisor for Emerson College Polling Institute. "He and Clinton are in a statistical dead heat in the central region, with each having 42% of the vote. Clinton leads 62% to 31% in the Greensboro/Charlotte area."
Among white voters, Mr. Trump leads 63% to 24%, with African- American voters backing Clinton 75% to 16%. Those results are inline with another recent North Carolina poll conducted by SurveyUSA, which found 20% of black voters, to whom the GOP nominee is trying to reach out, supporting the Republican candidate. Mrs. Clinton also has a large lead with Hispanics, 59% to 15%, larger than the national average, and among multiracial voters (94% to 6%).
From the 2012 ballot, which gauges how the sample voted in the 2012 reelection of President Barack Obama, Mr. Trump appears to be slightly outperforming Massachusetts Gov. Mitt Romney, who carried the Tar Heel state by roughly 3 points.
Barack Obama (D)

Mitt Romney (R)

Someone else

Total
Worth noting, Emerson College, which was awarded a lifetime grade of an A on the PPD Pollster Scorecard, was the single most accurate polling outfit in the country during the primary season.
In the U.S. Senate race, a pivotal election in the battle for control of the upper chamber, Republican incumbent Richard Burr holds a 4-point edge over his Democratic opponent Deborah Ross, 45% to 41%, with 5% choosing someone else and 8% undecided.
ECPS final press release and toplines_NC_August 30
The Emerson College Polling Society North Carolina poll was conducted from August 27-29, 2016. The sample consisted of 800 likely general election voters with a margin of error of +/- 3.4%. Data was weighted by 2012 election results and regional weights. The state was broken into four regions based on Congressional districts. The East was comprised of districts 1,3,7, and 13; North Central included districts 4 and 6; South Central consisted of districts 2,8, and 9; Greensboro/Charlotte was made up of district 12, and the West encompassed districts 5,10, and 11.