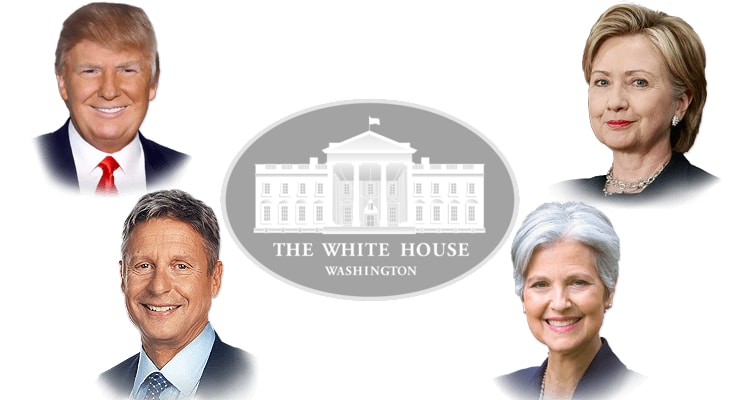 Republican Donald Trump rebounded last week against Democrat Hillary Clinton, while support for Libertarian Gov. Gary Johnson hit a new high and Dr. Jill Stein collapsed. The People's Pundit Daily U.S. Presidential Election Daily Tracking Poll finds Mrs. Clinton holds a slight 1.3 percentage point lead over Mr. Trump, 42.1% to 40.8%, with Gov. Johnson at 10.6% and Dr. Stein at 2.6%.
This marks the highest level of support ever measured for Gov. Johnson by the PPD Presidential Election Daily Tracking Poll and, though it's not the lowest ever measured for Dr. Stein, the Green Party candidate hasn't fallen below 3% in the poll since 7/24/2016. On the surface, it would appear that the rise of Gov. Johnson draws support from both Mr. Trump and Mrs. Clinton.
But demographically, many of the voters supporting the Libertarian candidate are voters the Republican candidate will likely need to win back over in greater percentages than his opponent if he hopes to flip battleground states Gov. Mitt Romney lost, particularly in Virginia and the Rust Belt states.
"Johnson is the only candidate running who I believe is qualified for the position," said Alan Winter, an independent voter from Lebanon, Pennylvania. "Trump is reckless, Clinton is a criminal and Stein lacks the experience for the job."
Support for Dr. Stein declined to 2.9% in Friday's 3-day rolling average (8/25/2016) and ticked down slightly again on Saturday. She enjoyed her highest level of support in PPD tracking during and in the days after the Democratic National Convention, when the DNC was rocked by leaked emails released by the anti-secrecy group WikiLeaks, which revealed an anti-Bernie Sanders bias and collaboration with media outlets such as The Washington Post and Politico.
However, much of that anger has either faded or been replaced with a desire by Democratic voters to stop the Republican nominee.
"Clinton has the experience to work with both sides and has stuck with it through constant Republican demonization," said Lisa Pons, a Democrat from Murrieta, California. "Trump has turned our country and election process into an embarrassment."
Ms. Pons supported Sen. Sanders in the Democratic primary, but now feels it is more important to stop Mr. Trump than it is to teach Mrs. Clinton and the DNC a lesson.
"I want him defeated to tell the world that Americans are better than Trump."
Despite Gov. Johnson's rise and Dr. Stein's collapse, Mr. Trump has been able to gain significant ground on Mrs. Clinton, erasing her roughly six-point lead. The Democratic presidential candidate remained relatively flat throughout week, ticking down only after less-than favorable stories relating to the Clinton Foundation were published by the Associated Press (AP) and others.
The New York businessman actually retook a slight lead in the poll temporarily on August 20, which was largely fueled by a marginal increase in Republican support, greater enthusiasm among his core supporters and a decline in support among independents for Mrs. Clinton. Mr. Trump continues to lead Mrs. Clinton among independent voters, 45% to 32%, with Gov. Johnson taking 18% and Dr. Stein 5%.
"I have followed and admired Mr. Trump since I was a young man," Bob Erio, an independent voter from Castaic, California said. He is "strongly opposed to political correctness" and feels his horse is the "candidate to fundamentally change Washington and revive our nation."
"Mr. Trump has freed and empowered the silent majority to speak up on behalf of genuine, traditional American values," he added. "I believe he's the best candidate we've had for President since Ronald Reagan. Western civilization is at stake in this election, and Donald Trump is the candidate who can save our freedom and culture."
Further, while many commentators and mediates are mocking Trump's outreach to African-American voters, he maintains support from a larger percentage of black voters than the prior two GOP nominees (11%). The results of the People's Pundit Daily U.S. Presidential Election Tracking Poll regarding black voters find men more than women, specifically men aged 30 years and older, are more open to supporting Mr. Trump than conventional political "wisdom" indicates.
The above survey results are taken from the responses of 1224 likely voters interviewed via Internet panel from August 22 to August 24, 2016. Respondents statements may include those give in the prior 7 days. Learn more about how we conduct interviews for the People's Pundit Daily U.S. Presidential Election Daily Tracking Poll and survey methodology here.