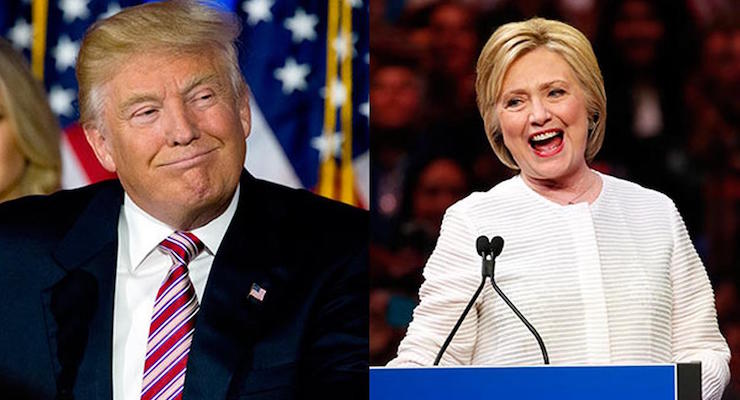 Democrat Hillary Clinton leads Republican Donald Trump 52% to 34% in the state of New York, with Libertarian Gov. Gary Johnson at 8% and Green Party Jill Stein at 3%. A new [content_tooltip id="38226″ title="Emerson College Polling University"] of 800 likely voters conducted August 28-30 finds both candidates have serious problems with their base and the former Secretary of State is viewed more positively than her Republican rival.
The poll shows almost half of those who supported Ted Cruz say they will vote for either Gov. Johnson (33%) or Mrs. Clinton (16%), while only 52% say they'll vote for Mr. Trump.  Half of those who voted for Ohio Gov. John Kasich (49%), who won the New York, N.Y. district, say they will vote for Gov. Johnson juxtaposed to 25% for Mr. Trump. But Mrs. Clinton has her own problems, as well.
A significant number (63%) of voters who supported Vermont Sen. Bernie Sanders say they'll support Clinton, but 15% are backing Mr. Trump, 11% support Dr. Stein and 5% Gov. Johnson. This is inline with the results from the People's Pundit Daily U.S. Presidential Election Daily Tracking Poll, which consistently finds at least 15% of Sanders' voters say they'll vote for the Republican.
Meanwhile, Gov. Johnson's support is soft. A whopping 62% of Johnson voters say they are open to changing their minds about whom they'll vote for, compared to just 16% of Trump-Clinton voters, altogether.
Despite Mr. Trump claiming he could carry the state in November, it's a very heavy lift for any Republican candidate. While he leads by 7 points in Western New York, she is cleaning up in New York City. Clinton leads Trump by a margin of 74% to 14% in the upper boroughs and 70% to 22% in the lower boroughs.
In the U.S. Senate race, Democratic incumbent and potential new majority leader Sen. Chuck Schumer holds a whopping 37-point edge (60% to 23%) over Republican Wendy Long, with 4% choosing someone else and 12% undecided. Sen. Schumer has a +31 favorability (56% favorable/25% unfavorable), while Long has yet to even define herself with voters. Incredibly, 30% of Empire State voters have never heard of Long and 40% are unsure what they even think of her.
Among those who know the Republican candidate for U.S. Senate, 11% view her favorable and 19% view her unfavorable.
Full Results: ECPSx FINAL press release and toplines_NY_August 31
The Emerson College Polling Society New York poll was conducted from August 28-30, 2016. It has a sample consisting of 800 likely general election voters with a margin of error of +/- 3.4% and data was weighted by 2012 election results. The state was broken into five regions based on Congressional districts, per the following. Long Island: Districts 1 to 4 and 11. Lower City: Districts 5 to 10 and 12. Upper City: Districts 13 to 16. Upstate: Districts 17 to 22. West: Districts 23 to 27.