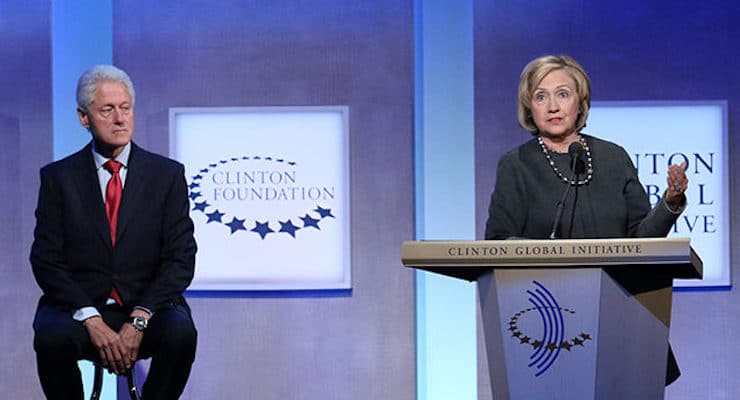 A supermajority of American voters say Hillary Clinton was "selling influence" to "foreign contributors who made donations to the Clinton Foundation," a new survey finds. A [content_tooltip id="37989″ title="FOX Poll"] of 1,011 registered voters conducted from August 28-30 finds a whopping 66% don't believe Mrs. Clinton when she says "there's smoke, not no fire" when it comes to the quid pro quo during her tenure as secretary of state.
Overall, 42% say it is "very likely" and 24% say it is at least "somewhat likely" that Mrs. Clinton was "selling influence" at the State Department, including 13% and 30% of Democrats, respectively. Fifty-three (53%) of independents say it is "very likely" and 20% say it is at least "somewhat likely" she was, while Republicans agree by 67% 21%, respectively.
The percentage is up from 61% who said so in a previous Fox Poll conducted at the end of May. That survey was conducted before several bombshell reports that reviewed emails, schedules and phone calls revealed Mrs. Clinton clearly gave special access to Clinton Foundation donors, using her top aide as a go-between at the State Department and the foundation.
The Fox Poll also finds Republican presidential candidate Donald Trump has erased Mrs. Clinton's 10-point lead over him during the prior month. The poll found him trailing Mrs. Clinton by just 2 points, 41% to 39%, with Libertarian candidate Gary Johnson at 9% and Green Party candidate Dr. Jill Stein at 4%. That's within the poll's 3-point +/- margin of error and slightly more favorable to Mrs. Clinton than the People's Pundit Daily U.S. Presidential Election Daily Tracking Poll.
"What we've found over the last few days is that the damage done by the Clinton Foundation to Hillary Clinton is resulting in movement to Donald Trump," says PPD's senior political analyst Richard D. Baris. "Even about one-fifth (21%) of African-American voters have an unfavorable view of the former secretary of state and many black male voters are willing to give the Republican candidate serious consideration."
PPD, as of Wednesday, August 31, finds Mr. Trump leading Mrs. Clinton by 1 point, 42% to 41%.