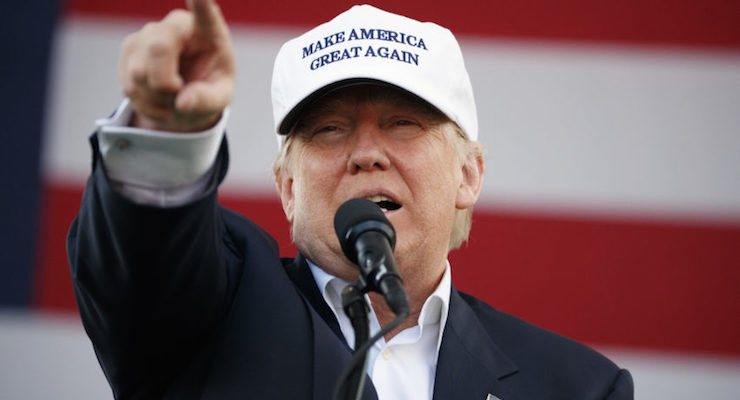 With less than one week to go before Election Day, Donald Trump expanded his lead over Hillary Clinton in the key battleground state of Florida. The People's Pundit Daily (PPD) Sunshine State Battelground Poll finds Mr. Trump leading Mrs. Clinton in a four-way matchup by 3 points, 48% to 45%, with both Libertarian Gary Johnson and Green Party candidate Dr. Jill Stein flat at 4% and 2%, respectively.
The latest results represent a 2-point uptick in support for the Republican and just a 1-point increase for the Democrat compared to last week.
As of the final day of interviews for the poll, roughly 800,000 independents had already cast a ballot via early voting or mail-in absentee ballot. The group overall is now breaking for the New York businessman by 8 points, 48% to 40%. Worth noting, Gov. Romney lost Florida independents by 3 points to President Obama in 2012 and still only lost the state by roughly 70,000 votes.
Mr. Trump held a rally on Wednesday in Miami, where he now leads among Hispanics by 5 points, 49% to 44%. Younger Cuban voters, who are less likely to vote prefer Mrs. Clinton, while older Cuban voters, who are more likely to vote back Mr. Trump. In 2012, President Barack Obama and Gov. Mitt Romney essentially split the Hispanic vote in Miami, home to the state's more conservative Cuban population.
While both Mr. Trump and Mrs. Clinton are losing certain percentages of their party base to each other and third-party candidates, their base support continues to be roughly on par with 2012. Mrs. Clinton takes roughly 8% of the Republican vote and Mr. Trump takes 10% of the Democratic vote. PPD has found each candidate losing much larger shares of their base in other battleground states, including Pennsylvania for Mr. Trump and North Carolina for Mrs. Clinton.
Mrs. Clinton leads among Hispanic voters statewide by 53% to 42%, a smaller margin than the poll found in the previous week. Latinos made up 16% of the electorate in the previous PPD Sunshine State Battleground Poll, but now increased their share of the electorate to 18%.
White voters made up roughly 66% of the electorate and are breaking big for Mr. Trump 58% to 37%, while black voters go 81% to 17% for Mrs. Clinton. Leslie Wimes, the president of the Democratic African-American women's caucus, recently told MSNBC's Hallie Jackson that the Clinton campaign was right to be in "panic mode" about low voter enthusiasm in the black community.
"We love President Obama," she said. "That doesn't transfer to Hillary Clinton by osmosis. It's over now as far as the African-American community is concerned. She had time back then to get into the community and get people out to vote. Now, you know, the numbers are the numbers. There's nothing she can do now."
Interestingly, the black vote share of the electorate has fallen to 13% and the PPD Sunshine State Battleground Poll found black Trump voters are markedly more enthusiastic about voting on or before Tuesday than their Democratic counterparts, 60% to 49%.
The Republican candidate also continues to enjoy a substantial voter enthusiasm gap, with 62% of Trump voters saying they are "extremely enthusiastic" and 50% of Clinton voters saying the same.
"While this gap has been present the entire cycle, the Clinton campaign appears to be facing a potential crisis of enthusiasm," said Rich Baris, PPD's Editor-in-Chief and Senior Political Analyst "Critical voting blocs in the Democratic coalition are either not excited or are not supporting Mrs. Clinton by the same margins they supported Mr. Obama. But the announcement by the FBI director reopening the probe into the former secretary of state's emails–and now the new reports confirming serious probes into the Clinton Foundation–could translate into a complete collapse in support on or before Election Day."
The PPD Sunshine State Battleground Poll was conducted from October 29 to November 1 and is based on 751 interviews conducted via Internet panel with Florida residents participating in the PPD Internet Polling Panel (See Methodology). Respondents said they definitely will vote in the 2016 general election for president or already have voted early, by mail or absentee ballot.
Loading the 2016 PPD Presidential Battleground Polling Map