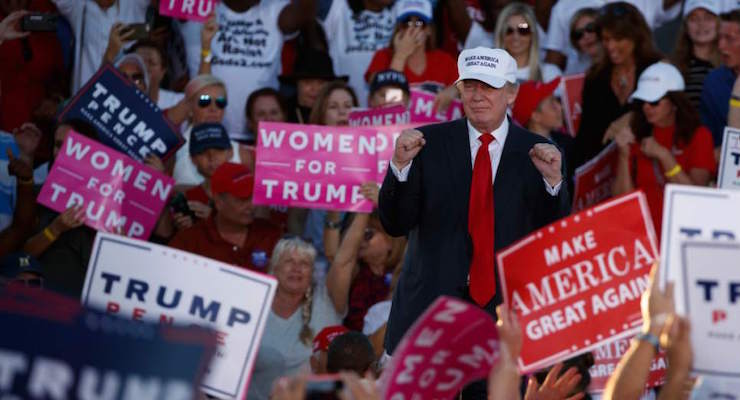 After trailing by roughly 2.5 points last week, Donald Trump has taken a small lead over Hillary Clinton in the key battleground state of Florida. The People's Pundit Daily (PPD) Sunshine State Battelground Poll finds Mr. Trump leading Mrs. Clinton in a four-way matchup by 2 points, 46% to 44%, with Libertarian Gary Johnson taken 4% and Green Party candidate Dr. Jill Stein 2%.
The changeup on the leader board is due in large part to independents breaking for the New York businessman by 8 points, 47% to 39%. Worth noting, Gov. Mitt Romney lost independents by 3 points to President Barack Obama in 2012. While Mrs. Clinton's alliance with the president helps her with partisans, particularly minority voters, it doesn't necessarily help her with swing voters.
"Donald Trump is the only real choice," said Claudia Lee, an independent voter from Sarasota, who thought he won the final debate. "Under Obama, our country has declined."
The Republican also enjoys a substantial voter enthusiasm gap and, while both Mr. Trump and Mrs. Clinton are losing certain percentages of their party base to each other and third-party candidates, their base support is roughly on par with 2012. Mrs. Clinton takes roughly 7% of the Republican vote and Mr. Trump takes 8% of the Democratic vote. PPD has found each candidate losing much larger shares of their base in other battleground states, including Pennsylvania for Mr. Trump and North Carolina for Mrs. Clinton.
"I'm supporting Donald Trump because like millions of Americans, I'm sick of bought and paid for politicians," said Ellen Rentz, a Republican from Lecanto. "I believe he is the most qualified candidate to keep us safe, rebuild our military and put us on the road to a real economic recovery."
In 2012, President Obama and Gov. Romney essentially split the Hispanic vote in Miami. Now, the region's Cuban population is swinging it to Mr. Trump by 3 points, 47% to 44%. Younger Cuban voters, who are less likely to vote prefer Mrs. Clinton, while older Cuban voters, who are more likely to vote back Mr. Trump.
Statwide, Mrs. Clinton leads among Hispanic voters 52% to 38%, which is notable given Mr. Trump's tough stance on immigration. Latinos made up 16% of the electorate in the PPD Sunshine State Battleground Poll.
White voters break big for Mr. Trump 56% to 36%, while black voters go 84% to 11% for Mrs. Clinton.
The PPD Sunshine State Battleground Poll was conducted from October 20-24 and is based on 747 interviews conducted via Internet panel with Florida residents participating in the PPD Internet Polling Panel. Respondents said they definitely will vote in the 2016 general election for president or already have voted early (final day), by mail or absentee ballot.
After trailing in most battlegrounds last week, Mr. Trump has gained on Mrs. Clinton in each key state tracked by People's Pundit Daily. During the week leading up to the final debate, Mr. Trump led only in Iowa (+3) and Ohio (+1) and trailed nationwide in the previous tracking surveys, though the margin was tighter than other polls have shown.
The U.S. Presidential Election Daily Tracking Poll continues to show a tighter race than most other public polls, with Mrs. Clinton holding a statistically insignificant 1-point lead.
Last week, Mr. Trump's lead in Iowa (+4) and Ohio (+2) ticked up a bit but he still trailed Mrs. Clinton is the remaining battleground states. But it now appears the election will come down to whether or not the D.C. outsider and businessman from New York can stay on message, hold on to the wide voter enthusiasm gap he enjoys and continue the momentum in the final days of the election.
Voters responded very favorably to the final debate, the anti-corruption and economic fairness message and, though Mrs. Clinton leads in states like Pennsylvania, the latter day interviews showed movement toward Mr. Trump, indicating to us he has momentum.
"While the media was obsessing over whether or not Donald Trump would concede on Election Day, he was winning over independent voters and shoring back up his base," PPD's editor-in-data chief Rich Baris said. "We've seen moments in the campaign like this before only watch the Republican get off message. He's closing the gap, the race is far from over, but he simply doesn't have the time to or the luxury of making another mistake."
Loading the 2016 PPD Presidential Battleground Polling Map