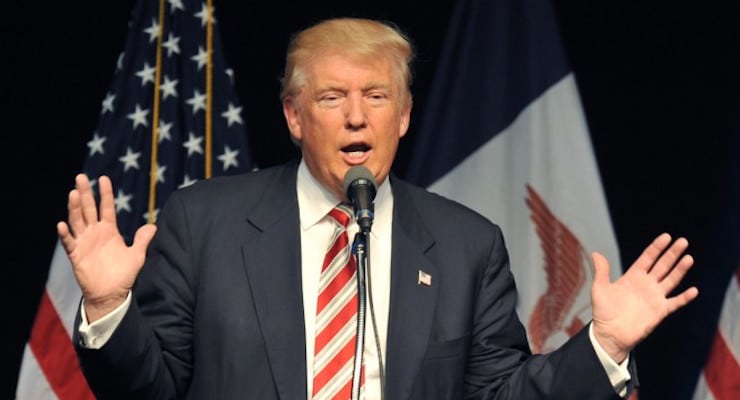 Republican Donald Trump leads a deeply unpopular Democrat Hillary Clinton in the key battleground state of Iowa, a new Emerson College Poll finds. Mr. Trump tops Mrs. Clinton, the former secretary of state mired in FBI controversy, 44% to 41%.
The results showed little change since the Emerson College Poll in early September, where he was ahead by 5 points, 44% to 39%. Libertarian Party candidate Gary Johnson earned 5%, Green Party candidate Dr. Jill Stein took 4% and 5% are still undecided.
However, the internals of the poll show little upside for Mrs. Clinton in the state, which along with Ohio, the campaign privately all but concedes they have lost. Voters' opinions of Mr. Trump are more positive, as PPD Battleground Polls are beginning to show in Florida, Virginia, North Carolina and Nevada. He has a net -4 favorability rating compared to Mrs. Clinton's net -28.
The U.S. Senate race between incumbent Republican Sen. Chuck Grassley and former Democratic Lieutenant Governor Patty Judge is basically over. Sen. Grassley leads his rival by 28 points, 60% to 32%, a marked improvement from the 51% to 40% advantage he held in an Emerson College Poll from September 2.
Sen. Grassley, who is Chairman of the Senate Judiciary Committee, was seen as potentially vulnerable due to the GOP-controlled Senate's refusal to act on the Supreme Court nomination of Merrick Garland. However, despite millions of dollars in negative advertisements and forecasters calling his situation in doubt, his popularity with Iowa voters remains very high.
His favorable/ unfavorable ratio is 55% to 37%, a net of +18, while Judge's numbers are 28% to 55% or net -27.
Emerson College Final Iowa Poll
Methodology
The Emerson College poll for Iowa was conducted November 1-3 under the Supervision of Professor Spencer Kimball. The sample consisted of only likely general election voters, n=700, with a margin of error (MOE) of +/- 3.6 percentage points. The Iowa data was weighted by 2012 election results, party affiliation, age, and district. It is important to remember that subsets based on gender, age and party breakdowns carry with them higher margins of error, as the sample size is reduced. Data was collected using an Interactive Voice Response (IVR) system of landlines only. The full methodology and results can be found at www.theecps.com.