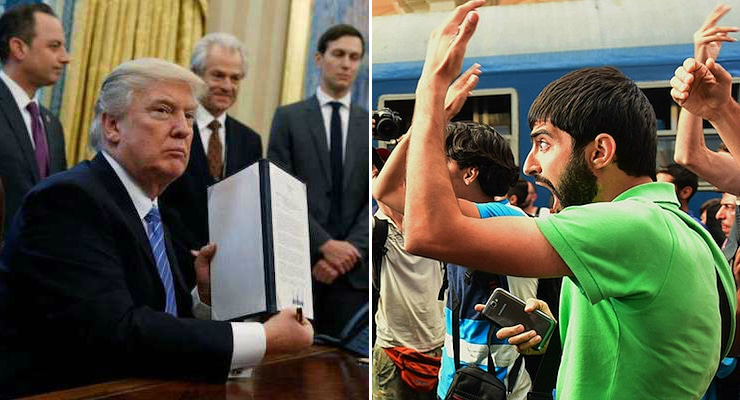 Democratic lawmakers are blasting President Donald J. Trump over his moratorium on immigration from 7 predominantly Muslim nations known as terror hotbeds. Their activists are parked at airports around the country, while the left's civil rights groups, including the American Civil Liberties Union (ACLU), are demanding entry of refugees now banned from traveling to the United States.
Well, we all saw this coming. The vocal minority may be loud, but it's important to acknowledge that they are, in fact, a minority.
A PPD Poll conducted from Nov. 26 to Dec. 1, based on 1299 interviews via the PPD Internet Polling Panel, found a shockingly large majority (57%) of Americans said they supported an "immigration moratorium for Muslim nations known as hotbeds for Islamic terrorists."
Only 38% opposed it.
On the question of whether "the U.S. should or should not allow refugees from Syria and other predominantly Muslim war-torn countries," nearly two-thirds (63%) said the U.S. "should not," while 32% still supported continuing President Barack Obama's refugee resettlement program.
Putting aside the fact President Trump ran and won on a platform promising to crackdown on illegal immigration, temporarily ban immigration from certain countries in the Middle East and end the refugee resettlement program, our polling clearly indicates the American people support his executive action.
[social-media-buttons]
Worth noting, the PPD Poll asked questions based on more draconian policies previously proposed by President Trump, which is not the action he ultimately took.
The PPD Poll, which conducted the most accurate polling in 2016–is backed up by Rasmussen Reports and other firms that actually polled the election correctly. We pegged most of President Trump's victories on on the statewide level within tens of percentage points, including Michigan, Pennsylvania and Wisconsin.