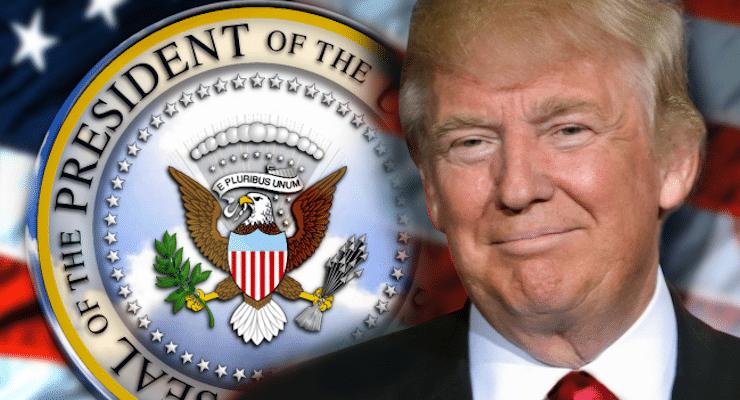 President Donald J. Trump's approval rating ticked up slightly this week, but his core bi-and non-partisan base has weakened slightly. The PPD Poll, which conducted the most accurate polling in 2016, finds 45% of likely voters nationwide approve of the job President Trump is doing, while 45% disapprove.
Support for the president has slipped nationally, but in key battlegrounds states–including Ohio, Michigan, Pennsylvania and Iowa–the president's numbers are still above water and he is viewed more favorably juxtaposed to the nation as a whole.
Nationally, 54% of whites still approve of the job the president is doing and 36% disapprove, but that's down from 54% in the prior survey. He is also further underwater with nearly every other demographic group after making considerable gains among black Americans last month.
Ten-percent (10%) of blacks approval in mid-to-late April, down from 15% in mid-March. Meanwhile, thirty-two (32%) of Hispanics approve of the job the president is doing, down from 36% in the beginning of the last month.
Interestingly, his approval among Asians (32%) actually represents a gain of 4 points from 28% in late March.
PPD Big Data Battleground State Polls pegged President Trump's victories on on the statewide level in all but two states we identified as battlegrounds within tens of percentage points, including Florida, North Carolina, Michigan, Pennsylvania and Wisconsin. Results of the PPD Battleground State Likely Voter Profiles will be updated this coming week.
Virginia is currently the only battleground state where voters have a lower approval than the nation as a whole.
(See full demographics and historical favorability rating data)
---
The PPD Poll follows level 1 AAPOR standards of disclosure and WAPOR/ESOMAR code of conduct. The national poll was conducted from April 13 to April 20 and are based on 1515 interviews of likely voters participating in the PPD Internet Polling Panel. The PPD Battleground State Likely Voter Metrics are collected in separate state-wide samples.
The PPD Poll has a 95% confidence interval and is not weighted based on party affiliation (party ID), but rather demographics from the U.S. Census Current Population Survey–i.e. age, gender, race, income, education and region. Partisan affiliation is derived from a proprietary likely voter model and demographic weighting, not the other way around.
The sample identified a partisan split of 34% Democrat, 33% Republican and 33% Independent/Other. Read about methodology here.