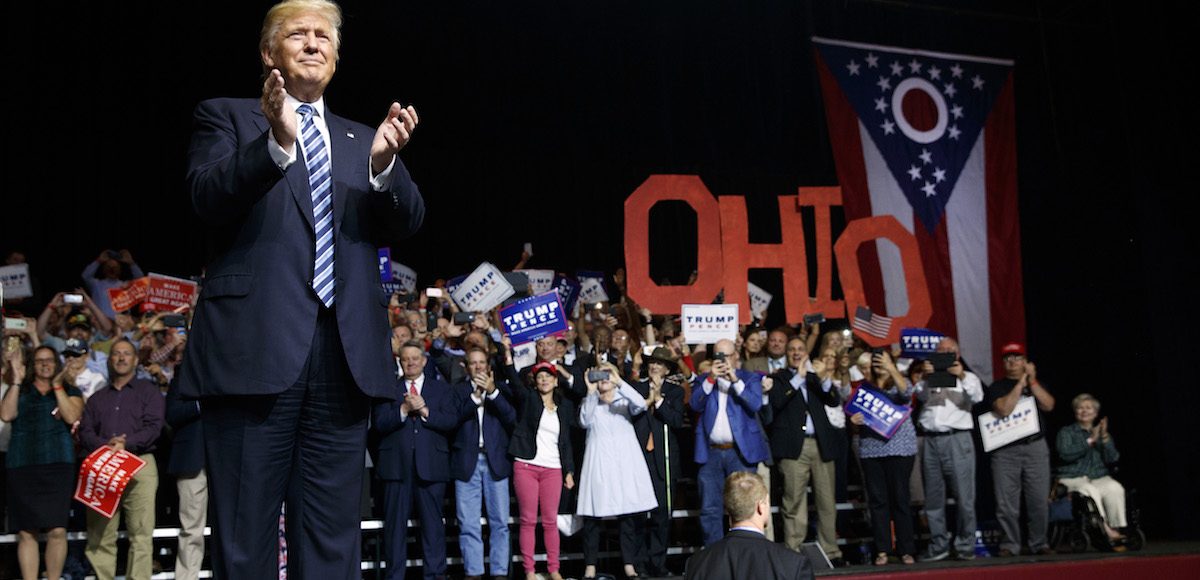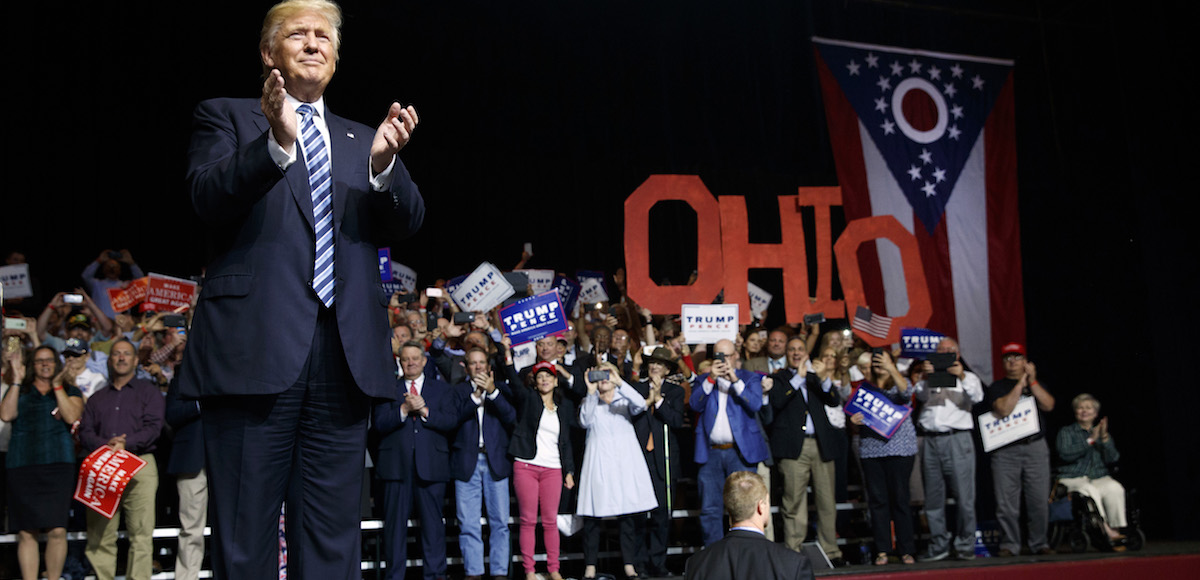 A big majority of Ohio voters approve of the job that President Donald J. Trump is doing and Democrat incumbent Sen. Sherrod Brown is in deep trouble. The PPD Buckeye State Battleground Poll finds voters approve of President Trump by a large 10-point margin, 53% to 43%, while feelings about Gov. John Kasich are far more mixed.
Gov. Kasich, who was one of President Trump's most vocal rivals during the 2016 Republican nomination (and general election), now enjoys only 47% approval in Ohio and 47% disapprove. The demographics show the governor has a lot of work to do among reliably Republican voters.
President Trump carried the battleground state of Ohio over Hillary Clinton by the largest margin since George H. W. Bush rode Ronald Reagan's coattails in the 1988 presidential election. He took 51.8% of the vote to just 43.7% for Clinton. Now, Josh Mandel leads Sen. Brown 49% to 44%, making it a steep uphill climb for the Democrat in the 2018 midterm elections.
[wpdatatable id=94]
Sixty-two percent (62%) of white voters in Ohio approve of the job the president is doing, while just 54% approve of the job their governor is going. Fifty-seven (57%) back Mandel over Brown. Ten percent of black votes in the Buckeye State approve of the president, 7% of the governor, and 5% will back Mandel. Brown enjoys 90% support among blacks for his reelection.
Unlike other oft-cited surveys, PPD Battleground State Polls pegged President Trump's victories on the statewide level in all but two states we identified as battlegrounds within tens of percentage points, including Florida, North Carolina, Michigan, Pennsylvania and Wisconsin. In Ohio, we underestimated his support by about 4 points.
The People's Pundit Daily (PPD) Sunshine State Battleground Poll released earlier this week finds President Trump's approval rating in Florida far above water. In his adopted state, 52% approve of the job he is doing as president juxtaposed to 45% who disapprove. Our final PPD Sunshine State Battleground Poll released on Nov. 6 found him leading Hillary Clinton by 1.6%, rounded up to two points.
He won by 1.2%.
If he was up for reelection today, it is highly likely President Trump would carry the states of Florida and Ohio, again.
The PPD Poll follows level 1 AAPOR standards of disclosure and WAPOR/ESOMAR code of conduct. All publicly released surveys are subscriber– and individual reader donations-funded, not sponsored by any other media outlet, partisan or political entity.
The national poll was conducted from April 27 to May 3 and are based on 1561 interviews of likely voters participating in the PPD Internet Polling Panel. The Sunshine State Battleground Poll, a subsample of the PPD Battleground State Likely Voter Metrics, are collected in separate state-wide samples.
The PPD Poll has a 95% confidence interval and is not weighted based on party affiliation (party ID), but rather demographics from the U.S. Census Current Population Survey–i.e. age, gender, race, income, education and region. Partisan affiliation is derived from a proprietary likely voter model and demographic weighting, not the other way around.
The sample identified a partisan split of 38.6% Republican, 36.7% Democrat and 24.7% Independent/Other. Read about methodology here.