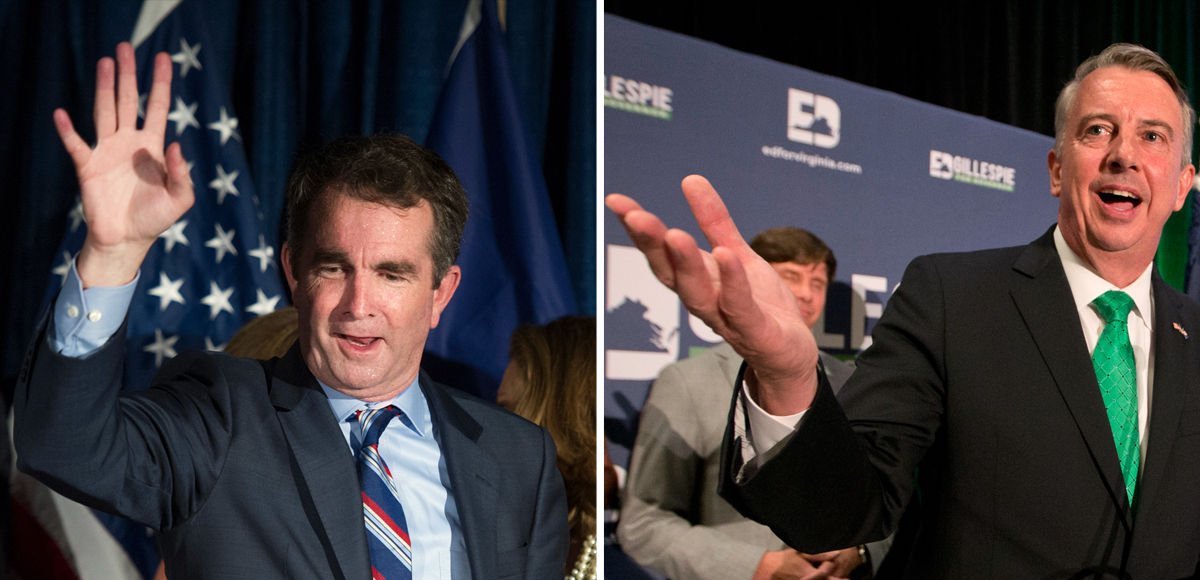 Republican Ed Gillespie leads Democrat Ralph Northam by a single point, 48% to 47%, in the latest Virginia governor poll conducted by Monmouth. Libertarian nominee Cliff Hyra takes 3% and another 3% are undecided.
That's a notable turnaround in the Monmouth Poll, which conducted a survey last month that found Mr. Gillespie trailing Lt. Gov. Northam by 5 points, 49% to 44%. If accurate, it means that the Republican candidate not only increased support but also changed minds.
"This has never been more than a five point race in Monmouth's polling, and that means either candidate has a very real shot at winning this thing," said Patrick Murray, director of the independent Monmouth University Polling Institute. "We have seen lots of little movement that has either helped or hurt each candidate but with neither one being able to break out."
The Monmouth Poll also stands in contrast to the Emerson College Poll released last week, which also found the former chairman of the Republican National Committee (RNC) trailing 49% to 44%. But it also found President Donald J. Trump more popular than sitting Democratic Governor Terry McAuliffe.
President Trump endorsed Mr. Gillespie and Vice President Mike Pence stumped for his over the weekend in western Virginia, which could very well have given him a boost. The President carried the region he visited with more than 70% of the vote.
While Lt. Gov. Northam expanded his lead in Northern Virginia to 64% over 32% for Mr. Gillespie juxtaposed to the 56% to 39% margin in September, the conservative western part of the Commonwealth backs the Republican 64% to 31%. That's compared with a 50% to 43% margin last month.
Eastern Virginia – Lt. Gov. Northam's home which backed Democrats in recent elections for governor and U.S. Senate – has become more competitive, now split at 48% for the Republican and 45% for the Democrat. Mr. Northam had a 49% to 40% lead in September. Central Virginia – which tends to be a swing region – remains tight at 47% for Gillespie and 44% for Northam, which is similar to September's close margin of 49% Northam and 48% Gillespie.
Worth noting, the Republican held a lead on almost all the major campaign issues. His lead on crime came in at 40% to 25%, up from 35% to 27%.
"Painting Northam as soft on crime, especially with the MS-13 gang spots, appears to have been effective," Murray added. "This is a game of inches right now, so any small advantage counts."
Mr. Northam leads on health care (42% to 32%) and education (39% to 27%), both of which have tightened slightly. Mr. Gillespie's gains on the issues came from the western part of the state.
"In last week's debate, Northam made a specific appeal to voters in the western part of the state on issues such as education and health care," Murray continued. "It doesn't appear to have worked."
Still, the Old Dominion should think about changing its name to the New Dominion, as PPD's Battleground State Likely Voter Metrics show it is the only competitive state to show positive movement toward Democrats over the last year and since the election.
Partisan affiliation data collected by PPD from August 21 to August 25 in Virginia found a Democrat +4.1 spread, an advantage that is more than 2 points from the previous year. Ironically, the ideological split is still Conservative +10.7. President Trump's approval rating in the state stood at 44%, while 50% disapproved.
The Monmouth University Poll was conducted by telephone from October 12 to 16, 2017 with 408 Virginia residents likely to vote in the 2017 gubernatorial election. The results in this release have a margin of error of +/- 4.9 percent. The poll was conducted by the Monmouth University Polling Institute in West Long Branch, NJ.
Bottom Line
While a recent poll by the Washington Post shows a blowout 13-margin for Northam, the more accurate Emerson College Poll and the similarly not-so accurate Monmouth Poll show a still-competitive race. In 2013, the same Washington Post poll gave Gov. McAuliffe a giant 51% to 39% lead over Ken Cuccinelli, while the race came down to under 3 points.