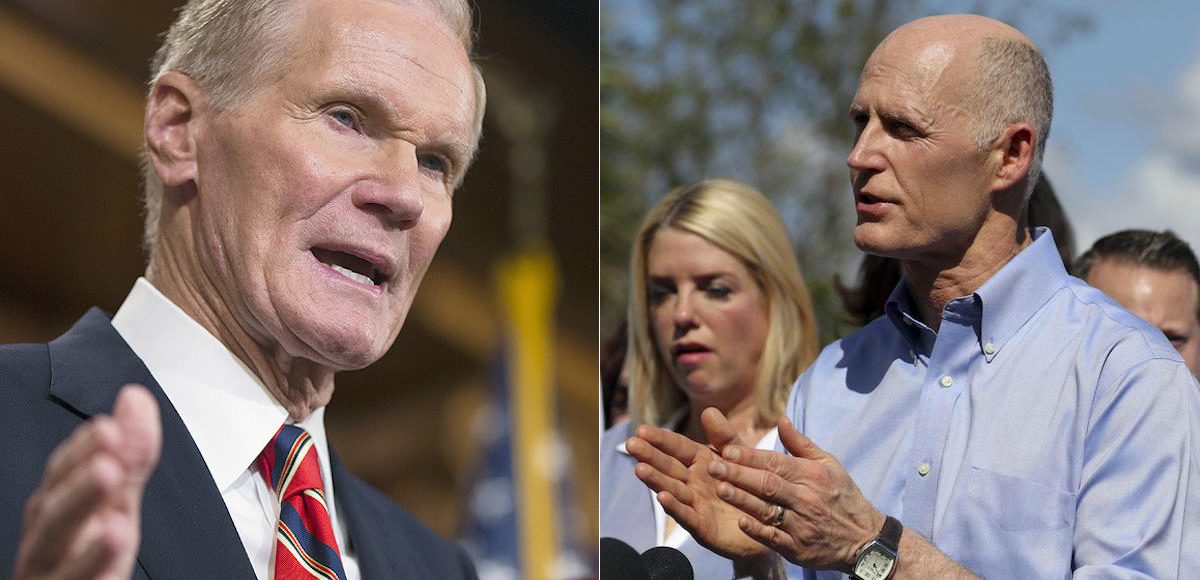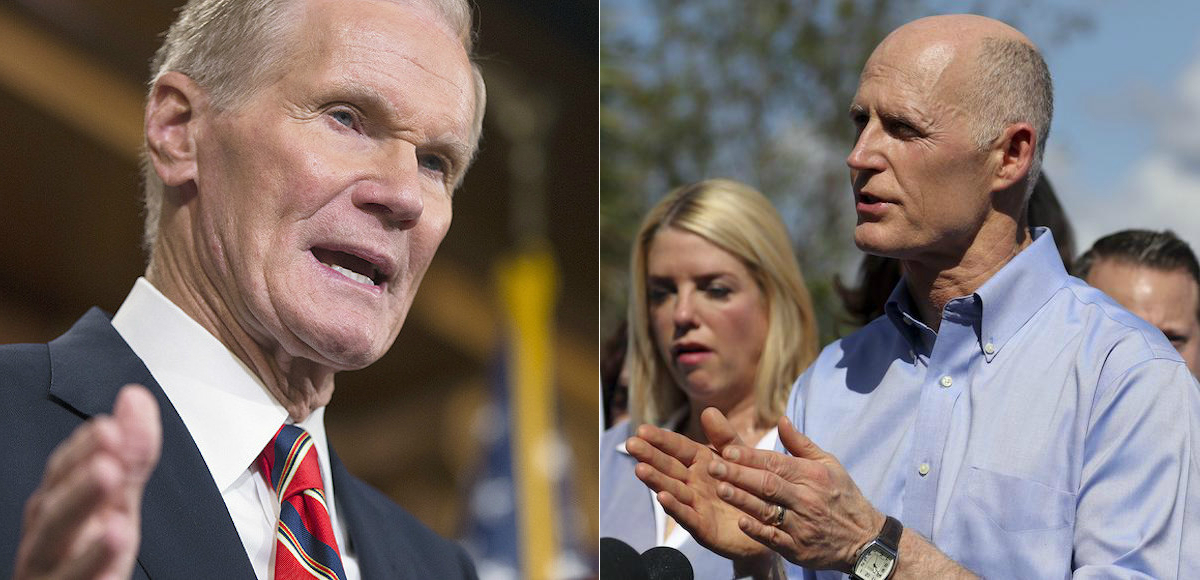 Governor Rick Scott holds a slight edge over incumbent Senator Bill Nelson, D-Fla., in a hypothetical matchup for the 2018 U.S. Senate race in Florida. The PPD-BDP Sunshine State Battleground Poll finds Gov. Scott leading Senate Nelson by almost 2 points exactly, 39.23% to 37.25%, respectively.
Roughly 15% (15.1%) are undecided and another 8.46% say they will choose "someone else."
"The good news for Governor Scott if he chooses to run is that he has more of his base behind him than Senator Nelson," Big Data Poll director Rich Baris said. "He also draws slightly more of the crossover vote than the incumbent. The good news for Senator Nelson is that independents slightly favor him right now."
"Still, no incumbent wants to be in the 30s."
The two-term senator was re-elected in 2006 with 60% of the vote and in 2012 with 55% of the vote. He has long been viewed as a moderate Democrat in the U.S. Senate, at least until now. But the two-term Republican governor is very popular, with nearly 6 in 10 (58.78%) registered voters approving of the job he is doing in Tallahassee and across the state.
Forty-nine percent (49%) of Florida Republicans, roughly 9% (8.6%) of Democrats and 20% (19.8%) of independents "strongly approve." Another 39% (38.7%) of Republicans, 27% (27.4%) of Democrats and 33% (32.9%) of independents "somewhat approve."
"We've seen a remarkable shift in Governor Scott's image since Hurricane Irma and it continues to climb," Mr. Baris added. "He's by far the strongest Republican candidate in the state to take on Senator Nelson in a race we didn't previously view as particularly competitive. If Governor Scott gets in, Senator Nelson will have a real race on his hands."
President Donald Trump, who has urged Governor Scott to run against Senator Nelson in Florida, has a 51% (50.66%) approval rating in the nation's largest battleground state. That includes 27.03% who "strongly approve" and 23.63% who "somewhat approve." Forty-nine percent (49%) disapprove, including 38% who "strongly disapprove."
The Republican gubernatorial primary is still wide open, with 6 in 10 (59.9%) registered GOP voters saying they're undecided. Currently, Agriculture Commissioner Adam Putnam holds a slight lead over Representative Ron DeSantis, 16.5% to 14.8%, respectively. Bob White takes about 5% of the vote and Angel Luis Rivera draws 4%.
As previously reported, support for gun control is soft but now on par with mental health reforms in the state. However, Florida voters overwhelmingly believe that armed guards and trained personnel on campus during school hours will do more than stricter gun control laws to prevent mass shootings in the future.
Thinking ahead to the 2018 midterm elections, the economy and jobs continue to be the top voting issue (24.1%), while healthcare is the second most important issue at 22%. In the wake of the shooting that killed 17 people at Marjory Stoneman Douglas High School in Parkland, Florida, gun control has shot up to third place with 19%.
National security and terrorism took roughly 17% (16.9%), immigration was the top issue for 13% (12.8%) and education was last at 5% (4.8%).
The PPD-Big Data Poll Battlegrounds conducted highly-accurate statewide surveys in 2016, including in the state of Florida. The Sunshine State Battleground released on November 6 found Donald Trump leading Hillary Clinton by 1.6%, rounded up to two points.
He won by 1.2%.
Can't read the crosstabs? View them on Google Sheets!
BDP Sunshine State Battleground Poll Questionnaire 02-18*
AAPOR Transparency Initiative Checklist PPD-BDP Sunshine State Battleground Poll Feb
*(Big Data Poll logo on the survey questionnaire is NOT visible to panel respondents.)
Big Data Poll conducted the mixed-mode survey of 910 registered voters in Florida from February 17 to 18, 2018. The survey has margin of error is +/- 3 percentage points with a 95% level of confidence. The mixed-mode breakdown was a total of 609 interviews conducted using interactive voice response (IVR) and 301 conducted by online survey panel (OSP).
The data are weighted for age, gender, race/ethnicity, education and income based on projected voter turnout. Partisan affiliation is derived from a proprietary model for demographic weighting, not the other way around.
The sample identified a partisan split of 32.64% Republican, 32.09% Democrat, 31.10% Independent and 4.18% "Something Else." Read about methodology here.