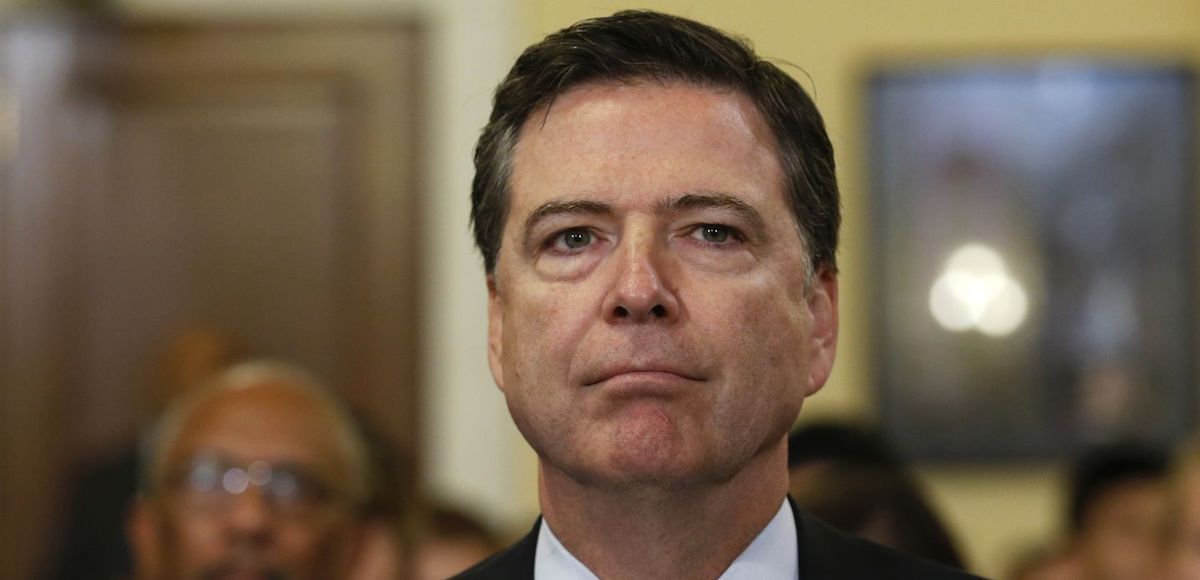 Last Friday, White House Press Secretary Sarah Huckabee Sanders said James Comey "will forever be known as a disgraced partisan hack" who betrayed the trust of the president.
The fired former director of the Federal Bureau of Investigation (FBI), is rated by voters among the worst leaders of the bureau. Just 14% say he was a better FBI director than most of those who held the job before him, while nearly 4 in 10 (38%) say he was worse.
A new Rasmussen Reports national survey finds nearly half (46%) of likely voters believe Mr. Comey be prosecuted for leaking information to the media at the time he was director of the FBI. That includes 29% of Democrats, 65% of Republicans and 46% of unaffiliated voters.
Only 34% disagree and 20% are unsure. Preference by gender is almost identical, with 48% of men and 44% of women agreeing.
He was fired and investigated for his mishandling of the Clinton email case, but wrote an ethically-questionable "tell all" book. President Trump took to Twitter earlier Friday morning to call Mr. Comey a "proven leaker" and an "untruthful slime ball."
Apparently, that view is not out of the mainstream.
On May 3, 2017, Mr. Comey told members of the U.S. Congress under oath that he "never" leaked to the media, or was an "anonymous source in news reports relating to the Trump investigation or the Clinton investigation."
However, on June 8, 2017, he admitted that he had a friend "share the content of the memo with a reporter" because he thought it "might prompt the appointment of the special counsel."
Further, former deputy director Andrew McCabe, who was also recently fired for lying on at least 4 separate occasions during the course of internal investigations, claimed he was given authorization by Mr. Comey to leak information about the Clinton email probe.
The two men are now throwing each other under the bus. The Justice Department (DOJ) Inspector General Michael Horowitz last week released part of his findings from an internal investigation that concluded Mr. McCabe also lied under oath on multiple occasions and leaked in "a manner designed to advance his personal interests."
The survey of 1,000 likely voters was conducted on April 12 – 15, 2018 by Rasmussen Reports. The margin of sampling error is +/- 3 percentage points with a 95% level of confidence. See methodology.