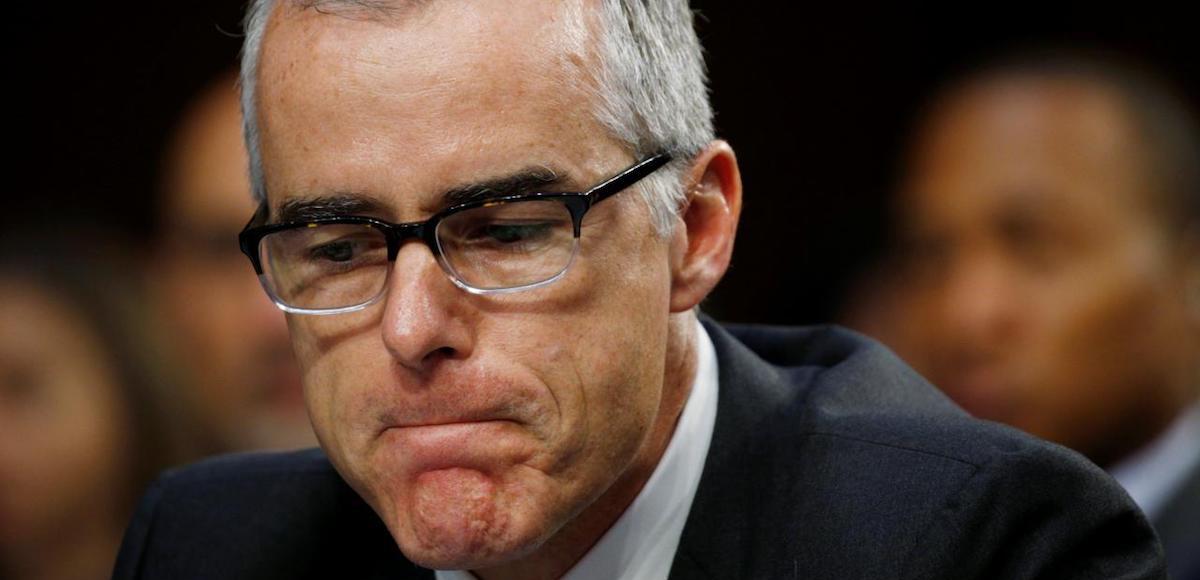 The Justice Department (DOJ) Office of Inspector General (OIG) concluded former FBI Deputy Director Andrew McCabe lied multiple times, including under Oath, and leaked in "a manner designed to advance his personal interests."
The probe was opened after the DOJ Inspection Division (INSD) referred it to Inspector General Michael Horowitz to determine whether information published by the Wall Street Journal (WSJ) in an article on October 30, 2016, was an unauthorized leak. And if so, who was the source of the leak.
"FBI in Internal Feud Over Hillary Clinton Probe" also appeared in print on Monday, October 31, 2016, in an article entitled "FBI, Justice Feud in Clinton Probe."
Mr. Horowitz concluded in the report that Mr. McCabe violated FBI Offense Code 2.5 (Lack of Candor – No Oath) and FBI Offense Code 2.6 (Lack of Candor – Under Oath), both on multiple occasions.
On May 9, 2017, Mr. McCabe was questioned under oath by FBI agents from INSD and "lacked candor when he told the agents that he had not authorized the disclosure to the WSJ and did not know who did."
On July 28, 2017, Mr. McCabe was questioned under oath by the OIG in a recorded interview and "lacked candor when he stated: (a) that he was not aware of Special Counsel having been authorized to speak to reporters around October 30 and (b) that, because he was not in Washington, D.C., on October 27 and 28, 2016, he was unable to say where Special Counsel was or what she was doing at that time."
On November 29, 2017, Mr. McCabe was questioned under oath by the OIG in a recorded interview and "contradicted his prior statements by acknowledging that he had authorized the disclosure to the WSJ."
Mr. McCabe was removed from his post over misconduct and apparent corruption, but had been trying to ride out the scandals currently at the center of the FBI and DOJ. Attorney General Jeff Sessions fired him just days before his retirement was set to take effect.
President Donald Trump called it a "great day" for the FBI and a "great day for Democracy." Meanwhile, Democrats rushed to defend Mr. McCabe, going so far as to even offer him various jobs in the government to ensure he receive his pension.
But this report isn't the end of Mr. McCabe's professional and legal troubles.
In 2015, when Hillary Clinton was the subject and target of several criminal investigations, Mr. McCabe's wife ran as a Democrat for a Virginia Senate seat. She received at least several hundreds of thousands of dollars — an unheard of amount for a state senate race — from a group tied to Governor Terry McAuliffe, a longtime Clinton ally.
Further, Mr. Horowitz's highly-anticipated findings will be the result of numerous investigations into misconduct on behalf of top-level officials in the Obama Administration, including Mr. McCabe and his former boss James Comey.
The inspector general "succeeded in using forensic tools to recover text messages" between anti-Trump FBI officials Peter Strzok and his lover Lisa Page. The FBI agent and lawyer were involved in an apparent effort to undermine President Trump before and after the 2016 presidential election.
The two lovers discussed needing to talk to "Andy" about an "insurance policy" in the event President Trump defeated Mrs. Clinton, a widely-believed reference to Mr. McCabe. Subsequent texts and other reports indicate that the insurance was the so-called "Russia collusion" investigation.
"Makes me feel WAY less bad about throwing him under the bus to the forthcoming CF article," Ms. Page texted to Mr. Strzok in reference to the article in question.
People's Pundit Daily (PPD) also recently reported that U.S. District Court Judge Rudolph Contreras, who presided over the case against former National Security Adviser Michael Flynn, had a personal relationship with Mr. Strzok.
UPDATE: President Trump has responded on Twitter to the damning report.
DOJ just issued the McCabe report – which is a total disaster. He LIED! LIED! LIED! McCabe was totally controlled by Comey – McCabe is Comey!! No collusion, all made up by this den of thieves and lowlifes!

— Donald J. Trump (@realDonaldTrump) April 13, 2018
[pdfviewer width="740px" height="849px" beta="true/false"]https://www.peoplespunditdaily.com/wp-content/uploads/2018/04/DOJ-OIG-McCabe-Report.pdf[/pdfviewer]