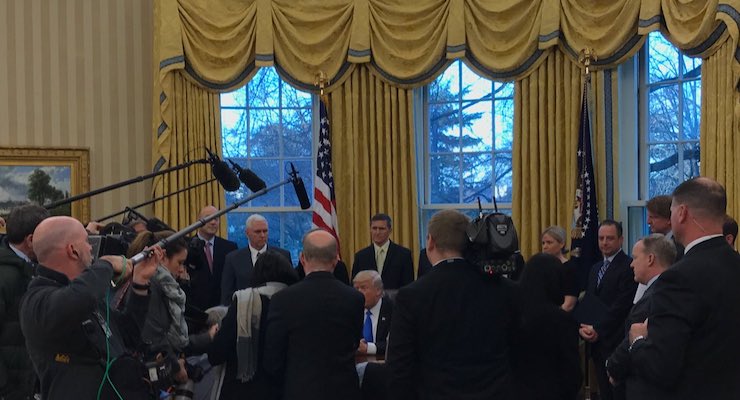 [brid video="113773″ player="2077″ title="President Donald Trump Holds Press Conference The New York Times"]
President Donald J. Trump spoke for more than an hour about the state of the country, "fake news" and illegal leaks meant to take down his administration. The media is having a hysterical meltdown but, agree with him or not, he smoked them. It was vintage Trump.
He continued his feud with Jim Acosta at CNN, a corrupt network proven to have colluded with Hillary Clinton. After several weeks of calling the network purveyors of "fake news," he has downgraded them to "very fake news."
Consequently, Acosta erroneously claimed the "fix was in" at a joint press conference with Prime Minister Benjamin Netanyahu Wednesday, because he called on the Christian Broadcast Network, which has about as large of a following and who's viewers are keenly interested in matters of the Israeli state.
Further, the Obama administration, including Barack Obama himself, sometimes went weeks without calling on FOX News correspondent Ed Henry and never even allowed other conservative media into the Brady Briefing Room.
[social-media-buttons]
Nevertheless, we'll leave you with a transcribed comment from the president that everyone can keep in mind when they watch the news today and tonight. It's almost verbatim.
I certainly didn't win by people listening to you people. That's for sure. But I'm having a good time.

Tomorrow, they will say, "Donald Trump rants and raves at the press." I'm not ranting and raving. I'm just telling you. You know, you're dishonest people. But — but I'm not ranting and raving. I love this. I'm having a good time doing it.

But tomorrow, the headlines are going to be, "Donald Trump rants and raves." I'm not ranting and raving.