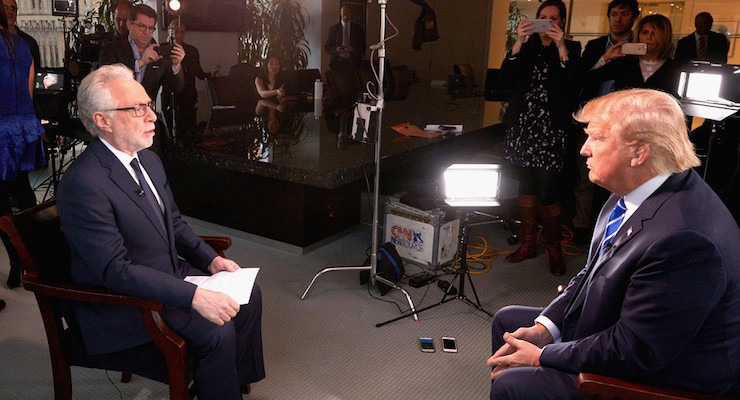 Perceived leftwing bias at CNN has earned it the nickname the "Clinton News Network," but new emails reveal complete corruption and collusion. The emails show the DNC actually gave CNN anchors Wolf Blizter and Jake Tapper suggestions and questions to help their narrative before interviews with Donald Trump.
The latest batch of 8,263 emails released on Sunday night also show CNN asked the DNC for advice when it came to interviewing former Republican candidate, Ted Cruz. Mr. Cruz was Mr. Trump's chief rival throughout much of the primary season.
An email dated April 28 sent from DNC research director Lauren Dillon read 'Subject: Cruz on CNN' stated 'CNN is looking for questions. Please send some topical/interesting ones.' Only a few days before, on April 25, she asked for questions from officials and staffers for an interview that CNN's Wolf Blitzer would be conducting with Trump.
Yet one day before that on April 24, Dillon sent the above email to staffers stating that Blitzer was interviewing Trump ahead of his foreign policy address. The subject line reads 'Trump Questions for CNN':
The email above, which is dated April 28 reading 'Subject: Cruz on CNN' reads 'CNN is looking for questions. Please send some topical/interesting ones.' That email was also sent from Dillon to other officials and staffers.
'Wolf Blitzer is interviewing Trump on Tues (sic) ahead of his foreign policy address on Wed,' Dillon wrote in the email that was entitled 'CNN questions for Trump.'
There were numerous questions submitted by the DNC for Blitzer to ask the New York businessman. However, in a follow-up email, she informed the group of staffers that particular Trump interview ended up being cancelled.
'CNN said the interview was cancelled as of now but will keep the questions for the next one Good to have for others as well,' Dillon wrote.
DNC deputy communications director Christina Freundlich responded to Dillion's email with "Boo," meaning she was disappointed. Still, Blitzer, who was hammered for bias by Newt Gingrich during a GOP presidential primary debate, has been working at CNN since 1990. He did interview Trump on May 4.
Further, in a separate email exchange that was dated April 28, Jason Seher, who is a writer for Jake Tapper, a trusted journalist and host of CNN's State of the Union, emailed Pablo Manriquez, a former DNC media booker thanking him and said he needed to know 'asap if we want to offer Jake Tapper questions to ask us.'
Yet in another email dated April 28, Seher wrote Manriquez thanking him for 'facilitating Luis coming on today, and bearing with us through a meelee (sic) of GOP nonsense and cancellations and all that. Any particular points he'll want to make? We're gonna stay Dem focused…'
In response, Manriquez told Seher he would put Dillon and Christina Freundlich into the loop to see 'if there's any newsworthy (opposition) Luis can drop.' Freundlich worked for the Iowa Democratic Party before she got caught up in a political firestorm after she took a selfie smiling in front of a deadly New York City fire in March 2015. She was hired as a spokeswoman for the DNC in July 2015.
'Window closing on this. Need to know asap if we want to offer Jake Tapper questions to ask us,' Manriquez wrote to staffers.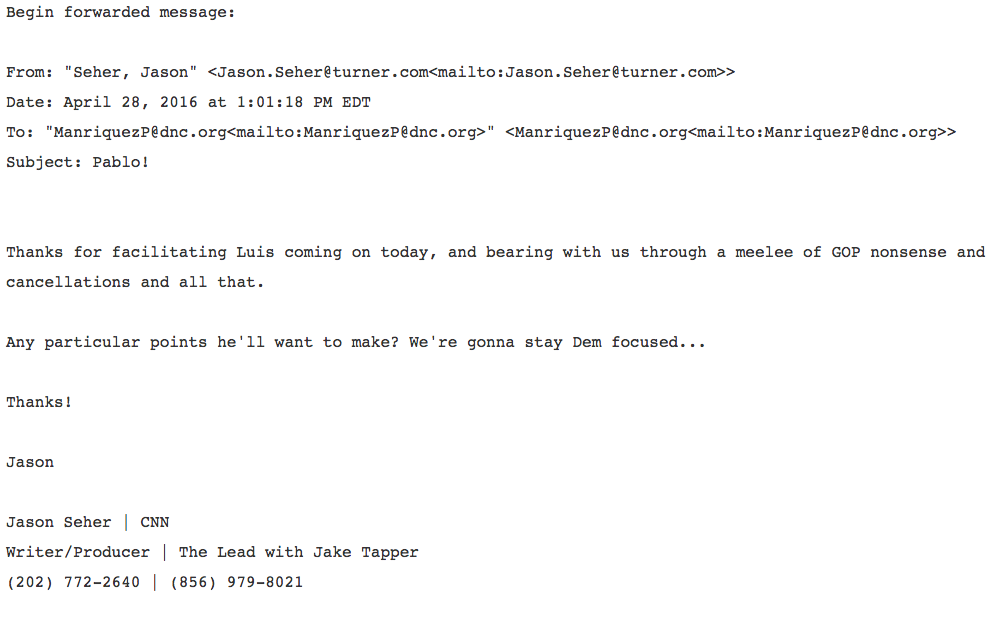 The release, which comes hours before the 2016 presidential election, now follows revelations that DNC interim chairwoman Donna Brazile got debate questions from the Cable News Network and leaked them to the Clinton campaign before a debate and a town hall event. It was just one aspect in a tangled web of corruption and bias to stop Vermont Sen. Bernie Sanders from defeating Mrs. Clinton for the Democratic nomination.
After they succeeded, they clearly used those same corrupt tactics to help Mrs. Clinton and target Mr. Trump. Worth noting, following the revelations Brazile leaked debate questions to the Clinton campaign, Tapper said he was outraged. Well, we are too.
.@TuckerCarlson: If CNN doesn't investigate collusion with DNC on questions …that's corruption. pic.twitter.com/TjlQT32rxg

— FOX & Friends (@foxandfriends) November 7, 2016