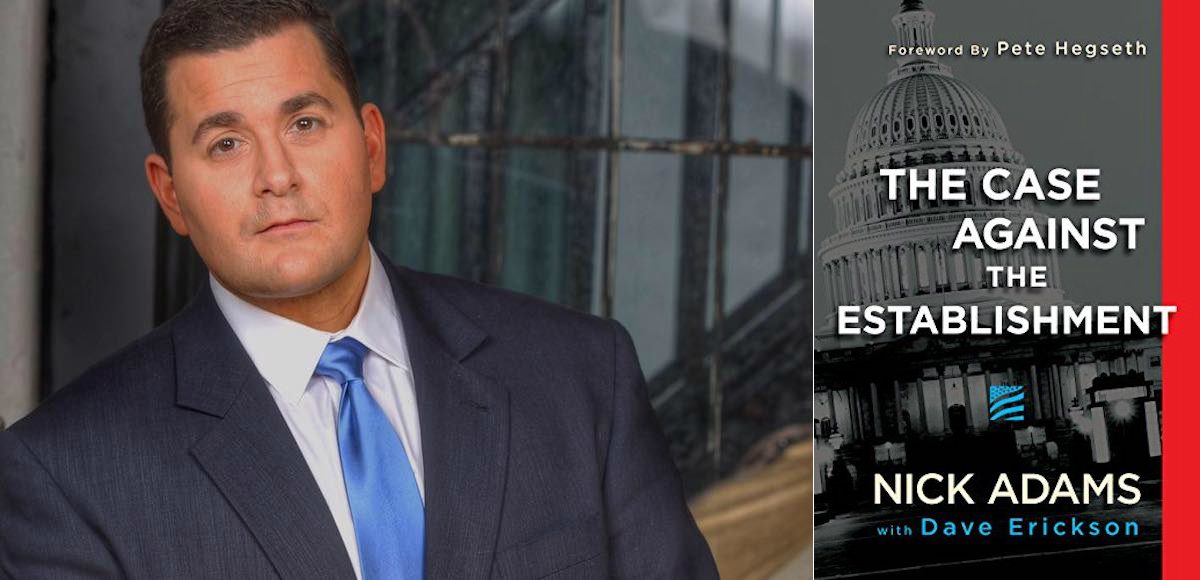 The Case Against the Establishment by Nick Adams is a well-deserved, long-overdue thrashing of those who have proven themselves to be "the enemy of the people." Using a series of recent and current events, Adams exposes how a group of elitists in the political class, academia and Hollywood have launched an all-out assault on the American identity.
Adams, a best-selling author originally from Sydney, Australia, demonstrates a far greater understanding of the Establishment than most native-born American political authors. The book is a well-thought-out guide to understanding the forces behind the effort to transform the traditional "sticks and stones may break my bones" American mentality to one which promotes safe spaces and intolerance.
Readability
All 208 pages are easy to read without sacrificing the quality of content or factual support for the central thesis. There's a laugh waiting for the reader on nearly every page, while at the same time stressing the seriousness of the discussion.
Adams offers up the kind of humor that gives meaning to the phrase "it's funny because it's true," but it's delivered with impeccable timing and doesn't take away from the seriousness of the discussion.
Even as we chuckled taking turns reading passages and paragraphs out loud, it wasn't at all lost on us that Adams is aiming to start a serious conversation.
America's roads are disintegrating. The infrastructure desperately needs an overhaul. Millions of people don't have a job. The national debt is colossal. Our southern border is more porous than a sieve. ISIS wants to kill us. But the real issues for Establishment simpletons are sexism, misogyny, racism, homophobia, transphobia, and, of course, whether men are too masculine.
Thesis
The central thesis is predicated on the belief that "the Establishment is the enemy of the people," and it has "launched an unprecedented onslaught of hate and hypocrisy–single-minded of purpose: to destroy President Trump's efforts to make America great again."
To carry out this plan, they create constructs and boundaries of acceptable behavior to limit freedom of thought, itself.
'Hate speech' is no more than a nifty label given by Establishment dimwits to words they don't like and to verbally communicated ideologies with which they disagree.
Relevance
Is it relevant?
We began reading the book as Richard Spencer was gearing up to speak at the University of Florida (UF), an event two of us who reviewed this book attended. Contrary to "production news" reports, it was a deeply disturbing display of a fundamental lack of understanding and support for the First Amendment. Students and Antifa protestors chased Fox News down the street, shouted down Spencer and violently assaulted those they even suspected of disagreeing with them.
Adams, offering one example of indoctrination and degradation after another, put these prescient words to paper months before the event.
Instilling in young adults the importance of debate, civil disobedience, the First Amendment, and fighting the status quo is a tremendously important responsibility. These are principles of freedom. Standing up for your beliefs and pushing against injustice is a cornerstone of American ideals.
Pundit's Perspective
There's only one recommendation for this one: Pick it up! We give it 4.5 stars.


---
[mybooktable book="the-case-against-the-establishment" display="summary" buybutton_shadowbox="true"]