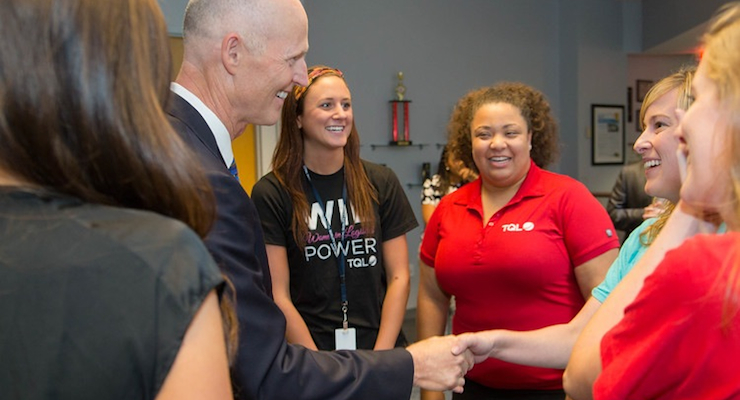 In 2014, the Editorial Board at PPD endorsed Gov. Rick Scott for reelection against former Gov. Charlie Crist, and we are glad we did. Under the stewardship of Gov. Rick Scott, the state of Florida is experiencing an economic renaissance and record-breaking tourism numbers.
As other states continue to struggle to recover from the Great Recession — shedding jobs in traditional, higher-paying sectors such as manufacturing and mining — the Sunshine State has seen 58 consecutive months of positive job growth.
From December 2010, shortly after Gov. Rick Scott narrowly defeated Democrat Alex Sink, the number of private sector jobs created in Florida is nearing 900,000. As of May 2015, it was nearly 880,000.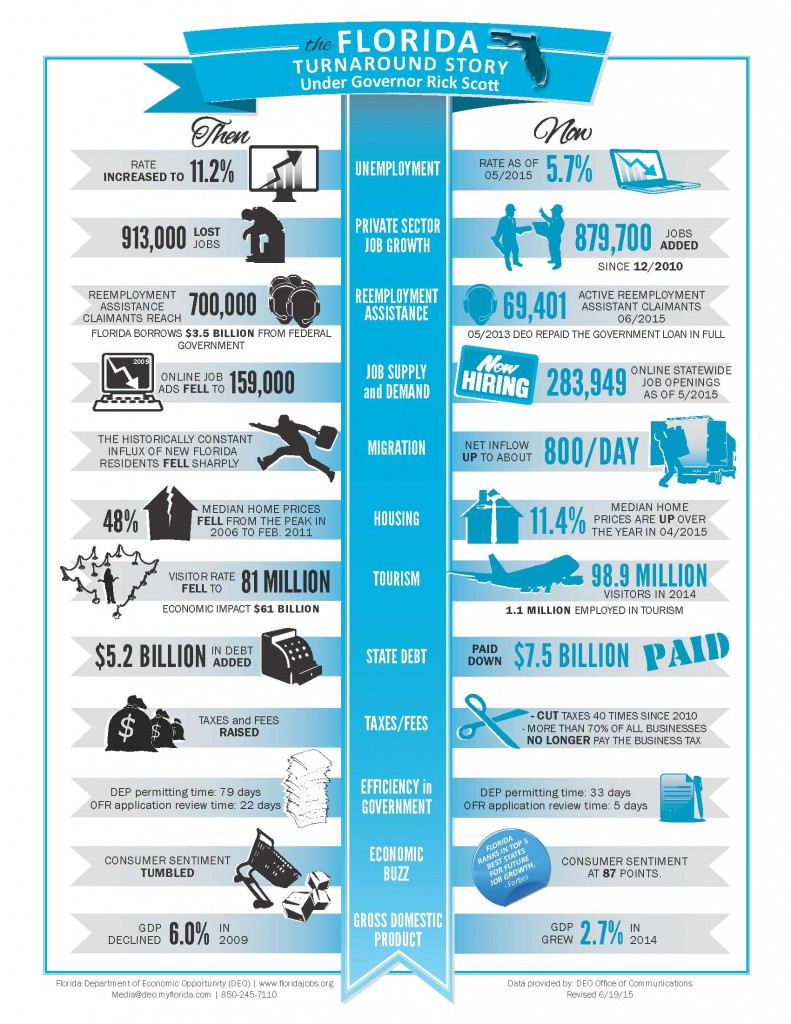 All but one sector (information) posted job gains in the month of May and unemployment statewide fell to 5.5 percent, according to the most recent data from the Florida Department of Economic Opportunity. America, as a whole, has suffered from chronic wage stagnation, due in large part by underperformance in higher-paying sectors and the part-time plague. Florida, on the other hand, has had strong sector-by-sector job growth across the board, which has helped to achieve a 3.4-percent gain juxtaposed to a 2.2-percent increase nationwide.
Other industries gaining jobs were trade, transportation, and utilities (+52,000 jobs, +3.2 percent); private education and health services (+50,000 jobs, +4.3 percent); professional and business services (+43,500 jobs, +3.8 percent); construction (+28,200 jobs, +7.2 percent); financial activities (+16,800 jobs, +3.2 percent); other services (+16,500 jobs, +5.1 percent); government (+4,900 jobs, +0.5 percent); and manufacturing (+4,200 jobs, +1.3 percent).
The industry gaining the most jobs was leisure and hospitality (+52,900 jobs, +4.9 percent). While the state's economic growth has been broad, tourism has exploded under Gov. Rick Scott and officials are not shy about giving him credit.
"Thanks to the visionary leadership of Governor Rick Scott and the Florida legislature, the Florida tourism industry has grown from 82.3 million visitors in 2010 to 98.9 million in 2014," said Will Seccombe, President and CEO of VISIT FLORIDA. "With all indicators up – taxable sales, ADR, occupancy and rooms sold – the industry is firing on all cylinders."
That represents a 5.1 percent increase from 2013 and the fourth consecutive record year for visitation to Florida.
"Achieving record visitation for four consecutive years is a testament to the strong marketing partnership between VISIT FLORIDA and our tourism industry Partners," said John Tomlin, Vice Chair of the VISIT FLORIDA Board of Directors and Chief Operating Officer for The Auto Club Group. "With continued support from Governor Scott and the Florida legislature, the Sunshine State is poised to become the No. 1 travel destination in the world."
The number of direct travel-related jobs in 2014 also hit a record high and 1,197,200 Floridians (as of May 2015) are currently employed in the tourism industry, up nearly 4 percent from 2013.
"Anyone would be happy to see their business grow by 4 percent year-over-year," said Andrew Hertz, Chair of the VISIT FLORIDA Board of Directors, who was referring to the initial projection of 97.3 million. "But it is absolutely amazing when an entire industry keeps beating record numbers, while adding jobs and supporting the rest of the state's economy."
The economic impact of tourism on the state — both directly and indirectly — cannot be understated. While every 85 visitors to Florida creates one Florida hospitality job, nearly as many indirect and "induced" jobs are also created, an aspect of the state economy officials say Gov. Scott understands and has successfully sold to outside companies.
"Not only are visitors coming to our state at record levels, but there are also a record number of Floridians employed in our tourism industry," Gov. Scott said in a statement. "Florida's natural beauty, pristine beaches and exciting attractions continue to bring countless visitors to our state and provide valuable jobs for our families. Our tourism industry is vital to helping Florida become the global destination for jobs."
For every 1,000 jobs created, 507 are in traditional tourism sectors, while the other 493 jobs are created in categories such as retail trade, administrative services, construction, transportation and warehousing. According to the Florida Chamber of Commerce, the estimated average salary for these jobs is $43,750.
"Florida's investments in marketing are matched at nearly two-to-one with private-sector funds," said Seccombe,. "This successful combination creates jobs in many sectors of the Florida economy and provides substantial increases in tax revenues for our state."
Indeed, tourism not only creates jobs, but it also keeps taxes on Floridians low because visitors pay sales taxes, bed taxes and taxes on their activities while they are in Florida. According to a recent study by the Economic and Demographic Research (EDR) office of the Florida legislature, tourists paid an estimated 12.5 percent of General Revenue from Sales Taxes in the most recent fiscal year. The increase in revenue was also driven by record numbers of overseas visitors, who stay longer and spend more money.
"Yet another record year for Florida tourism due in large part to the support of our Governor and pro-tourism legislature," said Lino Maldonado, Chair of the VISIT FLORIDA Industry Relations Committee and Vice President of Operations for ResortQuest by Wyndham Vacation Rentals. "My team is very proud to work in an industry that not only employs so many across our beautiful state, but that produces lasting memories for visitors from around the world."
VISIT FLORIDA estimates that 11.5 million overseas visitors and 3.8 million Canadians came to Florida in 2014, both of which are record highs. Those figures represent 2.6 percent and 2.4 percent increases from 2013 totals, respectively, and top off a 4.2 percent increase in domestic visitors.
"Tourism is the number-one driver of the state's economy, and we are proud of the Sunshine State's four consecutive years of record visitor turnout," said Bill Lupfer, Chair of the VISIT FLORIDA Public Affairs Committee and President & CEO of the Florida Attractions Association. "This means greater revenues for the state, and more than one million Florida jobs supported by tourism. We applaud Governor Rick Scott and the Legislative leadership's support of Florida's thriving tourism industry and look forward to even greater growth in 2015."
Officials are optimistic that even greater economic growth is not only obtainable but inevitable, and point to trend-line data and business optimism levels to back it up. In the fourth quarter of 2014, a record 22.4 million people are estimated to have visited the Sunshine State — including 3.1 million from overseas — which is the largest fourth quarter number ever and an increase of 2.8 percent over the same period in 2013. Visits from the 765,000 Canadians alone reflects an increase of 5.6 percent over the same period in 2013.
According to the 10th annual survey of CEOs, which gauges the views of the best and worst states for business from over 500 CEOs across the U.S., the Sunshine State is now threatening to overthrow Texas, which has historically enjoyed the title of most business-friendly state.
"When companies like Hertz, Amazon, Deutsche Bank and Verizon add jobs here, it causes more people to look at us," said Gov. Scott. "Business is comfortable that we'll keep the tax base low and improve our workforce."
While Texas continued its 10-year historical position as the best state overall, Florida, which now ranks No. 2, is closing in fast on factors such as taxes, regulation and the quality of the state's workforce. The survey found Florida finally overtaking Texas in its quality of living environment, which includes public education, health, the cost of living and affordable housing.
"These record breaking numbers make it clear, Florida is moving in the right direction as a world-class destination. With Governor Scott's increased support for VISIT FLORIDA, the hospitality and tourism industry can continue to provide incredible experiences for millions of visitors, create jobs and generate revenue to put back in the pockets of Florida families," said Carol Dover, Member of the VISIT FLORIDA Board of Directors and President & CEO of the Florida Restaurant & Lodging Association. "This year, we look forward to repeating the trend of growth and we are thrilled so many visitors are taking advantage of our unique restaurants, hotels and attractions in the Sunshine State."