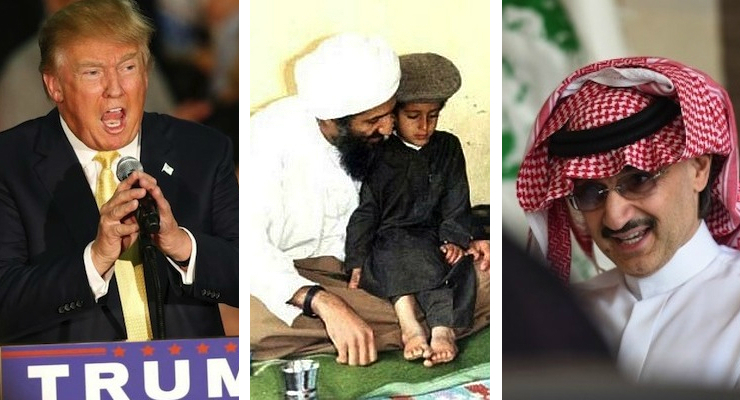 Sorry Saudi Price, Top Sponsors of Islamic Terrorism Don't Get to Tell Americans Who Can and Can't Run for President
Saudi Prince Al-Waleed bin Talal recently called Donald Trump "a disgrace" for calling for a temporary moratorium on Muslim immigration to the U.S. until "our representatives find out what the hell is going on" with radical Islam. But he didn't stop there. The controversial billionaire Saudi also called on Trump to "withdraw from the U.S presidential race," adding "as you will never win."
While we have not yet endorsed a candidate on either side in the 2016 presidential election and do not plan to do so anytime soon, The Donald is the clear frontrunner and has held a dominating lead in the polls since August. So, aside from the fact Al-Waleed's royal pontification is way off the mark, the American voters don't want or need the blood-soaked hands of the Saudi royal family meddling in our election.
Not this time. Saturating our elections with oil and blood money is one thing, but having to listen or read their unwanted, unsolicited opinions are quite another.
Al-Waleed is but the latest to join a collaborating coalition including Fox News, the Republican Establishment, other media outlets and figures attempting to derail Donald Trump. Based upon his level of support alone, we take this as a direct insult to the American people.
Fox News Correspondent James Rosen courageously reported recently on sworn testimony given by Zacarias Moussaoui–the so-called 20th hijacker of 9/11–which implicated Al-Waleed by name and other Saudi government officials in financing al-Qaeda. It was an embarrassing disclosure made during a segment on "Special Report" hosted by Bret Baier because, in addition to being a "major investor in the parent company" of Fox News, Al-Waleed is a very close friend of Rupert Murdoch and his family.
The Saudis called the allegation "delusional" and pointed to Moussaoui's own lawyer's assertion that he was incompetent. However, the judge in the case chose instead to characterize Moussaoui as a "highly intelligent" individual. Shortly after the report, Al-Waleed announced his company–Kingdom Holding Company–was dumping most of its stake in Murdoch's News Corp., down from 6.6% to 1%.
Even though Fox News has given Murdoch's buddy a platform to claim to denounce and oppose Islamic fundamentalist groups, this isn't the first time Al-Waleed has been at the center of a controversy. As we've previously reported at PPD, New York City Mayor Rudy Giuliani decided to return a $10 million 9/11 fund contribution from the Saudi billionaire after he made controversial comments blaming the U.S. and Israel for terrorism in the Middle East.
"I believe the government of the United States should re-examine its policies in the Middle East and adopt a more balanced stance toward the Palestinian cause," he said at the time. "Our Palestinian brethren continue to be slaughtered by the Israelis while the world turns the other cheek."
Giuliani called the remarks "highly irresponsible and very, very dangerous."
In 2002, it was revealed Al-Waleed contributed $500,000 to the Council on American-Islamic Relations (CAIR), a Muslim Brotherhood front group. This a group that threatened to sue Megyn Kelly and frequently brags about influencing 21st Century Fox through Al-Waleed, who had Murdoch tell Fox News Channel to alter its coverage of Muslim riots in France "in order to eliminate references to the religious affiliation of the Muslim extremists."
But that's just Al-Waleed. What about the collective role to further the cause of radical Islam–by the use of both violent and civilization jihad–played by the Kingdom of Saudi Arabia? The role of the Saudi government, its top officials and citizens in the proliferation of Islamic extremism has been a matter of controversy, but isn't at all in doubt.
"Still, donors in Saudi Arabia constitute the most significant source of funding to Sunni terrorist groups worldwide," blatantly reads a State Department cable dated Dec. 30, 2009, which was obtained and published by Wikileaks. "More needs to be done since Saudi Arabia remains a critical financial support base for al-Qaeda, the Taliban, LeT and other terrorist groups."
And this has been going on for a long, long time. In fact, government-sanctioned support for Islamic extremism isn't always so easy to spot, but the principle method is the construction and funding of mosques and madrassas that preach radical Wahhabism.
"Worst of all, the Saudi monarchy has funded dubious schools and 'charities' throughout the Islamic world," Ted Galen Carpenter, then-vice president for defense and foreign policy studies at the Cato Institute warned in a post-9/11 report. "Those organizations have been hotbeds of anti-Western, and especially, anti-American, indoctrination. The schools, for example, not only indoctrinate students in a virulent and extreme form of Islam, but also teach them to hate secular Western values."
Former Sen. Bob Graham, D-Fla., said the redacted and still-classified missing 28 pages of the 9/11 report "point a very strong finger at Saudi Arabia as the principal financier" of the 9/11 hijackers. Fifteen of the nineteen terrorist hijackers came from Saudi Arabia, and Graham is one of many who charge the commission intentionally did not follow up on Saudi leads.
"They are also taught that the United States is the center of infidel power in the world and is the enemy of Islam," Carpenter added. "Graduates of those schools are frequently recruits for Bin Laden's al-Qaeda terror network as well as other extremist groups."
Saudi Arabia has long survived off of manufacturing and exporting Islamic terrorists to use against their Shiite rivals across the Gulf, but God forbid if they ever take the risk of importing it. Al-Waleed and other Saudis lost their moral authority and credibility to criticize candidates like Trump for having the fortitude to put forward bans when they decided to be hypocrites.
The Saudis have refused to allow any Syrian refugees into their Muslim-majority country, have denied entry to all but a select few Sunni Muslims fleeing the violence in Yemen and yet dare to call Trump "a disgrace"?
Why should a still-Christian dominated U.S. be willing to sacrifice our culture, values, and the innocent lives of our citizens to clean up after a Shiite-Sunni struggle in the Middle East, one which Saudi Arabia and other "allies" are willing to align with terror in order to win. We tend to favor Sen. Rand Paul's plan over Trumps, but are still of the sane mind we should close the doors and let them deal with it, for now.
In case Al-Waleed and others who may be thinking of offering their unsolicited opinion haven't figured it out this time around, the American people do not want their next president to bow to the Saudis either in a literal sense like Obama, or figuratively like the Clintons and Bushes. Mr. Al-Waleed is no prince of ours. Because of our pesky western values we don't have royal families in the United States.
Bottom line: Top sponsors of Islamic terrorism don't get to tell Americans who can and cannot run for president of our country.