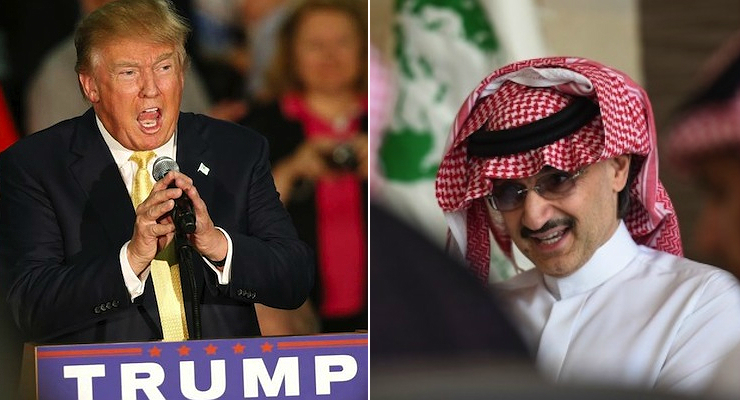 Republican frontrunner Donald Trump fired back at Saudi Prince Alwaleed Bin Talal on Twitter after the latter called him a "disgrace" in a tweet and called for him to leave the race. The controversial member of the Saudi royal family sent a tweet to Trump on Friday in response to the billionaire mogul calling for a temporary moratorium on Muslim immigration to the U.S.
.@realDonaldTrump
You are a disgrace not only to the GOP but to all America.

Withdraw from the U.S presidential race as you will never win.

— الوليد بن طلال (@Alwaleed_Talal) December 11, 2015
Trump hit back with a vengeance, declaring that he would no longer have control over U.S. politicians when he gets elected. For the record, the Kingdom of Saudi Arabia is not allowing any Syrian refugees into their country, and have denied entry to all but a select few Sunni Muslims fleeing the violence in Yemen.
Dopey Prince @Alwaleed_Talal wants to control our U.S. politicians with daddy's money. Can't do it when I get elected. #Trump2016

— Donald J. Trump (@realDonaldTrump) December 12, 2015
PPD's senior political analyst says this may be the biggest outside help The Donald has received yet, given the unpopularity with members of the royal family in Saudi Arabia among American voters, the same family largely responsible for Osama bin Laden.
"What we are witnessing is the complete break down of the power structure and those who back them in the Republican party," Baris said. "I couldn't advise them and their allies on how best to hand Trump the nomination than by doing and saying things they are already doing."
As even the liberal The Hill pointe out, Bin Talal's $10 million check after 9/11 was rejected by then-New York City Mayor Rudy Giuliani over previous controversial remarks on Israel.
"I believe the government of the United States should re-examine its policies in the Middle East and adopt a more balanced stance toward the Palestinian cause," he said at the time. "Our Palestinian brethren continue to be slaughtered by the Israelis while the world turns the other cheek."
Giuliani returned Bin Talal's donation, the BBC said, calling the royal's remarks "highly irresponsible and very, very dangerous."
"Sure, Hillary is certainly chummy with the Saudi Royal family, as well, but that won't matter in the minds of GOP voters," Baris said. "Republicans are in no mood to bow to the Saudis anymore. While that is a criticism currently and typically reserved for President Obama, they know certain candidates in there own party do in a figurative way, as well."