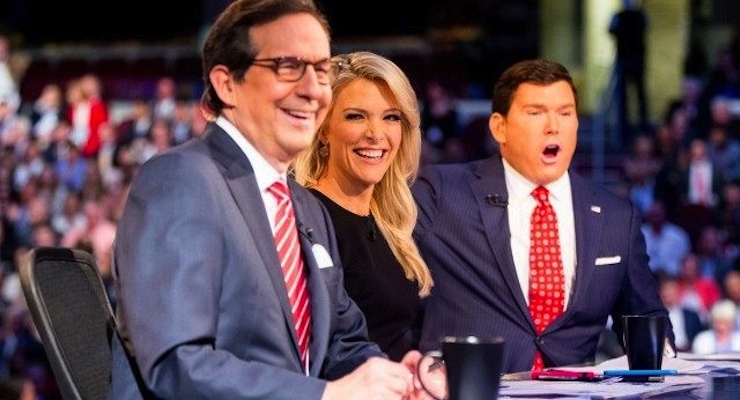 As of now, Republican frontrunner Donald Trump is boycotting the Fox New GOP debate Thursday night, opting instead to hold an benefit event for veterans at Drake University in Des Moines.
The explanation from the network's increasingly irrelevant pundits: He's petulant. The explanation from Trump's supporters: Fox is petulant. But there is a game being played here that–once again–originated from Roger Ailes & Co., not Trump.
First, Fox issued a childish, unprofessional press release mocking him, which followed a week of them giving mostly pretend conservatives at National Review a platform to sell "Against Trump" issues of a once-great but now irrelevant "conservative" magazine.
We learned from a secret back channel that the Ayatollah and Putin both intend to treat Donald Trump unfairly when they meet with him if he becomes president — a nefarious source tells us that Trump has his own secret plan to replace the Cabinet with his Twitter followers to see if he should even go to those meetings.
If that wasn't an intentional provocation, then why did Politico view it as "a trap." Rather than simply issuing a statement that even remotely resembled an apology, Fox doubled-down. In fact, this time they openly attacked Trump from a political angle.
"We're not sure how Iowans are going to feel about him walking away from them at the last minute," the network said in a statement.
The network also lined up Nabela Noor, a Muslim activist who likened Trump to "Hitler" in December, as one of the YouTube questioners. Ironically, Noor, who was also approved by the Republican National Committee, frequently uses her videos to call for the very anti-First Amendment restrictions oppressing others in majority Muslim nations.
Let's not forget that the first Republican debate in August hosted by Fox News in Ohio was widely seen as a collaboration with the party and network to destroy Trump, who has led the field ever since. It was met with scathing reviews from conservative media and praise from the liberal media, which tells the tale.
But there's more still to this, something conservative talk radio giant Rush Limbaugh brought up during his show.
He claims he's not showing up because Megyn Kelly is going to continue to be a moderator. And if you believe that, I can give you substantive reasons. And it's all in The Art of the Deal. Trump is not that hard to understand if you pay attention to him and read his books. In The Art of the Deal, one of the things that he makes a huge deal about is being able to know when to walk away and have the guts and the courage to do it.
There you have it. The Donald has concluded that Fox News needs him more than he needs them, something advertisers expecting 20-plus million viewers are reminding them right now.
That said, we would much rather have the Iowa caucus-goers have their state and national frontrunner at the final debate before the cacaus kicks off on Monday, to be sure. But let's not pretend that it wasn't Fox that started this six months ago. Trump's rise is largely fueled by the extreme tone-deafness in D.C. and mainstream media outlets. Fox News built an empire billing themselves as something different. Their behavior has shown something else, altogether.