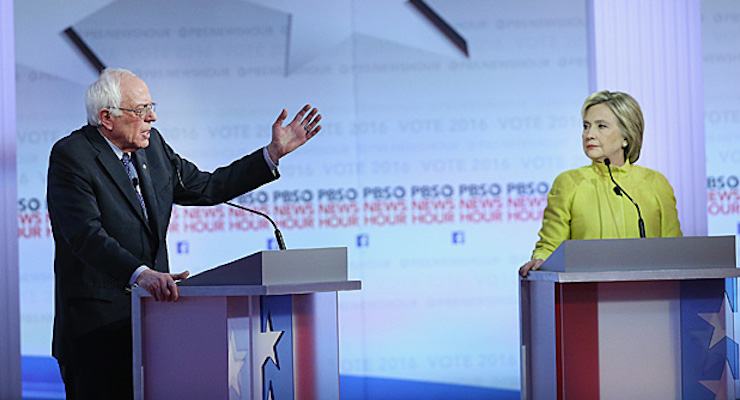 Socialism, Leftwing Governments Killed 262 Million People in 20th Century
On Thursday night, Bernie Sanders trashed Hillary Clinton's relationship with Henry Kissinger over his involvement in Cambodia,. He called it "one of the worst genocides in the history of the world."
That is a telling statement and, frankly, one that is absolutely delusional. Yet, not one PBS moderator–nor Hillary herself, for that matter–bothered to push back with the truth. The truth is that Bernie Sanders ignored the real horrifying reality in Cambodia and instead highlighted a bombing campaign against North Vietnamese supply lines.
Folks, this is crazy. There was a real genocide in Cambodia, but Henry Kissinger wasn't responsible for it–socialism was responsible. In Cambodia, from 1975 to 1979, a genocide that led to the deaths of an estimated 25% of the total population (around 2 million people) was carried out by the Khmer Rouge (KR) regime led by Pol Pot, a radical leftwing nut job who promised "fairness" and "free stuff" at the expense of others.
Sound familiar?
In fact, socialism and other leftwing governments are responsible for the deaths of hundreds of millions of people in the 20th century, alone. It's called democide, Bernie supporters. Google it. Read a book. They all promised "free" stuff, too.
Democide, as defined by the seminal work of R.J. Rummel, Death by Government, is "the murder of any person or people by a government, including genocide, politicide and mass murder; and although the figures are dynamic, six times as many people died as a result of democide during the 20th century than in all that century's wars combined."
While the system of government and policy approach to democide vary, there are two commonalities observed in these societies that were tragically subjected to democide. The ruled–which is an appropriate title as Europeans and other peoples are not privy to citizenship as we understand it–all forfeited the rights and duty of self-defense by popular support, as well as other rights of protection I've identified in Our Virtuous Republic (2013).
Leading up to democide, government engages in an assault on civil society with objectives that include the disintegration of the political and social institutions of culture, language, national feelings, religion, and the economic existence of national groups; the destruction of the personal security, liberty, health, dignity, and the lives of of the individuals belonging to such groups.
Again, sound familiar?
During the era of the American Revolution, war was the number one cause of unnatural human death. That all changed during so-called "progressive" cultural and political revolutions in the 20th century. All of the human tragedies studied by Rummel and others who have documented democide have occurred throughout a period the academic establishment, politicians and the media would have us believe was and is an era of "progress."
"No cause, ever, in the history of all mankind, has produced more cold-blooded tyrants, more slaughtered innocents, and more orphans than socialism with power," Alan Charles Kors wrote in The Atlas Society in 2003. "It surpassed, exponentially, all other systems of production in turning out the dead. The bodies are all around us. And here is the problem: No one talks about them. No one honors them. No one does penance for them."
In total, the era of "progress" in political thought, which spawned a dangerous collective trust in government, resulted in 262 million victims of democide; 262 million precious, human lives lost along with all their potential. It is immeasurable and it is impossible to know how each personal journey may have benefited humankind, how many Albert Einsteins (who barely escaped Nazi democide) or Nikola Teslas the world was denied by free stuff-promising leftwing governments.
All in the name of "progress" and "fairness," right? The "progressive" assault on the characteristics that make us uniquely American–including our traditions and culture, the English language, Christianity, globalist hostility toward American exceptionalism, incessant attacks on the Second Amendment, intolerance of individualism and the promotion of indignity through social welfare dependence–all are policies that meet the aforementioned pre-democide criteria–verbatim.
Do I think the socialist curmudgeon Bernie Sanders intends to inflict such horror on the American public? No. I think he is an ignoramus who chose to honeymoon in the former Soviet Union because he is a product of the leftwing, inner-city Democratic machine. But that's irrelevant.
For those who mock such a possibility, I'd remind you all that millions of Russians honored Joseph Stalin with titles like "father," "Father of Nations," "Brilliant Genius of Humanity," and "Gardener of Human Happiness"–right before he shipped millions of them off to the gulag to rot in their own despair before dying their miserable deaths.
So, Bernie, let's talk about genocide. Let's talk about how you support a system of government that rises to power on popular support driven by hate, envy, weakness and other forms of victimization. Let's talk about real victimhood felt by millions around the world who fell for the promise of political revolution and social justice.
Political revolution, my @$$. Government does not have the power to raise others up, to expand the boundaries of human potential. It only has the power to tear others down, and the history of it doing so is very long and very bloody.
[mybooktable book="our-virtuous-republic-forgotten-clause-american-social-contract" display="summary" buybutton_shadowbox="true"]