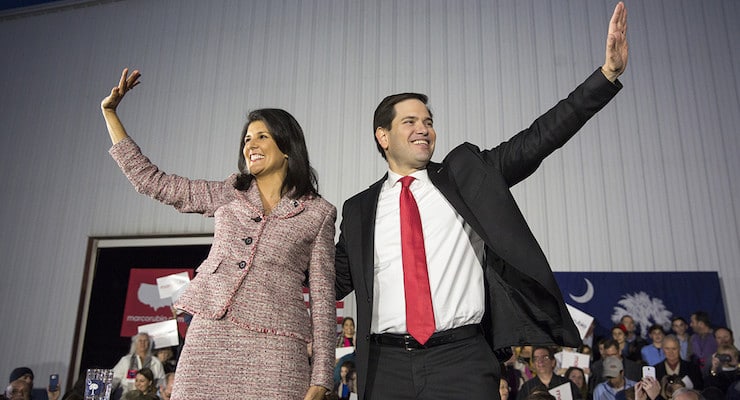 In the fall of 2009, Marco Rubio was trailing by double-digits in Senate primary polls against Charlie Crist, a former and once-popular Republican governor. The would-be senator sent surrogates to grassroots activists with a simple message: Support me over the more well-known Crist because, well, he's a RINO (Republican in name only). I'm a true conservative. I'm one of you.
Now, winless after four contests for the Republican nomination, two of which (South Carolina and Nevada) were previously cited as firewalls by his campaign, Mr. Rubio has become desperate. Worse still, in his desperation, he has become an embarrassment to the great state of Florida.
Look, America. Take it from Florida, take it from those of us who know him best. Marco Rubio is not one of you. He's not a conservative. He's whatever he needs to be, to whomever is willing to listen. Polls show Republican voters is his own state prefer Donald J. Trump by 20 points, or 14 points in a one-on-one. In a general election, Sen. Rubio has consistently trailed Hillary Clinton among Floridians even as Mr. Trump has pulled ahead of the likely Democratic nominee.
The reason is simple. Marco Rubio is the con artist. Marco Rubio is the fraud. And Floridians know it.
Let's take a trip down memory lane.
The eventual support Sen. Rubio received from Florida tea party groups in his 2010 U.S. Senate race didn't come easy and, in fact, it almost didn't come at all. Sen. Rubio, as the former speaker of the Florida House, had a questionable record that wasn't particularly conservative.
He supported in-state tuition for illegal immigrants and backed cap and trade. When the Saint Petersburg Times and Miami Herald battered Crist over his record on cap in trade in Florida, Mr. Rubio said the Sunshine State should comply with the federal government to "access early compliance funds," rather than fight.
[brid video="28960″ player="2077″ title="Rubio in 2008 I Would Direct Florida' EPA To Create A CapAndTrade Or Carbon Tax Program"]
"So, I'm in favor of giving the Department of Environmental Protection a mandate that they go out and design a cap and trade or a carbon tax program and bring it back to the legislature for ratification some time in the next two years," Mr. Rubio said in 2008.
In Alachua County, for instance, the Gainesville Tea Party wasn't taking any chances and sent a candidate questionnaire to Mr. Rubio, which included a pledge on issues such as cap and trade, health care and amnesty for illegal immigrants. At first, he flat out refused to return the questionnaire.
Finally, only after the People's Pundit made it clear that he would need to return the questionnaire if he hoped to close the 10-point deficit with Gov. Crist, he reluctantly complied with the request.
If elected America will quickly find out that Mr. Rubio doesn't intend to keep the promises he is making to voters. When Gov. Mitt Romney lost Florida to President Barack Obama, he made a calculated political decision masked as a deeply personal choice. He broke his pledge to the base, joined with Barack Obama, Harry Reid and Chuck Schumer and attempted to ram the 2013 "Gang of Eight" Senate immigration bill down your throats.
It's important to note that Sen. Rubio didn't ever explain himself to the base he betrayed, he went radio silent. He was hiding and didn't emerge until the nightmare amnesty bill was defeated by a conservative effort led by Sen. Jeff Sessions, who on Sunday endorsed Donald Trump. Mr. Rubio pretends like he heard the voice of the people and pulled his support for the bill. No, he ignored the voice of the people, voted for it and was defeated.
Gov. Jeb Bush, the senator's mentor, has been remarkably silent since quitting the race after the Feb. 20 primary in South Carolina. Mr. Bush is yet another prime example of Sen. Rubio's character and loyalty, which goes beyond simply not "waiting your turn" to run for president.
Behind the scenes, third-party attempts to broker a ceasefire between the two former friends have failed miserably. Sen. Rubio called Gov. Bush on Monday but, according to sources familiar with the phone call, their conversation did not last long and Mr. Rubio did not even ask for his endorsement.
That's because endorsements have become a sticky topic for the two men, that is, ever since Mr. Rubio essentially bribed South Carolina Gov. Nikki Haley with the vice presidency. According to two former Bush aides, Sen. Rubio offered Gov. Haley the nomination to reconsider her endorsement of Gov. Bush. In a meeting a little less than a week before the primary, Gov. Haley told Gov. Bush that she agreed with New Jersey Gov. Chris Christie that Sen. Rubio was not prepared, not experienced enough for the Office of the President.
Mr. Rubio now has about as many friends among of the state party's old guard as he does the party's base. For those who do support him, it is a "lesser of the two evils" nose-holding decision, rather than an affirmation of his vision and leadership.
In fact, Mr. Rubio is so disliked by the grassroots and traditional Republican voting blocs that the PPD Election Projection Model considers his pledge not to run for reelection to be a net positive for Republicans in the 2016 Florida Senate race.
The language we have used in this editorial is sadly appropriate after the senator's behavior last week. Out of desperation, the junior senator has taken the presidential election to a whole new low, one that has prioritized that desperation over behavior worthy of a presidential candidate. Last but not least, we cannot end this editorial without mentioning one of the hundreds of veterans who have reached out to us with their story and a simple request.
They are politely requesting Mr. Rubio stop claiming during stump-speeches and debates that he has been a champion of veterans. They disagree, and don't appreciate their struggles being reduced to campaign talking points. During the debate hosted by ABC News in New Hampshire, Sen. Rubio claimed to have achieved "VA accountability for my Florida residents," which greatly insulted a retired U.S. Air Force veteran, who was essentially assaulted at the VA hospital miles away from Mr. Rubio's house.
When he reached out to him for "VA accountability," he was ignored. More than six months have past since the incident, and he's had nothing but radio silence. That's the pattern.
Let this editorial serve as a warning. This Editorial Board, of this Florida-based news organization, will under no circumstances support Sen. Marco Rubio for president, senator or dog-catcher. Marco Rubio is the last and only hope for the status quo in an otherwise anti-establishment, anti-status quo election. Floridians, and the American people, clearly want a change.
Whether it's RobotRubio 1.0, who was exposed by Gov. Christie before New Hampshire, or RobotRubio 2.0, who got a donor-financed upgrade last week, he will not bring that change.
Senator Marco Rubio has been rejected by his own state for a reason. America. You should, too.