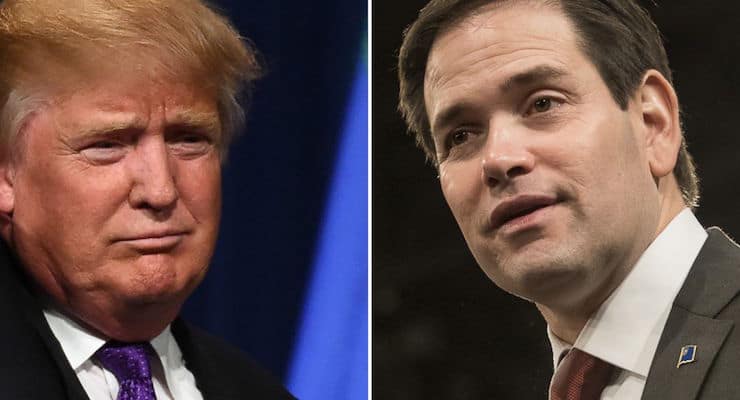 No wonder Florida Sen. Marco Rubio lobbed an overload of opposition research at Donald Trump at the debate in Houston. According to the latest Florida Republican primary polls, Trump is trouncing Rubio by double-digits in his own home state and, even if the rest of the field falters, it won't save the favorite son from an embarrassing defeat.
Mr. Trump is dominating in the state with 45% of the vote to just 25% for Sen. Rubio, while just 10% said they will back Texas Sen. Ted Cruz. Ohio Gov. John Kasich, who is also trailing the frontrunner in his own home state, received just 8% and 5% went for Dr. Ben Carson.
"Marco Rubio needs to hope tonight's debate was a big game changer," said Dean Debnam, President of Public Policy Polling. "He was so weak going in that he couldn't beat out Donald Trump one on one even in Florida."
While Rubio has made the case–among others–that Trump is weak in a head-to-head matchup, the numbers no longer support that argument. Trump still leads Rubio by double digits, 52% to 38%, when Sunshine State Republicans have to choose between the two. According to PPP, Rubio garners supporters of Cruz (56/25), Kasich (47/32), and Carson (64/21) in this scenario, but Trump has too big of a lead to start. He also picks up enough of the supporters of the also rans that it gives him the overall 14-point lead.
Unfortunately, for Sen. Rubio, focus groups show he didn't change the fundamentals of the race, at all. While most believed Sen. Rubio had a strong night, the voters in both PPD's and Frank Luntz's focus groups said they are still voting for Trump on March 15.
"The bottom line is that voters want a doer, not a talker," said PPD's senior political analyst Richard Baris. "Further, Florida Tea Partiers, the very voters who are to thank for Mr. Rubio's success, have completely abandoned him for Mr. Trump."
While 36% of Florida Republican primary voters say they might change their minds, Mr. Trump has by far the most committed supporters–79% say they will definitely vote for him, compared to 62% for Sen. Cruz, 54% for Sen. Rubio, 44% for Gov. Kasich, and just 26% for Dr. Carson. Among voters who've completely made up their minds, Mr. Trump gets 59% to 22% for Sen. Rubio, 10% for Sen. Cruz, 6% for Gov. Kasich, and 2% for Dr. Carson.
"Trump's hold on the GOP electorate is thorough. He leads with 51% of men, 51% of younger voters, 49% of moderates, 43% of somewhat conservative voters, 41% of seniors, 39% of women, and 39% of very conservative voters," Mr. Debnam said. "There's not a single group we track he doesn't have a double digit lead with. Beyond leading the head to head with Rubio, Trump also gets 51% in a three man field to 33% for Rubio, and 11% for Cruz. And he leads Cruz 62/30 head to head."
Donald J. Trump now leads Sen. Marco Rubio on the PPD average of Florida Republican Primary polls by 19.5%, or 40.3% to 20.8%. There are 99 delegates awarded on a Winner-Take-All basis on March 15.
Also Read — Rubio, Cruz Throw Kitchen Sink at Trump in 10th Republican Debate, and Change Nothing