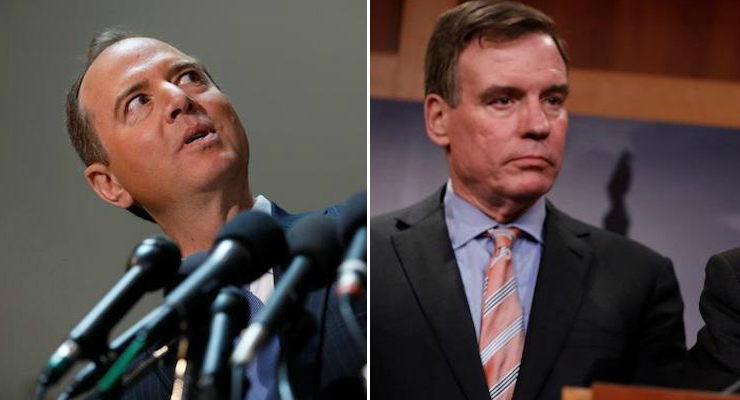 Rep. Adam Schiff, D-Calif., the ranking member of the House Intelligence Committee, is the source of an oft-cited claim that Roger Stone "accurately predicted" the anti-secrecy group WikiLeaks would release John Podesta's hacked emails.
During his opening statement at the March 20 hearing, which featured the testimony of FBI Director James Comey and NSA Director Mike Rogers, Mr. Schiff ran down a litany of "coincidences" he and other Democrats hope will help them to build a circumstantial case against President Donald J. Trump. The major "coincidence" was this so-called prediction.
"Is it a coincidence that Roger Stone predicted that [Hillary Clinton's campaign chairman] John Podesta would be a victim of a Russian hack and have his private emails published, and did so even before Mr. Podesta himself was fully aware that his private emails would be exposed?" Rep. Schiff asked.
On Thursday, Sen. Mark Warner, D-Va., the ranking member of the Senate Intelligence Committee, repeated the claim. Though Mr. Stone went unnamed, Sen. Warner said the "smoke" partly justifying the congressional probe was a Trump associate "accurately predicting" the email dump, citing it as evidence of potential collusion.
First, while Mr. Stone is in fact a longtime associate of President Trump, he was not a campaign official. But even if he had been, there is nothing in the public record to indicate he had access to knowledge no one else had 2 months before WikiLeaks released documents now known as the The Podesta Emails.
The claim, which includes an accusation he "communicated" with hacker Guccifer 2.0 and WikiLeaks editor Julian Assange, stems from a tweet that Mr. Stone sent out on Aug. 21, 2016. It stated that it would soon be "Podesta's time in the barrel."
Trust me, it will soon the Podesta's time in the barrel. #CrookedHillary

— Roger Stone (@RogerJStoneJr) August 21, 2016
That was two days after President Trump's former campaign manager, Paul Manafort, was let go and replaced. Mr. Stone claimed in a column published by Breitbart on Oct. 19 the tweet was in reference to Podesta's ties to Russia.
This because of a tweet I posted in August at the time my boyhood friend and colleague Paul Manafort was under attack for his perfectly legal work in Ukraine for a democratic political party. I predicted that Podesta's business dealings would be exposed. I didn't hear it from WikiLeaks, although Julian Assange and I share a common friend. I reported the story on my website.
While it may be lost in the news cycle now, the FBI's criminal investigation into "Podesta's business dealings" with Russia, which as far as we know is still ongoing, was a big story in the summer. President Trump just brought back into the conversation with his own tweet this week. But again, even if Mr. Stone's tweet was WikiLeaks-related or -specific, the group tweeted during the House Intelligence Committee hearing that they had teased the coming information before Mr. Stone's tweet.
WikiLeaks on Schiff (D) statement: WikiLeaks publicly & repeatedly teased its forthcoming publications well before Stone & Steel comments.

— WikiLeaks (@wikileaks) March 20, 2017
That also appears to be supported, as reported by CNN of all outlets on July 29 when WikiLeaks editor Julian Assange was interviewed by Anderson Cooper. In fact, the group tweeted that interview out the following day, as well. Further, even as a news source, the hacker known as Guccifer 2.0 made himself available to anyone in the press, not just people with a stake or official position in either presidential campaign.
Assange: We have material on Clinton campaign https://t.co/sptEqZGnFd

— WikiLeaks (@wikileaks) July 30, 2017
To his credit, Rep. Schiff has backed off of the claim in a subsequent statement, which received little fanfare in the media particularly juxtaposed to his statement during the hearing. But that didn't stop Sen. Warner, who was less ambiguous with an unsubstantiated claim supported by tenuous circumstantial evidence, at best.
While we understand the ranking intelligence committee members may be privy to information that is not in the public record, based on the material that is, this claim in not supported by facts.