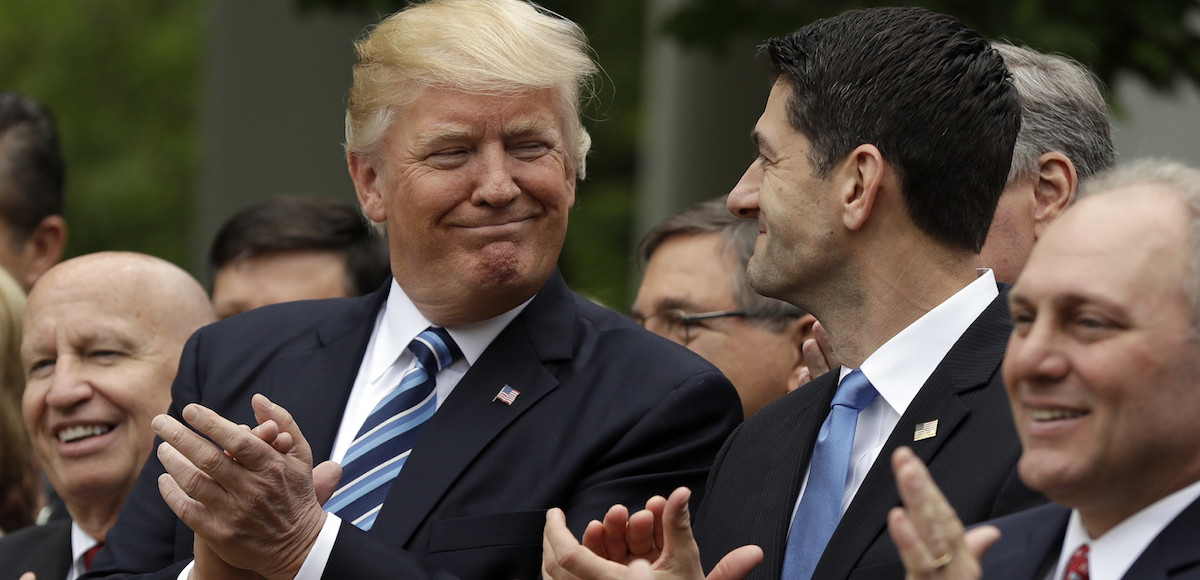 ObamaCare architect Jonathan Gruber on Fox News Sunday blamed President Donald Trump for the collapse of individual insurance markets in certain states.
But is there any truth to this claim?
"Professor Gruber, in Iowa there is now only one insurance company left in all but five counties in Iowa and they just announced that they're thinking of dropping out which means there would be no insurance companies for the marketplace in all but five counties in Iowa," host Chris Wallace said.
Gruber, who infamously said on video Democrats relied upon "the stupidity of American voter" to pass the health care law, blamed the current president and was immediately challenged by Wallace.
"And whose fault is this?" he asked Wallace in response. "Before President Trump was elected, there were no counties in America that did not have an insurer. Since President Trump's been elected, a massive … "
Wallace interrupted: "Wait, you're going to blame the problems with ObamaCare on President Trump?"
Gruber, an MIT economist, knows full well insurers make decisions to pull out of individual markets roughly a year before.
For instance, United HealthGroup Inc. (NYSE:UNH), the nation's largest insurer, announced in April 2016 it was withdrawing from all but a "handful" of exchanges in 2017. Stephen J. Hemsley, Chief Executive Officer of UnitedHealth Group, said during the announcement last year the "co-operatives have failed" and were just too risky.
Humana (NYSE:HUM) said in early August 2016 that it would reduce its participation on the exchanges from 15 to just 11 states.
Later that same month, Aetna (NYSE:AET), the nation's third largest insurer, announced what was then the most significant withdrawal from the ObamaCare marketplaces. Chairman and CEO Mark T. Bertolini cited the number of payers that had already decided to stop selling plans in 2015 and 2016 to argue this was an industry-wide trend indicating collapse.
More than 40 payers of various sizes have similarly chosen to stop selling plans in one or more rating areas in the individual public exchanges over the 2015 and 2016 plan years, collectively exiting hundreds of rating areas in more than 30 states.
As a result of these decisions, many counties in the country have no insurers offering Americans individual plans. Iowa, the state Wallace was referencing, has suffered a total collapse of the individual market. We are now seeing the real-world impact of those decisions, which were made way before President Trump took the Oath of Office.
At that time, he was warning the American voter, whom Gruber thinks so highly of, that this was the inevitable result of the law. Worse than Gruber's claim being false is that he knows it to be so. When challenged, he said the President "undercut enrollment," presumably referencing his executive order directing the Internal Revenue Service (IRS) to no longer enforce the penalty for not buying insurance established by the individual mandate.
That is more than a stretch, it's irrelevant. Enforcement of the mandate as a practical matter had to be suspended for those who no longer even have options.
Gruber's claim is egregiously false.
[brid video="138376″ player="2077″ title="Obamacare Architect Blames Trump For ObamaCare Failing"]