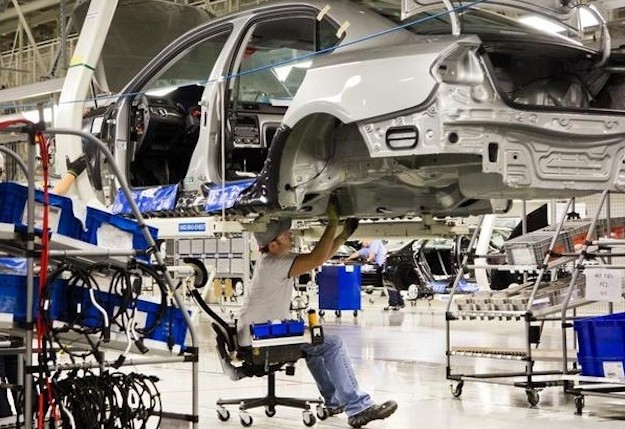 Though the group suffered a series of defeats in the region over recent years, the UAW vote at a Volkswagen plant in Chattanooga was the worst defeat yet for the United Auto Workers. The defeat was devastating not only because the UAW had staked its southern strategy on winning at the Tennessee plant, which rejected them 712 to 626, but also because it validated what has been an observable trend for some time.
Supporters and labor leaders blamed threats and intimidation by politically motivated third parties for turning the UAW vote against them, but in truth the vote result was predictable. Unfortunately for the unions, it appears that they have yet to fully grasp the gravity of their problem.
AFL-CIO President Richard Trumka called the UAW vote a narrow loss and characterized it as a "minor setback" that won't result in "permanent defeat."
It is ironic that union officials admit private-sector workplaces have been the most difficult to infiltrate in recent decades, because they are the ones who once filled their entire purpose for being, while even progressive hero President Roosevelt opposed public sector unions. But the truth of the matter is that Americans' views on organized labor unions have soured, with negative perceptions and decreased confidence mirroring their loss of membership.
Last year, the proportion of the workforce represented by unions was just 11.3 percent, which was about the same as it was in 2012, but way down from around 20 percent in 1983. Private-sector membership is even worse, with a rate of just 6.7 percent, compared with 35.3 percent in the public sector.
Similarly, according to their annual Confidence in Institutions poll, Gallup tracking has found a consistent drop in Americans' confidence in organized labor unions, a group that is now only slightly more popular than much-hated HMOs.
In total, just 20 percent of Americans have confidence in organized labor unions, including 12 percent of Republicans, 17 percent of independents and even just 37 percent of Democrats. In fact, Americans have slightly more confidence in big business than they do unions. The trend shows increasing confidence in big business and decreasing confidence in organized labor.
"Well, you know, I think at one time they were very useful. But now, I don't know that you get that much benefit from them," said Steve, the father of a quality control manager at the plant who voted "no." He withheld his name, consequently, because he was afraid of retaliation from the unions. "When they first came in, it was a good thing, because workers were really getting taken advantage of. But it's not so much the case anymore."
That is the sentiment coming from most Americans, who are also deeply concerned over the Detroit bankruptcy, and it doesn't end with the automotive industry or the United Auto Workers union. "It wasn't just a loss for the UAW, it was a loss for the AFL-CIO and the entire labor movement," said Gary Chaison, a professor of industrial relations at Clark University in Worcester, Massachusetts. "They have a product they're selling and people aren't buying it."
The UAW had counted their chickens before they hatched, as the union had already begun to employ the Volkswagen organizing model to a Mercedes-Benz plant in Vance, Alabama. Following the defeat, however, there's not a whole lot of momentum or pressure to move forward with it, because as Professor Chaison put it, "people aren't buying it." Yet it isn't just in the South where unions are losing in their effort to seize power, but in places traditionally deemed union-friendly.
Perhaps, with reality catching up to them, unions have worn out their welcome in these traditionally union-run regions, so they have little choice but to tap southern prosperity in a last ditch effort to survive and remain relevant.
In Illinois, teachers' unions are threatening to bankrupt the state over collective bargaining and pensions, which even the liberal Chicago Mayor Rahm Emanuel has found himself under attack from, while struggling to manage the state's coming debt crisis. Both states are looking like unfriendly territory for Democrats in 2014.
On our 2014 Senate Map Predictions on PeoplesPunditDaily.com, we were the first to rate the Michigan Senate race a "Toss-Up," a rating that has proven to always have been correct and followed by other once-skeptical pundits, such as Crystal Ball and Cook Political Report. When we look at the data pre and post-bankruptcy, the trend was and is clear. Land is leading in the polls because Michiganders are fed-up with Democratic recklessness,  union greed and joint corruption.
Similarly, on the 2014 Governor Map Predictions on PeoplesPunditDaily.com, Gov. Rick Snyder is leading because of the way he handled the union friendly, Democratic policy-induced financial crisis. The Michigan gubernatorial race is rated "Likely Republican" on the map, which may provide coattails enough to send Land to Washington. In Illinois, which is rated "Leans Republican" on our 2014 Governor Predictions Map, incumbent Gov. Pat Quinn is trailing all of his potential Republican opponents outside of the margin of error, fueled in large by his sweetheart treatment of unions.
Union power is waning, and they know it, which is why they have pushed to lead a new effort to appeal to non-traditional union jobs, such as taxi drivers and domestic workers. However, if they cannot hold on to power in friendly midwestern states, then it is far less likely that they will be successful at penetrating the South. If they couldn't win at Volkswagen, then it validates the notion they are running out of soil they could viably see as fertile.
"There is no use getting around it, it's devastating," said Nelson Lichtenstein , a labor historian at the University of California at Santa Barbara in reacting to the Volkswagen UAW vote. "Here's a place where more or less the company was in fact genuinely neutral, and the union lost."
We will all have some analysis to offer following this and future UAW votes (as well as other unions), but reality is the enemy of the unions now. Worker Mike Jarvis, who was among the group at the Volkswagen plant that organized to fight the UAW aggression, underscored the problem the union faces.
"Look at every company that has went bankrupt or shut down or had an issue," he said. "What is the one common denominator with all those companies? UAW. We don't need it."