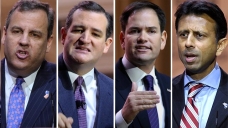 The potential 2016 Republican presidential candidates took the first day of CPAC 2014 by storm, making the case for Republican Party principles and policies.
Gov. Chris Christie received a standing ovation after his speech to the CPAC crowd, during which he discussed the media and issues facing the Republican Party. "Our ideas are better than theirs," Christie said of the Democratic Party policies that are harming the economy and health care. He went on to draw a stark contrast between Washington and the states, a comparison that in and of itself shows conservative philosophy on government is correct.
"Leadership is getting in and getting something done and making government work. Leadership is not about standing on the sidelines and spit balling. And that is what we see all across Washington, but that's not what we see in the states," Christie said.
Senator Ted Cruz (R-TX) spoke about the IRS and how to move the party forward. Responding to some of his critics, specifically regarding the government shutdown and strategy to defund ObamaCare, Cruz said the Republican Party must stand on their principles.
"In '06, '08 and '12 we put our head down, we stood for nothing and we got walloped. The one election that was a tremendous election was in 2010 when Republicans drew a line in the sand – we said we stand unequivocally against ObamaCare, against bankrupting the country, and we won in a historic tidal wave of an election," he noted.
"There are a lot of D.C. consultants who say there's a choice for Republicans to make: We can either choose to keep our head down, to not rock the boat, to not stand for anything, or we can stand for principle," Cruz said. "They say if you stand for principle you lose elections. The way to do it — the smart way, the Washington way — is don't stand against Obamacare, don't stand against the debt ceiling, don't stand against nothing. I want to tell you something — that is a false dichotomy."
Cruz made clear that not standing on principles is the true way to defeat.
Florida Sen. Marco Rubio railed against Obama on his failed foreign policy, telling the crowd that strong American leadership is necessary to guide the world its challenges.
"Without American engagement, the world I just painted to you is not just a possibility, it is a real probability," Rubio said. "And I don't like to make these issues of national security partisan … but we cannot ignore that the flawed foreign policy of the last few years has brought us to this stage."
Rubio, who is still a top 2016 Republican presidential candidate despite his support for amnesty, painted a picture of a world in which the U.S. was not the predominant force. It was a scary picture. He also outlined how foreign policy affects economic events, citing failures by the Obama administration in both regards.
Rubio ended on a personal note about how much his father, bedridden and dying of cancer, wanted to make it to his Senate primary victory party in 2010 but was too tired to come. Rubio described how, for his father, a Cuban immigrant, seeing his children achieve what he couldn't was his idea of the American dream.
"This country made that possible," Rubio said. "That's why I know America is special … and that's why I know she is worth fighting for and saving."
Louisiana Governor Bobby Jindal dispelled myths about Obama's intelligence and his effectiveness as a leader and policy-maker. He also quibbed about President Carter no longer being the worse president in history.
"We have long thought and said this president is a smart man; it may be time to revisit that assumption. Or at least to make a distinction between being book smart and being truly wise," Gov. Jindal said Thursday.
"I spent a lot of 2012 going around the country saying that President Obama was the most liberal and most incompetent president in my lifetime ever since Jimmy Carter. Now having witnessed the events abroad these last several days," Jindal said.
"To President Carter, I want to issue a sincere apology. It is no longer fair to say he was the worst president of this great country in my lifetime, President Obama has proven me wrong," he added.
"I'm not for lawsuits, and I'm not about suing people, but we've got a constitutional scholar as president. Strikes me he might benefit, we might benefit if he actually reads the Constitution now and then," Jindal told the CPAC audience. "If I were him, I'd consider suing Harvard Law School to get his money back because I'm not sure what he learned in three years."
CPAC 2014 is filled with young people in attendance and the party's potential 2016 Republican presidential candidates are many, filled with new ideas and youth. The Democratic Party, on the other hand, are coalescing behind Hillary Clinton, a symbol of the old Washington style of politics and stale political ideas that have failed Americans for years.
That's political irony at its best.