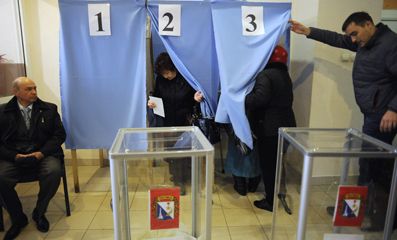 The Crimea vote to ratify the regional parliament's decision to break away from Ukraine and seek annexation by Russia, is now underway.
Residents of the Crimea region flocked to the polls that opened at 8 a.m. local time Sunday (2 a.m. ET), and voting will continue until 8 p.m., with results expected to be announced at around 10 p.m. local time (4 p.m. ET).
The referendum has been condemned as illegal by the United States and European countries, who are now mulling over sanctions to impose on Russia.
The vote took place several weeks after Russian-led forces took control of Crimea, a predominantly ethnic Russian region. Many residents say they fear the new Ukrainian government that took over when pro-Russia President Viktor Yanukovych was ousted last month will oppress them.
Russia raised the stakes Saturday when its military, including helicopter gunships and armored vehicles, seized control of a village near the border with Crimea, in the first military move outside the peninsula.  The forces also took control of a nearby natural gas distribution station, citing the need to prevent an act of terrorism on the complex.
Serhiy Astakhov, a spokesman for Ukraine's Border Guard, told The Associated Press on Sunday that Ukrainian forces retook control of the village Saturday evening after negotiations with the Russian forces. However, they still control the distribution center.
If the referendum passes, Russia faces the prospect of sanctions from Western nations, but Moscow has deemed the region in Crimea worth whatever sanctions the West even imposes in the end.
At Sevastopol, Crimea's key strategic port and the site of the new Russian naval base, more than 70 people poured into a polling station during the first 15 minutes of voting on Sunday.
"Today is a holiday," said one of them, 66-year-old Vera Sverkunova. Asked how she voted, she broke into a patriotic war song:  "I want to go home to Russia. It's been so long since I've seen my mama."
Speakers blared the city anthem up and down the streets, giving Sevastopol a feeling of a block party. A Russian naval warship stood blocking the outlet leading from the port to the open Black Sea.
Since Yanukovych fled to Russia, Crimea has come under control of local militia forces, as well as heavily armed troops under apparent command from Moscow.
Crimea's pro-Russia authorities say that if Ukrainian soldiers — who are still occupying their garrisons — don't surrender after Sunday's vote, they will be considered "illegal."
Yet Ukraine's acting defense minister, Igor Tenyuk, said in an interview published Sunday by the Interfax news agency that "this is our land and we're not going anywhere from this land."
In Sevastopol, where the Russian Black Sea Fleet is based under a legal lease agreement with Ukraine, enthusiasm for the Crimea referendum was high, with voters lining up outside polling stations before they opened.
"Today is an important day for all Crimea, Ukraine and Russia," said voter Manita Meshchina. "I think that people are expecting the majority of people will vote `yes.' What it means is that people believe and think they need to be with Russia."
At a polling station 850097 set up inside a historic school building in downtown Sevastopol, Vladimir Lozovoy, a 75-year-old retired Soviet naval officer, began tearing up as he talked about his vote today.
"I want to cry. I have finally returned to my motherland. It is an incredible feeling. This is the thing I have been waiting for for 23 years and finally it has happened," he said.
As far as the anti-Russian coalition, much of it includes Crimea's large Tatar Muslim minority, who vehemently opposes annexation to Russia.
The Crimea vote "is a clown show, a circus," a leader in the Crimean minority community, Refat Chubarov, said on Crimea's Tatar television station Sunday. "This is a tragedy, an illegitimate government, with armed forces from another country."
No where could the blue-and-yellow Ukrainian flags be seen in the regional capital of Simferopol, but the red, white and blue Russian and Crimean flags flooded the sidewalks, city buildings and were visible on many cars.
Ethnic Ukrainians interviewed outside the Ukrainian Orthodox cathedral of Vladimir and Olga said they refused to take part in the referendum, calling it an illegal charade that they believe was staged by Moscow. Some even said they were scared of the potential for ethnic cleansing in the coming weeks.
And they would have good reason, because  that is what happened in parts of the former Soviet republic of Georgia.
"We're just not going to play these separatist games," said Yevgen Sukhodolsky, a 41-year-old prosecutor from Saki, a town outside of Simferopol. "Putin is the fascist. The Russian government is fascist."
Vasyl Ovcharuk, a retired gas pipe layer who also worked on the Chernobyl nuclear disaster in 1986, predicted terrible days ahead for Crimea.
"This will end up in military action, in which peaceful people will suffer. And that means everybody. Shells and bullets are blind," he said.
At the United Nations, Russia vetoed a Security Council resolution declaring the referendum illegal. Yet China, a Russian ally, curiously abstained in a sign of Moscow's isolation on the issue.
Supporters of the U.S.-sponsored resolution knew ahead of time that Russia would use its veto on Saturday.
But they put the resolution to a vote to show the strength of opposition in the 15-member U.N. Security Council to Moscow's takeover of Crimea. The final vote was 13 members in favor, China's abstention, and Russia as a permanent council member casting a veto.